Bimtek PWMP Banjarbaru, Ismaya Parawansa Elaborasi `Motivasi Berprestasi`
Indonesian Govt Encourages Development of Young Agricultural Entrepreneurs
Editor : M. Achsan Atjo
Translator : Dhelia Gani

PUBLISHED: Minggu, 01 September 2019 , 20:37:00 WIB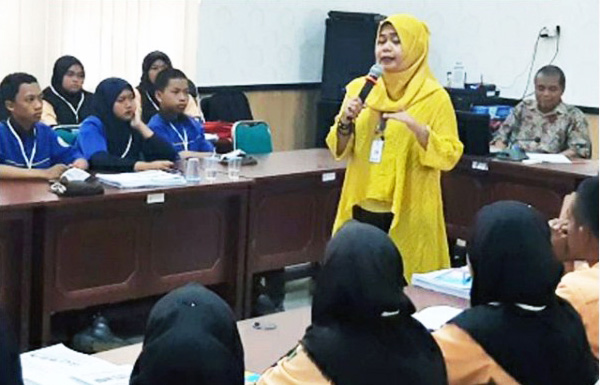 MODUL PWMP: Kabid Penyelenggaraan Pendidikan - Pusdiktan BPPSDMP Kementan, Ismaya NR Parawansa memaparkan ´motivasi berprestasi pada Bimtek PWMP di SMK-PP Negeri Banjarbaru [Foto: Instagram]
Banjarbaru, Kalsel [B2B] - Peserta Program Penumbuhan Wirausahawan Muda Pertanian [PWMP] di SMK-PP Negeri Banjarbaru TP 2019/2020 diingatkan untuk bekerja keras meraih sukses, "keberhasilan tidak pernah datang dengan sendirinya. Dituntut kerja keras. Penuh semangat, untuk mengembangkan potensi diri," kata Ismaya NR Parawansa, selaku Ketua Redaktur Modul PWMP.
Ismaya Parawansa hadir sebagai narasumber pada bimbingan teknis [Bimtek] PWMP di Banjarbaru, Kalsel, belum lama ini, mengisi materi ´Motivasi Berprestasi dalam Berwirausaha dan Pertanggungjawaban dan Pembukuan Keuangan Kelompok PWMP.
"Peserta PWMP harus memiliki motivasi yang kuat sehingga memiliki daya penggerak untuk berupaya keras. Berjuang tanpa kenal kata menyerah untuk mencapai prestasi tertinggi," kata Ismaya Parawansa yang juga menjabat Kepala Bidang Penyelenggaraan Pendidikan - Pusat Pendidikan Pertanian [Pusdiktan BPPSDMP Kementan].
Menurutnya, kunci utama keberhasilan adalah motivasi sebagai kondisi mental yang mendorong dilakukannya suatu tindakan, dan memberikan kekuatan yang mengarah pada pencapaian kebutuhan, memberi kepuasan dan mengurangi ketidakseimbangan.
"Setelah terbentuknya motivasi maka peserta PWMP harus memiliki motivasi berwirausaha. Hal itu terkait kebutuhan atau kesenjangan kebutuhan, pencarian jalan keluar untuk memenuhi dan memuaskan kebutuhan, didukung pilihan perilaku untuk memenuhi dan memuaskan kebutuhan. Tanpa mengabaikan evaluasi atas pemuasan kebutuhan, sebagai penentuan kebutuhan di masa yang akan datang dan pencarian bagi cara pemenuhannya," kata Ismaya NR Parawansa.
Dia mengutip ´teori tentang hasrat untuk berwirausaha´ yang dikemukakan Steinhoff dan Burgess pada 1993 yang ditentukan oleh tujuh keinginan yakni: pendapatan lebih tinggi, menjadi diri sendiri, prestise yang datang untuk menjadi pemilik bisnis, menjalankan ide baru, membangun kekayaan jangka panjang, memberikan kontribusi bagi kemanusiaan atau penyebab tertentu.
"Ketujuh keinginan tersebut dapat disimpulkan menjadi empat alasan yakni keuangan, sosial, pelayanan dan pemenuhan diri," kata Ismaya Parawansa.
Dia mengingatkan bahwa PWMP tergolong usaha kecil dan menengah [UKM] yang bergerak dinamis untuk mengembangkan kemampuan usaha menjadi perusahaan besar. Namun harap diingat usaha kecil kerap mengalami kegagalan lantaran tersandung pada kesalahan: pengelolaan uang, pengelolaan usaha dan manajemen, kompetensi, kredit perbankan, membidik pasar, administrasi usaha dan hukum.
"Dalam Bimtek ini saya ungkap rahasia untuk menjadi entrepreneurship adalah berani mengambil risiko terbesar, meminimalisir mimpi-mimpi besar, hargai pelanggan lebih tinggi, mendukung kinerja karyawan sebagai aset utama, mampu bertahan dalam situasi sulit, percaya pada diri sendiri didukung gairah dan semangat untuk maju," katanya [Fika]
Banjarbaru of South Borneo [B2B] - Indonesian government encourages agricultural vocational students to become young agricultural entrepreneurs [PWMP] as part of a farmer regeneration program designed for awareness, growth, development and independence of the interests, skills and entrepreneurial spirit of the young generation of agriculture, according to the senior official of Indonesian agriculture ministry.