Kinerja Ekspor Pertanian Diapresiasi Menko Airlangga Hartarto
Indonesian Govt Encourage Agricultural Exporters to Increase Volume Export
Reporter : Gar R Hartomo
Editor : Cahyani Harzi
Translator : Dhelia Gani

PUBLISHED: Sabtu, 26 September 2020 , 20:37:00 WIB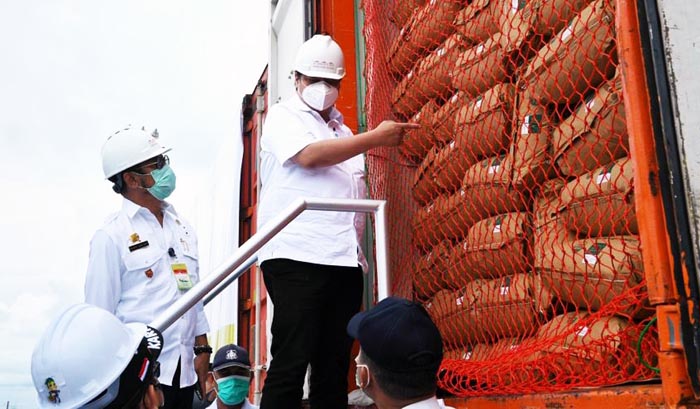 KONTAINER EKSPOR: Menko Perekonomian Airlangga Hartarto memeriksa ekspor produk olahan kelapa ke Jerman dan India didampingi Mentan Syahrul Yasin Limpo di Kepri [Foto: Kementan]
Lobam, Kepri [B2B] - Ekspor komoditas pertanian berupa produk olahan kelapa meliputi santan kelapa 70.000 kg senilai Rp1,6 miliar dan bubuk kelapa 108.000 kg senilai Rp1,2 miliar tujuan Jerman dan India, diapresiasi Menteri Koordinator Perekonomian Airlangga Hartarto.
"Ini adalah ekspor luar biasa, diharapkan direplikasi diberbagai daerah karena kita adalah negeri rayuan pulau kelapa," kata Menko Airlangga didampingi Mentan Syahrul Yasin Limpo usai melepas ekspor komoditas pertanian di kawasan Bintan Industrial Estate [BIE] di Lobam, Provinsi Kepulauan Riau, Sabtu [26/9].
Menko Airlangga menyebutkan produk olahan kelapa Indonesia saat ini menjadi salah satu komoditas unggulan, apalagi salah satu produk olahannya bisa meningkatkan imunitas tubuh.
"Tadi Mentan Syahrul cerita kalau minyak VCO [virgin coconut oil] bisa meningkatkan imunitas tubuh manusia, sehingga di tengah pandemi saat ini, permintaannya juga meningkat," kata Menko Perekonomian.
Komoditas lain yang diekspor adalah arang ke Malaysia, volume ekspor 7.000 kg senilai Rp 49 juta; karet tujuan China, UEA, Kanada, Jepang, Turki dan Amerika Serikat dengan volume 2 juta kilogram senilai Rp35,27 miliar; dan babi potong hidup tujuan Singapura sebanyak 915 ekor dengan nilai ekonomi Rp3,3 miliar.
Mentan Syahrul menyebutkan bahwa Kementerian Pertanian RI mengusung Program Gerakan Tiga Kali Ekspor disingkat GratiEks, untuk mendorong sektor pertanian menjadi penopang kemajuan ekonomi.
"Dalam lima tahun ke depan, secara terukur kita harapkan peningkatan ekspor pertanian sebanyak tiga kali lipat itu bisa kita capai. Berdasarkan data kami, 544 kabupaten/kota sudah teridentifikasi memiliki potensi ekspor komoditas pertanian," kata Mentan.
Lobam of Riau Island [B2B] - The movement of Indonesian agricultural commodity exports must begin with the presence of exporters among the people, at the same time opening up employment opportunities widely, by increasing the movement three times exports [GratiEks] so GratiEks became part of the people´s movement to show that Indonesia is a strong country in the agricultural sector, according to Agriculture Minister Syahrul Yasin Limpo.