Realisasi Januari 2.700 Ha, Puncak Panen Padi Purwakarta 7.000 Ha pada Maret
Indonesia`s West Java Province Food Self-sufficiency in Early of 2018
Editor : M. Achsan Atjo
Translator : Dhelia Gani

PUBLISHED: Sabtu, 27 Januari 2018 , 20:58:00 WIB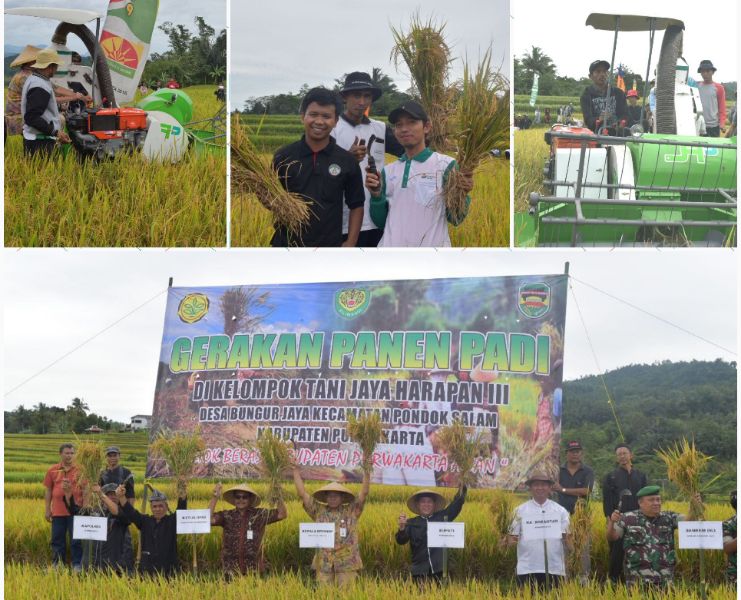 Perkiraan produksi, suplai dan stok beras di Purwakarta terkuak dari kegiatan panen padi, Sabtu (27/1) di lahan milik petani anggota kelompok tani Jaya Harapan III di Desa Bungur Jaya, Kecamatan Pondok Salam (Foto2: B2B/Mac)
Purwakarta, Jabar (B2B) - Lahan persawahan di Kabupaten Purwakarta, Provinsi Jawa Barat ternyata mampu panen tiap hari, terbukti dari realisasi panen Januari 2018 mencapai 2.700 ha, Februari diperkirakan meningkat ke 4.011 ha dan perkiraan puncak panen dari 7.000 ha sawah pada Maret mendatang, sebagai hasil kerja keras petani dan dukungan pihak-pihak terkait tersebut disambut positif oleh Kementerian Pertanian RI.

Perkiraan produksi, suplai dan stok beras di Purwakarta terkuak dari kegiatan panen padi, Sabtu (27/1) di lahan milik petani anggota kelompok tani (Poktan) Jaya Harapan III di Desa Bungur Jaya, Kecamatan Pondok Salam yang dihadiri oleh Kepala Badan Penyuluhan dan Pengembangan SDM Pertanian, Momon Rusmono didampingi Wakil Bupati Dadan Koswara.

Tampak hadir Penanggung Jawab (Penjab) Upsus Pajale Jabar, Antarjo Dikin mewakili Banun Harpini; Kepala Dinas Pertanian Purwakarta, Agus Rachlan Sukarlan; Sekretaris BPPSDMP Kementan, Surachman Suwardi; dan Kepala Balai Pelatihan Pertanian - BBPP Lembang Bandung, Bandel Hartopo sebagai Penjab Upsus Pajale Purwakarta.

"Panen hari ini membuka mata kita bahwa petani kita mampu membuktikan kerja kerasnya sebagai ´pahlawan pangan´, dahulu biasanya periode Januari hingga Maret hasil panen padi terbatas, ternyata di Purwakarta dan Jabar sudah ada panen sejak Januari walau tidak sebanyak Februari dan Maret sebagai puncak masa panen," kata MomonRusmono.

Dia mengapresiasi para petani dari tiga kelompok tani (Poktan) di Desa Bungur Jaya yang mengelola 95 hektar sawah, dan 20 hektar siap panen mulai Sabtu (27/1) disusul 75 hektar lainnya hingga akhir Januari 2018.
Sawah di Perbukitan
Panorama indah berhawa sejuk di tengah sambutan hangat petani dan keramahan warga membuat Momon Rusmono betah berlama-lama melakukan koordinasi dengan pihak terkait di Purwakarta dilanjutkan dialog dengan petani dan penyuluh pertanian.

Sebelum panen, Momon dan rombongan menyaksikan atraksi menumbuk padi tradisional dengan lesung, bahkan Momon pun ikut mencoba memukul lesung kemudian menyimak lagu-lagu rakyat Parahiangan dan tarian tradisional.

Tiba di lokasi panen pukul 08:00 pagi, Kepala Badan SDM Pertanian Kementan dan rombongan meninggalkan lokasi panen pukul 11:45 setelah dijamu makan siang oleh kepala desa setempat.

Purwakarta of West Java (B2B) - The paddy field in Purwakarta district of West Java province rice harvest every day, proved that the realization of rice harvest in January 2018 reached 2,700 hectares, estimated February 4,011 hectares and peak harvest estimated 7,000 hectares in March, according to Indonesian senior official.

Estimated production, supply and rice stock in Purwakarta revealed of rice harvest 9activity on Saturday (January 27) in the rice field of Jaya Harapan III farmer group in Bungur Jaya village of Pondok Salam subdistrict, was attended by the Director General of Agricultural Human Resources Agency or the BPPSDMP Momon Rusmono and accompanied by Purwakarta Deputy Regent, Dadan Koswara.

It was attended by Antarjo Dikin as the person in charge of West Java food program; Head of Purwakarta agriculture office, Agus Rachlan Sukarlan; Secretary of the BPPSDMP Surachman Suwardi; Director of Lembang Agricultural Training Center or BBPP Lembang Bandung, Bandel Hartopo as the person in charge of Purwakarta food program

"Today´s harvest opens our eyes that farmers are able to work hard, usually from January to March the rice harvest crop is limited, Purwakarta and West Java there has been rice harvest since January although still under February and March as the peak of the harvest," Mr Rusmono said.

He was appreciated the farmers from the three farmer groups in Bungur Jaya village manages 95 hectares of paddy fields, and 20 hectares ready for rice harvest then another 75 hectares until the end of January 2018.
Rice Field in the Hills
Beautiful panorama of cool air and the warm welcome and hospitality of farmers and local people makes Mr Rusmono feel at home, and then make coordination with related parties in Purwakarta continued dialogue with farmers and agricultural extension workers.

Before the rice harvest, he and the entourage witnessed the attraction of pounding traditional rice with dimples, even he was also tried to pound rice then listened folk songs and watched traditional Sundanese dance.

Arrived in rice harvest location at 08:00 am, Mr Rusmono and entourage returned to Jakarta at 11:45 after lunch at the village head´s house.