Padi Kaya Gizi, Kementan Dukung Pemalang Tanam Inpari IR Nutri Zinc
Indonesian`s Agricultural Extensionists Support Farmers to Increase Production
Reporter : Gusmiati Waris
Editor : Cahyani Harzi
Translator : Dhelia Gani

PUBLISHED: Kamis, 11 Juni 2020 , 20:07:00 WIB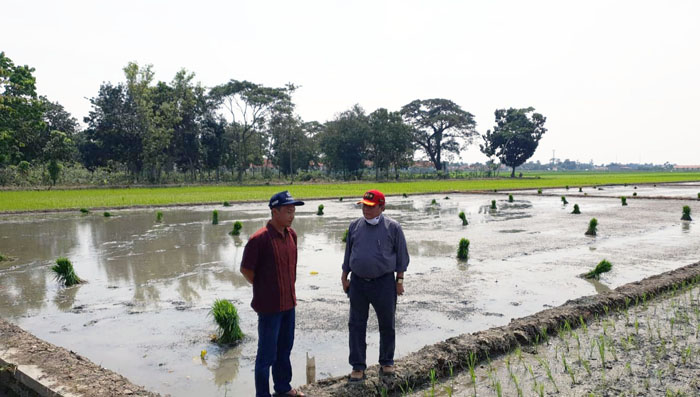 TANGKAL STUNTING: Kelompok Tani Berkah, salah satu Poktan pelaksana Biofortifikasi di Kabupaten Pemalang, Jateng, telah menanam Inpari IR Nutrizinc seluas 52 hektar pada hamparan 105 hektar padi [Foto: Biro Humas Kementan]
Pemalang, Jateng [B2B] - Padi varietas unggul kaya gizi [biofortifikasi] hasil rakitan Kementerian Pertanian RI untuk mengatasi stunting, Inpari IR Nutrizinc, mulai diujicobakan pada beberapa wilayah seperti Kecamatan Petarukan, Kabupaten Pemalang, Provinsi Jawa Tengah seluas 52 hektar dari hamparan padi 105 hektar.
Kepala BidangTanaman Pangan Dinas Pertanian Pemkab Pemalang, Prayitno mengatakan Kementan mendukung kegiatan Biofortifikasi. Kelompok Tani Berkah, salah satu Poktan pelaksana Biofortifikasi, telah menanam Inpari IR Nutrizinc seluas 52 hektar pada hamparan 105 hektar padi.
"Tanaman telah berumur dua minggu dan menunjukkan pertumbuhan yang baik, Poktan Tani Tunas Mulia menanam varietas yang sama seluas 63 hektar dan hasilnya pun kami pantau bagus," kata Prayitno.
Menurutnya, memasuki masa musim tanam kedua [MT II] atau biasa disebut musim gadu, petani Pemalang mulai memanfaatkan lahan persawahan untuk menanam padi. Hal itu sebagai antisipatif atas peringatan Badan Pangan Dunia [FAO] akan ada kekeringan pada 2020, Kementan menggencarkan percepatan tanam agar ketersediaan beras terus terjamin, bahkan guna mengatasi stunting.
Prayitno memaparkan bahwa capaian luas tanam padi periode Oktober 2018 - September 2019 mencapai 102.116 hektar. , sementara target dan perkiraan capaian luas tanam periode Oktober 2019 hingga September 2020 meningkat seluas 102.126 hektar. Untuk itu diperlukan upaya maksimal agar target bisa tercapai.
Direktur Serealia, Direktorat Jenderal Tanaman Pangan, Ismail Wahab mengatakan sesuai instruksi Menteri Pertanian RI Syahrul Yasin Limpo untuk fokus penyediaan pangan untuk daerah rawan pangan.
"Pengembangan padi biofortifikasi akan dilaksanakan pada kabupaten dengan prevalensi stunting tertinggi. Sembilan provinsi tersebut adalah Riau, Lampung, Jawa Barat, Jawa Tengah, Kalimantan Barat, NTB, Gorontalo, Maluku dan Papua," katanya. [Liene]
Pemalang of Central Java [B2B] - Indonesian agricultural extensionist workers are expected to encourage farmers to do demonstration plotting through mentoring activities by training farmers, especially rice transplants, then reporting performance every day according to senior official of the ministry.