Kementan Ajak BPP Pandak - Bantul Kembangkan Bawang dan Domba
Indonesia`s Bantul Seeks to Meet the Needs of Shallots for Export
Reporter : Kemal Agus Praghotsa
Editor : Cahyani Harzi
Translator : Dhelia Gani

PUBLISHED: Sabtu, 05 Juni 2021 , 21:10:00 WIB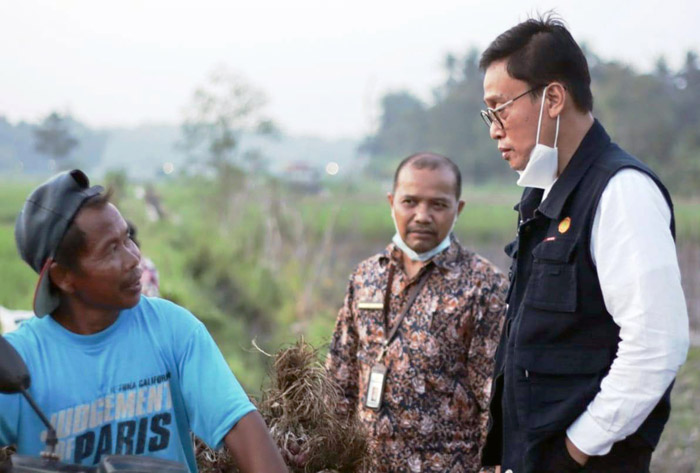 PETANI BAWANG: Kepala BPPSDMP Kementan, Dedi Nursyamsi [kanan] berbincang dengan petani bawang merah Bantul didampingi Direktur Polbangtan YoMa, Dr Bambang Sudarmanto [Foto: BPPSDMP/Pito]
Bantul, DIY [B2B] - Permintaan Bupati Abdul Halim Muslih agar produksi bawang merah dan domba di Kabupaten Bantul, Provinsi DI Yogyakarta langsung direspons oleh Kepala Badan Penyuluhan dan Pengembangan SDM Pertanian - Kementerian Pertanian [BPPSDMP] Dedi Nursyamsi pada kunjungan di BPP Pandak, Jumat [4/6] dengan mengajak penyuluh Bantul mendukung hal itu.
Secara terpisah Menteri Pertanian (Mentan) Syahrul Yasin Limpo memberikan apresiasi terkait hal ini. "JIka produksi bawang merah dan domba bisa ditingkatkan, maka kebutuhan masyarakat dipenuhi, ini sangat sangat baik untuk mendukung ketahanan pangan."
"Seperti yang disampaikan Bupati, untuk bawang merah dan domba ittu harus menjadi perhatian kita. Target Bupati Bantul bahwa bawang merah itu ekspor, karena mempunyai keunggulan komparatif, jauh lebih tinggi, bandingkan dengan Brebes," kata Dedi Nursyamsi.
Menurutnya, bawang merah Brebes memiliki kualitas bagus, namun bawang merah Bantul jauh lebih bagus.
"Itu yang harus kita genjot, produktivitasnya kita tingkatkan lagi. Luas tanam, menurut saya harus mencapai 5000 hektar, baru nanti kita bicara ekspor. Produktivitas kita tingkatkan, dari 13 menjadi 17 ton per hektar. Kalau tanamnya 5.000 hektar, tinggal kalikan saja, sekarang harga di tingkat petani Rp20 ribu, jangan lupa kalau ekspor, nilai tukarnya dolar," kata Dedi.
Oleh karena itu, katanya lagi, dengan kualitas dan produktivitas lumayan, luas tanah kita tingkatkan, maka uang dari bawang merah ini akan berputar di Bantul.
"Skemanya, kita bangun BPP melalui Kostratani, lengkapi dengan IT. Tadi penyuluh juga masih kurang laptop, tapi itu jangka panjang, untuk sekarang manfaatkan yang ada semaksimal mungkin," ujarnya.
Dedi Nursyamsi mengaku sangat puas dengan respon para petani dan penyuluh di Bantul.
"Karena saya lihat dengan berbagai kekurangan,tapi yang paling penting adalah semangat, itu ada dalam hati semua penyuluh yang ada di sini. Ada di jajaran di dinas pertanian Bantul," katanya.
Kepala Dinas Pertanian, Pangan, Kelautan, dan Perikanan Kabupaten Bantul, Yus Suwarno, sangat mengapresiasi kunjungan ini.
"Mudah-mudahan kami bisa melaksanakan program-program tersebut dan mendapat support dari pusat. Mudah-mudahan program program Bapak Bupati bisa terlaksana," katanya. [Cha]
Bantul of Yogyakarta [B2B] - Indonesian government through the agriculture ministry has developed shallots production centers in Yogyakarta province as the buffer zone for improve welfare of farmers and the anticipation of the supply chain and expense transport which often trigger price increases in consumer level, according to senior official of the ministry.