Kualitas Vokasi Pertanian, SMKPPN Kementan Gandeng Iduka dan Stakeholders
Millennial Farmers Development are the Target of Indonesia`s of SMKPPN Sembawa
Editor : Kemal A Praghotsa
Translator : Dhelia Gani

PUBLISHED: Jum'at, 17 Juni 2022 , 02:11:00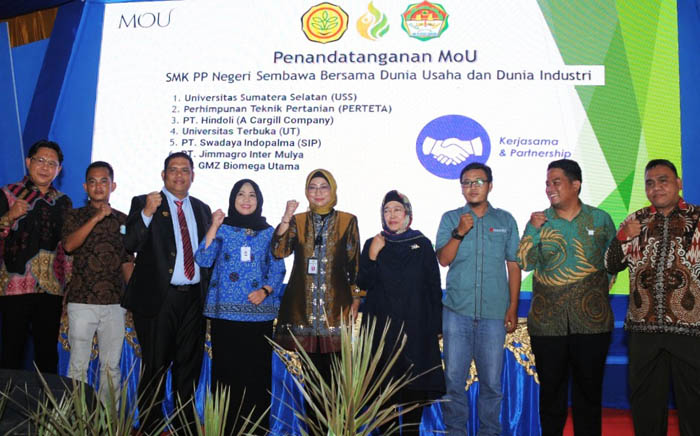 SMKPPN SEMBAWA: Kepala Sekolah SMKPPN Sembawa, Yudi Astoni [ke-3 kiri] dan Kapusdik BPPSDMP Kementan, Idha Widi Arsanti [ke-5 kiri] bersama Iduka dan stakeholders yang mendukung peningkatan kualitas pendidikan vokasi pertanian
Banyuasin, Sumsel [B2B] -Sekolah Menengah Kejuruan Pertanian Pembangunan [SMK PP] Negeri Sembawa bersama para stakeholders serta industri dan dunia kerja disingkat Iduka melakukan penandatanganan Nota Kesepahaman [MoU] sekaligus Perjanjian Kerjasama [PKS] yang dirangkai dalam Pengukuhan Lulusan SMK PP Negeri Sembawa tahun ajaran 2021/2022 di Banyuasin, Provinsi Sumatera Selatan, Kamis [16/6].
Penandatanganan tersebut disaksikan oleh Kepala Pusat Pendidikan Pertanian dari Badan Penyuluhan dan Pengembangan SDM Pertanian - Kementerian Pertanian RI [BPPSDMP] Idha Widi Arsanti.
Sejumlah Iduka dan stakeholders terlibat pada MoU dan PKS tersebut di antaranya Universitas Sumatera Selatan, Perhimpunan Teknik Pertanian Indonesia [Perteta] Sumsel, PT Hindoli Cargill, Unit Program Belajar Jarak Jauh (UP-BJJ) Universitas Terbuka Palembang, PT Swadaya Indopalma, PT GMZ Biomega Utama, dan PT Jimmagro Inter Mulya.
Langkah tersebut selaras dengan harapan Menteri Pertanian RI Syahrul Yasin Limpo agar generasi milenial khususnya lulusan pendidikan vokasi di bawah naungan Kementan harus memiliki kompetensi dan mampu bekerjasama dengan pihak lain.
Sementara Kepala BPPSDMP Dedi Nursyamsi mengatakan bahwa kualifikasi job seeker adalah petani milenial yang terampil dan menguasai pekerjaanya yang bisa ditempatkan di seluruh sektor dunia usaha dan industri pertanian.
MoU dan PKS yang bertujuan meningkatkan pendidikan vokasi pertanian Kementan beberapa tahun ke depan ditandatangani oleh Kepala Sekolah SMK PP Negeri Sembawa, Yudi Astoni dengan Wakil Rektor I Universitas Sumatera Selatan, Leila kalsum, Ketua Perteta, Budi Raharjo, Presiden Direktur PT Hindoli Cargill, Muhammad Anton Bagus Asmara, Kepala UP-BJJ UT Palembang, Meita Istianda, yang diwakili oleh Hartati, General Manager PT SIP, Hoddy Simanjuntak diwakili Heri Setiawan, Direktur Business Development PT GMZ Biomega Utama, Arthur M Sembiring, dan Asisten Lapangan PT Jimmagro Inter Mulya, Donny Erwin.
Kepala Sekolah SMK PP Negeri Sembawa, Yudi Astoni mengapresiasi para stakeholders dan Iduka atas kepercayaannya melaksanakan MoU dan PKS, yang diharapkan berlangsung baik dan lancar.
Ada pun ruang lingkup dari MoU dan PKS tersebut berkaitan dengan magang siswa kelas industri; penyelarasan kurikulum, guru industri serta merekomendasikan perekrutan tenaga kerja bagi lulusan dengan memperhatikan kebutuhan perusahaan.[timhumassmkppnsembawa]
Banyuasin of South Sumatera [B2B] - The role of agricultural vocational education in Indonesia such as the the Agricultural Development Polytechnic or the SMKPPN, to support Indonesian Agriculture Ministry seeks to maximize its efforts to produce millennial entrepreneur.
Indonesian Agriculture Minister Syahrul Indonesia Yasin Limpo stated that the government´s commitment to developing agriculture, especially in the development of advanced, independent and modern agricultural human resources.
"The goal is to increase the income of farming families and ensure national food security. Farmer regeneration is a commitment that we must immediately realize," Minister Limpo said.
He reminded about the important role of vocational education, to produce millennial farmers who have an entrepreneurial spirit.
"Through vocational education, we connect campuses with industry so that Polbangtan graduates meet their needs and are ready for new things," Limpo said.