#Serasi Puslatan, Bustanul AC Dukung Ditjen TP Tanam Padi di Kalsel
Farmers and Agricultural Extensionist Determinants of Indonesian Swampland Development
Editor : M. Achsan Atjo
Translator : Dhelia Gani

PUBLISHED: Selasa, 15 Januari 2019 , 21:31:00 WIB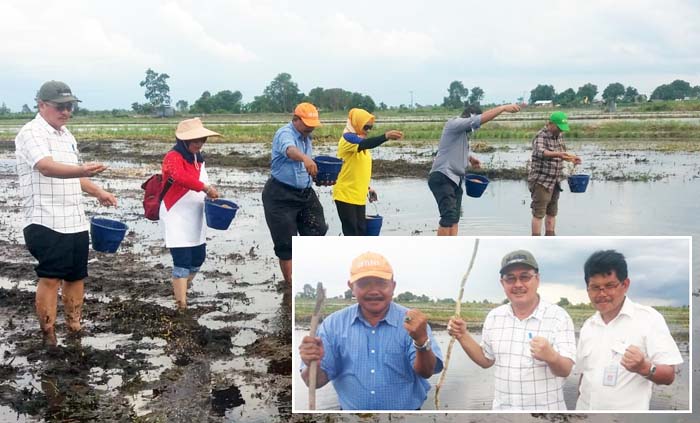 RAKSASA TIDUR: Kepala Puslatan, Bustanul AC (kiri) tabur benih bersama petani dan penyuluh pertanian Kalsel, mendukung kinerja Direktur Perbenihan Ditjen TP, Takdir Mulyadi (inset) Foto2: Humas Puslatan
Banjar, Kalsel (B2B) - Kepala Pusat Pelatihan Pertanian (Puslatan) BPPSDMP Kementan, Bustanul Arifin Caya mendukung kinerja Ditjen Tanaman Pangan di Provinsi Kalimantan Selatan mengembangkan lahan rawa di lokasi pilot project #Serasi seperti menggerakkan petani dan penyuluh pertanian untuk menabur benih Inpara 33 bersama Direktur Perbenihan, Takdir Mulyadi di Desa Tajau Landung, Kecamatan Sungai Tabuk, Kabupaten Banjar, belum lama ini.

"Tabur benih di Tajau Landung sebagai sinergi BPPSDM dengan Ditjen Tanaman Pangan untuk mengolah lahan rawa di Kalsel. Puslatan siap bahu-membahu untuk mendukung tim teknis Serasi bersama petani dan penyuluh pertanian setempat," kata Bustanul AC usai tabur benih bersama Takdir Mulyadi, Direktur Perbenihan Ditjen Tanaman Pangan Kementan.

Menurutnya, tugas utama Puslatan di pilot project #Serasi wilayah Kalsel adalah memberikan pelatihan kepada petani dan penyuluh pertanian, yang disesuaikan dengan kebutuhan tim teknis dan kondisi lahan rawa, mulai dari pelatihan teknis hingga penggunaan alat mesin pertanian (Alsintan) di lahan rawa.

"Kami optimistis program #Serasi akan berjalan lancar, inshaa Allah sinergi dengan pihak terkait di Kementan, pemerintah daerah, dan para pemangku kepentingan untuk membangun raksasa tidur ini," kata Bustanul AC.

Raksasa Tidur
Sebelumnya diberitakan, Badan Penyuluhan dan Pengembangan SDM Pertanian (BPPSDMP) mendukung pengembangan lahan rawa pada program ´Selamatkan Rawa Sejahterakan Petani´ atau #Serasi di Provinsi Kalimantan Selatan, melalui identifikasi calon peserta pelatihan alat dan mesin pertanian (Alsintan), budidaya tanaman pangan, tata kelola air hingga pengolahan dan pemasaran hasil produksi pangan strategis.

Puslatan bertanggung jawab menyiapkan SDM untuk mendukung kinerja #Serasi pada lokasi pilot project di Desa Tadau dan Desa Keliling Benteng Ilir, Kecamatan Sungai Tabuk, Kabupaten Banjar.

"Tugas Puslahtan menyiapkan SDM, diawali dengan identifikasi calon peserta latih sampai pembekalan dan pelatihan sesuai kebutuhan untuk mendukung program #Serasi," kata Bustanul AC saat dialog dengan para petani dan penyuluh pertanian di Posko #Serasi BPPSDMP di Sungai Tabuk, Jumat (11/01).

Identifikasi bertujuan mengetahui potensi dari petani, penyuluh pertanian, pemuda tani, operator Alsintan untuk mengikuti pelatihan yang digelar Puslatan untuk mendukung capaian target #Serasi mengoptimalkan fungsi lahan rawa yang selama ini terbengkalai bagai ´raksasa tidur´ padahal potensinya luar biasa untuk memproduksi pangan sepanjang tahun tanpa terpengaruh kekeringan musim kemarau.
Banjar of South Borneo (B2B) - Indonesian Agriculture Ministry through the Directorate General of Extension and Agricultural HR Development or BPPSDMP moves quickly to plant rice by sowing of seed Inpara 33 in the pilot project location of #Serasi South Borneo province.

"The sowing seeds in Tajau Landung village as the synergy of BPPSDM with the Directorate General of Food Crops to process potential swampland into agricultural land in South Borneo. We are ready to support the Serasi technical team with local farmers and agriculture extensionist," said Director of Agriculture Training Center or the Puslatan, Bustanul Arifin Caya after sowing rice seeds with Takdir Mulyadi, Director of Seedling in Directorate General of Food Crops, recently.

According to him, Puslatan's main task in the #Serasi South Borneo pilot project was to provide training to farmers and agricultural extensionist adapted to the needs of technical team and conditions of the swampland, starting technical training to the use of agricultural machinery on swampland.

"We are optimistic that the #Serasi program will run smoothly, inshaa Allah synergies with relevant parties in the ministry, local governments, and stakeholders can wake sleeping giants," Caya said.

Sleeping Giant
Previously reported, the Directorate General of Extension and Agricultural HR Development or BPPSDMP support pilot projects of the swampland use program for agriculture´ or the #Serasi in South Borneo through identification of agricultural machinery trainees, food crop cultivation, water management, processing and marketing of strategic food products.

The BPPSDMP important role for preparing human resources to support the #Serasi pilot project in Tadau village and Keliling Benteng Ilir, Sungai Tabuk subdistrict of Banjar district.

"The task of Puslahtan is to prepare human resources, starting with identification of prospective trainees until debriefing and training as needed to support the #Serasi program," Caya said here on Friday (January 11).

Identification aims to find out the potential of farmers, agricultural extensionist, youth farmers, agricultural machinery operators for training will held of Puslatan support the #Serasi target achievement.