Pesantren Berpeluang Hasilkan Santri Tani Milenial 4.0 Orientasi Ekspor
Indonesia`s Islamic Boarding School Potentially Develop Young Farmers
Reporter : Gusmiati Waris
Editor : M. Achsan Atjo
Translator : Dhelia Gani

PUBLISHED: Minggu, 25 Agustus 2019 , 21:03:00 WIB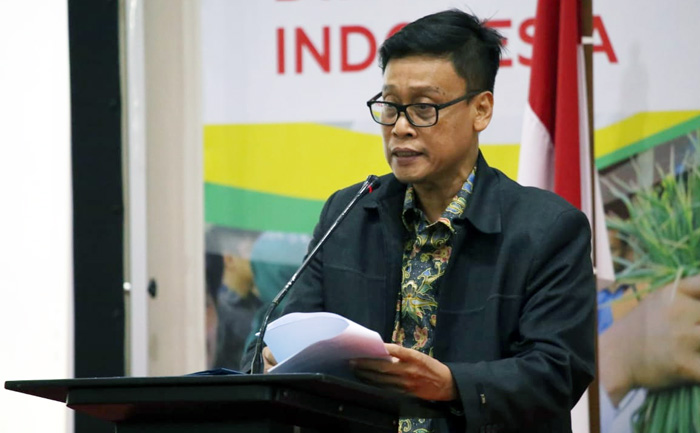 PERTANIAN 4.0: Kepala BPPSDMP Kementan, Prof [R] Dedi Nursyamsi [Foto: Biro Humas Kementan]
Jakarta [B2B] - Potensi regenerasi petani dari pondok pesantren sangat berpeluang menghasilkan santri tani milenial menunjang pembangunan pertanian nasional, untuk mendukung kemandirian pangan sekaligus berorientasi ekspor, mengingat saat ini banyak orangtua mempercayakan pendidikan anaknya di pondok pesantren modern [Islamic boarding school].
Kepala Badan Penyuluhan dan Pengembangan SDM Pertanian Prof [R] Dedi Nursyamsi mengakui adanya potensi besar yang bisa dikembangkan di lingkungan pondok pesantren. Seluruh sumber daya termasuk para santri ini harus dilatih semaksimal mungkin agar sasaran-sasaran tersebut bisa tercapai.
"Pesantren menjadi potensi menciptakan regenerasi petani melaui program santri tani milenial. Kita dorong generasi santri untuk terjun ke pertanian. Sekarang pertanian sudah canggih, alat-alat pertanian sudah banyak tersebar seperti alat mengolah, menanam dan panen," kata Dedi Nursyamsi di Jakarta, Jumat [23/8].
Menurutnya, santri selain medapat pendidikan utama di pesantren, kelak akan mendapat pembekalan ilmu pertanian dan pendampingan komprehensif termasuk kegiatan budidaya, teknologi pertanian, pasca panen dan pemasaran.
"Kita akan dorong mereka bertani dengan teknologi digital, karena era milenial dikenal sebagai era yang serba digital, serba cepat dan mudah diakses," kata Dedi Nursyamsi.
Dia menambahkan program pengembangan Kelompok Tani Santri Milenial [KSTM] berjalan sejak awal 2019, "para santri tani ini kelak setelah keluar dari pesantren akan memiliki skill, dan syukur-syukur dapat menjadi job creator dan job seeker hingga menjadi eksportir milenial."
Kepala BPPSDMP Kementan meyakini eksportir milenial berpeluang muncul dari pondok pesantren, karena penanaman kepribadian, agama, dan kemandirian dibina sejak dini sehingga akan mengantarkan jiwa siap untuk mengembangkan potensi. Lingkungan dan ekosistem di pesantren sangat mendukung, di beberapa pondok pesantren yang memiliki lahan luas, sudah banyak santrinya dibekali untuk beternak sehingga lebih mudah membimbing dan membinanya.
"Nanti santri-santri itu akan kita kelompokkan, kemudian kita arahkan minatnya. Apa ke ternak, budidaya tanaman, pengolahan hasil atau pemasaran produk pertanian," kata Dedi Nursyamsi.
BPPSDMP Kementan memiliki balai-balai pelatihan didukung widyaiswara pertanian didukung pengetahuan teknologi yang siap diterapkan pada masyarakat.
"Kita akan dampingi para santri tersebut melalui kelompok, kita arahkan ke beberapa komoditas semisal berternak ayam, domba/kambing dan berkebun," katanya. [Budi]
Jakarta [B2B] - The potential for regeneration of Indonesian farmers from Islamic boarding schools [pesantren] has the potential to develop millennial farmer students to support national agricultural development, to support food independence as well as export orientation, considering that today many parents entrust their children's education in modern boarding schools, according to senior official of the agriculture ministry.