Kementan Serukan Kulon Progo Tingkatkan Produktivitas Pertanian
Indonesia`s Kulon Progo Seeks to Meet the Needs of Food
Reporter : Kemal Agus Praghotsa
Editor : Cahyani Harzi
Translator : Dhelia Gani

PUBLISHED: Sabtu, 05 Juni 2021 , 21:40:00 WIB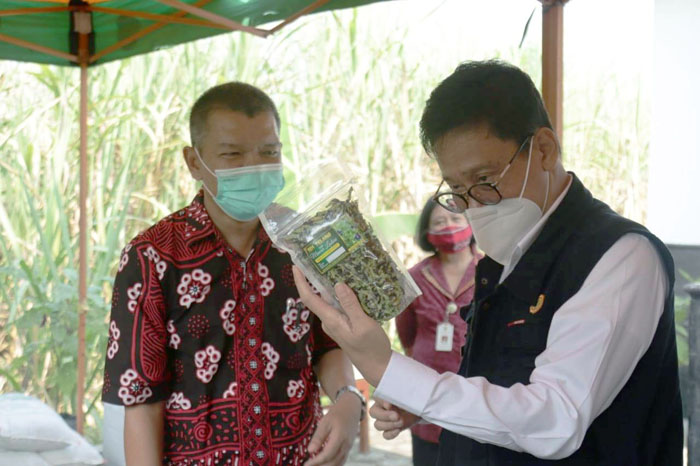 PRODUKSI PETANI: Kepala BPPSDMP Kementan, Dedi Nursyamsi [kanan] mencermati produk olahan petani didampingi Kadistan dan Pangan Kulon Progo, Muhammad Aris Nugroho [Foto: BPPSDMP/Pito]
Kulon Progo, DIY [B2B] - Petani dan penyuluh Kulon Progo diserukan oleh Badan Penyuluhan dan Pengembangan SDM Pertanian - Kementerian Pertanian [BPPSDMP Kementan untuk meningkatkan menggenjot produktivitas pertanian mendukung pencapaian ketahanan pangan nasional.
Seruan tersebut dikemukakan oleh Kepala BPPSDMP Kementan, Dedi Nursyamsi, Sabtu [5/6], pada kunjungan kerja di Balai Penyuluhan Pertanian [BPP] Pengasih dan Panjatan di Kabupaten Kulon Progo, Provinsi DI Yogyakarta.
Hal itu sejalan dengan instruksi dan arahan Menteri Pertanian RI Syahrul Yasin Limpo bahwa peningkatan produktivitas pertanian harus dilakukan untuk mendukung ketahanan pangan.
"Ketahanan pangan hanya bisa dijaga jika kita bisa meningkatkan produktivitas. Tentu hal itu menjadi tugas kita bersama, tugas insan pertanian," katanya.
Dedi Nursyamsi, mengajak kepada para penyuluh, para petani dan pemerintah setempat, termasuk forum para pimpinan kecamatan, untuk sama-sama menggenjot produktivitas pertanian.
"Upaya peningkatan produktivitas itu sebenarnya sudah dilaksanakan di sini. Kulon Progo ini aktif, baik BPPT maupun teman-teman penyuluh semua aktif untuk menggenjot produktivitas. Di sini ada produk-produk dari Poktan, Gapoktan, KWT, bahkan dari petani milenial. Termasuk ada inovasi KUB, yang disarankan BPTP dan sudah mulai diimplementasikan," katanya.
Hal yang penting untuk dilakukan, katanya, dalam upaya meningkatkan produktivitas pertanian adalah dengan meningkatkan kapasitas SDM pertanian.
"Baik itu penyuluh maupun petani. Peningkatan ini kita lakukan melalui program KostraTani. Saya sangat berharap dengan adanya KostraTani, maka terjadi juga peningkatan kapasitas pelatihan dan pendampingan petani," katanya.
Dedi menambahkan, yang saat ini sudah dilakukan oleh BPP, akan terus ditingkatkan oleh Kementan, sehingga nanti para penyuluh dan petani mampu meningkatkan produktivitas.
"Kalau mampu meningkatkan produktivitas, berarti keberhasilan pembangunan pertanian ada di genggaman kita," katanya.
Sementara Kepala Dinas Pertanian dan Pangan Kulon Progo, Muhammad Aris Nugroho mengucapkan terima kasih atas kehadiran Kepala BPPSDMP di wilayah kerjanya.
"Terima kasih Kepala BPPSDMP Kementan yang menyemangati kami di Kabupaten Kulonprogo, khususnya di BPP pengasih. Kehadiran ini penyemangat untuk kita bekerja," kata Aris.
Menurutnya, potensi yang ada di Kulonprogo adalah potensi pertanian, khususnya di Kapanewon Pengasih yang memiliki potensi lahan kering yang oleh Kostratani diubah menjadi lahan sawah. Kemudian dilakukan pengawalan dari sisi produksi sampai kepada produk.
"Jadi kita kawal sampai hilir, kemudian dilakukan pendampingan dari BPPT. KWT juga kita ajak membudidayakan ternak, khususnya ayam. Tidak hanya sampai produksi telur, tetapi sampai produksi bibitnya," kata Aris. [Cha]
Kulon Progo of Yogyakarta [B2B] - Indonesian government through the agriculture ministry has developed shallots production centers in Yogyakarta province as the buffer zone for improve welfare of farmers and the anticipation of the supply chain and expense transport which often trigger price increases in consumer level, according to senior official of the ministry.