Lahan Bera Terluas, Kecamatan Bulupesantren jadi Target Utama PJ Upsus Kebumen
Indonesian Ministry take Advantage of Abandoned Land for Agriculture
Editor : M. Achsan Atjo
Translator : Dhelia Gani

PUBLISHED: Selasa, 24 April 2018 , 21:49:00 WIB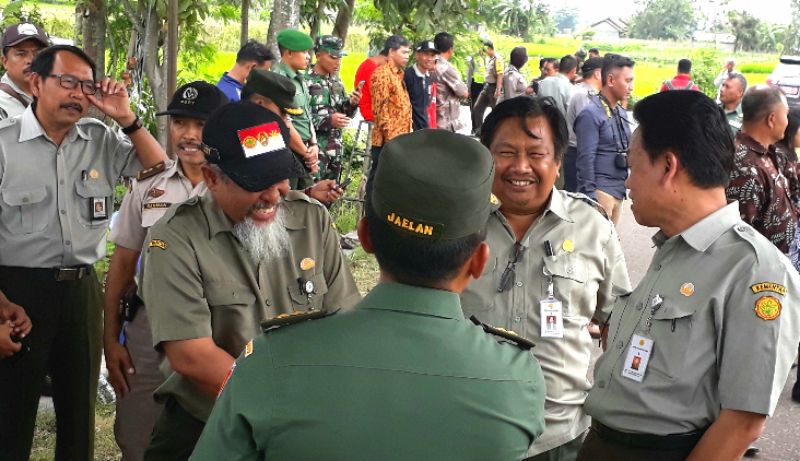 Ketua STPP Yogyakarta, Ali Rachman (ke-2 kanan) berbincang dengan Kepala BPPSDMP Kementan, Momon Rusmono (kanan) dan Kabag Administrasi Umum STPP Yogyakarta, Irwan JS (kiri) Foto: B2B/Mac)
Klaten, Jawa Tengah (B2B) - Upaya optimalisasi lahan tidur (lahan bera) di Kabupaten Kebumen, Provinsi Jawa Tengah di bawah koordinasi PJ Upsus Pajale, Ali Rachman membidik Kecamatan Bulupesantren sebagai prioritas utama mengingat luasnya mencapai 1.073 hektar atau yang terluas dari 26 kecamatan, sementara total lahan bera di seluruh Kebumen mencapai 13.011 hektar.
Ali Rachman pun melakukan koordinasi dengan TNI AD khususnya Kodim 0709/Kebumen untuk mendukung optimalisasi lahan bera sehingga dapat dimanfaatkan petani setempat untuk menanam padi, jagung, dan kedelai (Pajale). Koordinasi serupa dilakukan PJ Upsus Pajale Kebumen dengan para penyuluh pertanian lapangan (PPL) di Kebumen.
"Tim Upsus Kebumen meningkatkan koordinasi dengan Kodim 0709 Kebumen untuk mencapai target optimalisasi lahan bera, mengingat potensinya sangat besar untuk meningkatkan produksi Pajale," kata Ali Rachman yang menjabat Ketua Sekolah Tinggi Penyuluhan Pertanian - STPP Yogyakarta melalui pernyataan tertulis, belum lama ini.
Dari hasil koordinasi intensif, Perwira Seksi Teritorial (Pasiter) Kodim Kebumen, Kapten Inf Bambang menyatakan bahwa pihaknya sudah koordinasi dengan 26 komando rayon militer (Koramil) di tiap kecamatan.
"Kami minta Danramil untuk mengoptimalkan pengolahan lahan bera sehingga dapat digunakan petani untuk menanam Pajale," kata Kapten Inf Bambang yang melaksanakan arahan Komandan Kodim 0709/Kebumen, Letkol Kav Suep.
Endah, PPL di Kecamatan Bulupesantren mengatakan bahwa petani sudah mulai menggarap lahan bera, seiring masih intensnya curah hujan dan petani juga baru selesai memanen padi hasil musim tanam pertama (MT1), kini sudah banyak traktor roda (TR2) dan TR4 untuk mengolah tanah.
Dia berharap dukungan PJ Upsus Kebumen dan Kodim 0709/Kebumen dapat meminimalisir lahan bera, artinya sebagian besar sudah dimanfaatkan untuk lahan pertanian Pajale pada musim tanam kedua (MT2). Saat ini total lahan baku di Kecamatan Bulupesantren mencapai 2.089 hektar dan lahan kering 990 hektar.
Pantauan Simotandi
Sebelumnya diberitakan, Kementerian Pertanian RI mendorong pemanfaatan lahan yang belum dimanfaatkan atau lahan bera di seluruh Undonesia, khusus di Provinsi Jawa Tengah, Penanggung Jawab Upsus Pajale Kebumen, Ali Rachman berupaya memaksimalkan potensi lahan bera seluas 13.011 hektar di 26 kecamatan.
Ali Rachman mengatakan pemanfaatan lahan bera mengacu pada hasil pantauan Sistem Informasi Monitoring Pertanaman Padi (Simotandi) dari citra satelit Landsat-8 per 14 - 29 Maret 2018, dengan esolusi spasial 30m x 30m dan temporal 16 harian.
"Pemanfaatan potensi lahan bera di Kebumen, Jateng maka pihaknya senantiasa koordinasi dengan dinas pertanian dan pangan Kabupaten Kebumen dan Kodim 0709 Kebumen," kata Ali Rachman yang juga menjabat sebagai Ketua Sekolah Tinggi Penyuluhan Peternakan - STPP Magelang melalui pernyataan tertulis, belum lama ini.
Menurutnya, lahan bera harus segera diolah dan jangan dibiarkan ´tidur´ terlalu lama karena lahan tersebut apabila diolah sangat berpotensi untuk meningkatkan produksi padi, jagung, dan kedelai atau Pajale.
Klaten of Central Java (B2B) - Abandoned land in Bulupesantren subdistrict in Kebumen district of Central Java province becomes target of Person in Charge of increase of strategic food production for Kebumen district or PJ Upsus Pajale Kebumen, Ali Rachman as the priority considering the extent reaches 1,073 hectares or the widest of 26 districts, while total land abandoned across Kebumen reached 13,011 hectares.
Mr Rachman coordinated with Indonesian army or TNI AD especially Kebumen´s Regional Military Command 0709 support the optimization of abandoned area so that local farmers can use to plant rice, corn, and soybean or Pajale. Similar coordination was carried out by PJ Upsus Pajale Kebumen with agriculture extention agents or PPL in Kebumen.
"The ministry team improves coordination with the Kebumen´s army achieve the target of abandoned land area optimization, given its enormous potential to increase Pajale production," Mr Rachman said who also serves as the Rector of Yogyakarta´s Agriculture Extention College or STPP Yogya through a written statement recently.
Territorial officer of Kebumen´s army, Captain Inf Bambang stated that his side has coordinated with 26 subdistrict´s military command in Kebumen district.
"Indonesian army in Kebumen coordinated with agriculture ministry especially PJ Upsus Pajale optimize abandoned land functionto be used as agricultural land," said Captain Inf Bambang.
Endah, the PPL in Bulupesantren subdistrict that farmers have started to work on fallow land, as the intensity of rainfall and farmers have just finished rice yield of first planting season, now many tractor wheels and to cultivate the soil.
She expects support of the ministry and Kebumen´s army can minimize of abandoned land meaning that most have been utilized for farming area during second planting season.
He hopes that the support of PJ Upsus Kebumen and Kodim 0709 / Kebumen can minimize fallow land, meaning that most have been utilized for agriculture land during second planting season in Bulupesantren reaches 2,089 hectares and dry land 990 hectares.
Simotandi Application
Indonesian Agriculture Ministry seeks to utilize abandoned land or lahan bera across the country for agriculture, specialized in Central Java province, Person in Carge or PiC of increase of strategic food production for Kebumen district or PJ Upsus Pajale Kebumen, Ali Rachman seeks to maximize abandoned land potential of 13,011 hectares in 26 districts.
Mr Rachman said the utilization of lahan refers to the monitoring of Rice Crop Monitoring Information System or Simotandi from Landsat-8 satellite images per 14 to 29 March 2018, with spatial resolution of 30m x 30m, 16th temporal daily.
"The lahan bera use plan in Kebumen is coordinated with relevant parties such as the local agricultural office and the village counselor," said Mr Rachman who also serves as the Rector of Magelang´s of Livestocks Extensions College or the STPP Magelang through a written statement, recently.
According to him, the lahan bera fallow must be developed for agricultural land because it is very potential to support increased production of rice, corn, and soybeans in the district and province.