Ali Jamil Ingatkan Komitmen Insan Barantan Tingkatkan Kinerja `Kewasdakan`
Agricultural Quarantine is Committed to Protect Indonesia`s Biodiversity
Reporter : Gusmiati Waris
Editor : Cahyani Harzi
Translator : Dhelia Gani

PUBLISHED: Selasa, 12 Februari 2019 , 21:57:00 WIB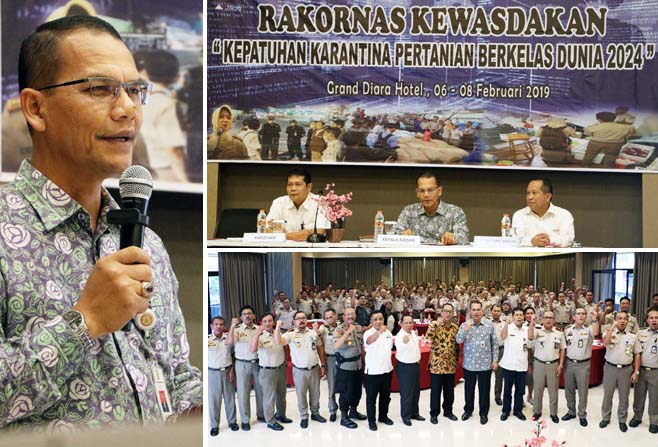 LUMBUNG PANGAN DUNIA: Kepala Barantan, Ali Jamil (kiri) didampingi Sekretaris Barantan, Arifin Tasrif dan Kapus Sudjarwanto (atas) dan bersama jajaran pusat dan daerah (Foto2: Humas Barantan)
Jakarta (B2B) - Badan Karantina Pertanian di Kementerian Pertanian RI (Barantan) berkomitmen meningkatkan kinerja pengawasan dan penindakan (Kewasdakan), merujuk kinerja Kewasdakan 2018 berhasil menangani 47 kasus perkarantinaan, 20 kasus di antaranya memasuki tahapan berkas perkara P-21 atau pemberitahuan bahwa hasil penyidikan kasus sudah lengkap.
Kepala Barantan, Ali Jamil mengajak jajaran Barantan di seluruh Indonesia untuk meningkatkan kinerja Kewasdakan, sementara tahun lalu berhasil ditangani 47 kasus dan 20 di antaranya memasuki tahap P-21 merujuk pada data
"Rakornas Kewasdakan merupakan bagian dari konsistensi Barantan mengawal kebijakan pemerintah dalam penegakan hukum yang bebas korupsi, bermartabat dan terpercaya," kata Ali Jamil saat membuka Rakornas Kewasdakan 2019 didampingi Sekretaris Barantan, Arifin Tasrif dan Kepala Pusat Kepatuhan, Kerjasama dan Informasi Barantan, Sudjarwanto.
Menurutnya, Kewasdakan sejalan dengan program NawaCita yang digulirkan pemerintah dan amanah UU Karantina Hewan, Ikan dan Tumbuhan No 16/1992 bahwa Barantan merupakan institusi dengan lex specialis dalam penegakan hukum bidang perkarantinaan.
"Pemenuhan kebutuhan pangan menjadi tantangan tersendiri bagi Indonesia yang merupakan negara kepulauan. Semua jajaran kewasdakan di pusat maupun UPT di daerah harus mempunyai kemampuan satu langkah ke depan mengantisipasi pelanggaran terhadap keamanan hayati kita," kata Ali Jamil.
KaBarantan berpesan untuk terus memperkuat dan meningkatkan pengawasan dan koordinasi bersama Polri, TNI dan para pemangku kepentingan untuk mendukung pengawasan pangan.
"Barantan harus terus mengawal Indonesia menjadi lumbung pangan dunia 2045," katanya.
Jakarta (B2B) - Directorate General of Indonesian Agricultural Quarantine at the Agriculture Ministry committed or the Barantan to improve the performance of supervision and enforcement or Kewasdakan, refer to the 2018 Action Performance successfully handled 47 quarantine cases, 20 of the cases included in the investigation category are complete locally known as the P-21.
Director General of Barantan, Ali Jamil invites quarantine people across the country to improve performance, while last year managed 47 cases, and 20 cases of P-21 refer to police data.
"Coordination meetings are part of Barantan´s consistency support quarantine law enforcement," Jamil said here while opened the 2019 national coordination meeting accompanied by Barantan Secretary, Arifin Tasrif and Head of Compliance, Cooperation and Information Center, Sudjarwanto.
According to him, the Kewasdakan is in line with NawaCita program of Joko Widodo administration and mandate of the Animal, Fish and Plant Quarantine Law, that Barantan is an institution with lex specialis quarantine law.
"Food needs are challenge for Indonesia as an archipelago. The whole range of agricultural quarantine at the central and regional levels must work one step ahead of anticipating violations of Indonesia´s biosafety," said Jamil.
Jamil advised to continue to strengthen and improve supervision and coordination with the National Police or Polri, the Armed Forces and stakeholders support food supervision.
"The Barantan must continue support Indonesia to become the 2045 world food barn," he said.