MAF V Online, Pusdiktan BPPSDMP Bahas Kesehatan bagi Petani Milenial
Millennial Farmers are the Target of Developing Indonesian Agricultural HR
Editor : M. Achsan Atjo
Translator : Dhelia Gani

PUBLISHED: Rabu, 08 Juli 2020 , 22:11:00 WIB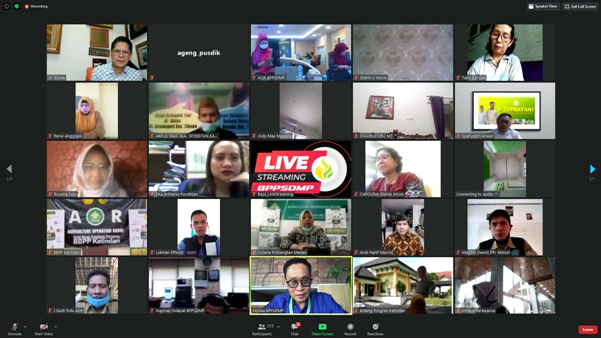 DISKUSI ONLINE: Pakar kesehatan dr Boyke Dian Nugraha SpOG hadir sebagai narasumber MAF V yang dipandu Kepala Pusdiktan BPPSDMP, Idha Widi Arsanti selaku moderator [Foto: Humas Pusdiktan]
Jakarta [B2B] - Kepiawaian bisnis dan peluang usaha bukan hal baru bagi petani milenial, namun pendekatan kesehatan sebagai faktor utama kelangsungan usaha selaku wirausaha milenial, juga menjadi topik utama Kementerian Pertanian RI untuk mendukung kinerja mereka mendukung ketahanan pangan Indonesia.
Topik kesehatan petani milenial menjadi bahasan utama forum online terjadwal, Millenial Agriculture Forum [MAF] V yang digelar Pusat Pendidikan Pertanian [Pusdiktan BPPSDMP] dengan topik ´Raih Peluang Bisnis Pertanian di Tengah Pandemi Covid-19, Petani Milenial Tidak Lupa Kesehatan´ di Jakarta, Selasa [7/7].
Pakar kesehatan dr Boyke Dian Nugraha SpOG hadir sebagai narasumber MAF V yang dipandu Kepala Pusdiktan BPPSDMP, Idha Widi Arsanti selaku moderator.
"Saya berharap di tengah pandemi Covid-19, petani milenial tetap aman dari penularan virus Corona. Kita tetap produktif. Kita harus tetap sehat. Namun tidak boleh egois di tengah pandemi Covid-19, karena memiliki stamina yang baik," kata dr Boyke.
Dia mengingatkan, para petani milennial berhubungan dengan pemasok, penjual, konsumen, dimana mereka adalah orang-orang yang mungkin rentan dengan Covid-19. "Kita harus menyayangi mereka semua. Jangan lupa jaga jarak. Jangan mendatangi tempat orang berkumpul."
Dalam arahannya, dr Boyke mengemukakan bahwa menjadi petani itu keren. "Petani milenial akrab dengan komunikasi dan teknologi digital. Asal kita menguasai platform penjualan, komunikasi dengan baik, bisa menjual produksi, tentu bisa survive di tengah pandemi."
Dia juga menyampaikan, para milenial bisa mengejar apa pun sesuai keinginan asalkan tetap mematuhi Protokol Kesehatan. "Kondisi sekarang, kita harus lebih sehat dari sebelum pandemi Covid-19. Kita tidak bisa hindari namun ekonomi harus tetap jalan."
Pada kesempatan yang sama, Kepala BPPSDMP Kementan Dedi Nursyamsi juga memberikan arahan tentang peran vital ketersediaan pangan bagi kehidupan manusia, maka diharapkan petani milenial berkontribusi signifikan secara langsung untuk penyediaan pangan.
"Seluruh aspek kehidupan terganggung selama pandemi, termasuk pangan. Distribusi pangan kita terganggu. Bisnis pangan saat ini yang paling cocok adalah dengan online system," lanjut Dedi.
Pemanfaatan teknologi 4.0 sangat penting dalam pengembangan sektor pertanian dari hulu ke hilir agar efisien, cepat dan masif, utamanya produksi massal dari hulu hingga hilir.
"Hal itu sejalan dengan instruksi Menteri Pertanian Syahrul Yasin Limpo bahwa aktifitas pertanian tidak boleh berhenti," katanya mengutip Mentan Syahrul. [Vtr]
Jakarta [B2B] - Indonesian Agriculture Ministry encourages agricultural training activities support the strategic program of the ministry by developing a self-help agricultural training center in the countryside, and on-the-job training in food production centers, according to senior official.