Tugas Belajar, Kementan Dampingi PNS Percepat Masa Studi S2 dan S3
Indonesian Agriculture Anticipate Covid-19 by Weaker Health Systems
Editor : M. Achsan Atjo
Translator : Dhelia Gani

PUBLISHED: Kamis, 04 Juni 2020 , 22:15:00 WIB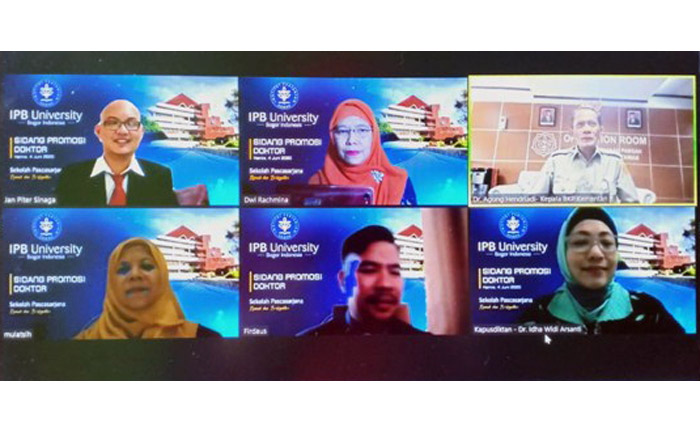 SIDANG ONLINE: PNS tugas belajar Jan Piter Sinaga [kiri atas] mengikuti sidang promosi doktor secara online didampingi Kepala BKP Kementan, Agung Hendriadi [kanan atas] dan Kapusdik Idha Widi Arsanti [kanan bawah]
Jakarta [B2B] - Kementerian Pertanian RI khususnya Badan Penyuluhan dan Pengembangan SDM Pertanian [BPPSDMP] melalui Pusat Pendidikan Pertanian [Pusdiktan] terus mendorong percepatan penyelesaian masa studi PNS yang mendapat beasiswa S2 dan S3, dengan melakukan pendampingan.
Jan Piter Sinaga, peserta tugas belajar pada Program Ilmu Perencanaan Pembangunan Wilayah dan Pedesaan, Fakultas Ekonomi dan Manajemen di Institut Pertanian Bogor [IPB] melaksanakan sidang promosi doktor pada Kamis [4/6].
Dalam desertasi berjudul 'Integrasi Pasar Pangan Strategis di Indonesia', Jan Piter Sinaga menyimpulkan kebijakan stabilisasi pasokan dan harga harus memperhatikan aspek spasial yang bersifat spesifik lokal sehingga sesuai dengan faktor yang mempengaruhi stabilisasi pasokan dan harga di masing-masing kabupaten/kota.
Kegiatan sidang promosi doktor berlangsung online, yang dihadiri Sri Mulatsih; Dwi Rachmina; Muhammad Firdaus; Kepala BKP Kementan, Agung Hendriadi; dan Kepala Pusdiktan BPPSDMP, Idha Widi Arsanti yang juga sebagai pembimbing.
Menteri Pertanian RI Syahrul Yasin Limpo menekankan pentingnya pengembangan SDM untuk mengoptimalkan sektor pertanian ke depan menuju pertanian maju, mandiri dan modern.
Sejalan hal itu, Kepala BPPSDMP Prof Dedi Nursyamsi menekankan bahwa pentingnya peran SDM pertanian, yang akan mendukung dan berkontribusi signifikan bagi pembangunan pertanian Indonesia.
Kegiatan pendampingan, menurutnya, akan memudahkan monitoring dan evaluasi sehingga para peserta tugas belajar lebih disiplin untuk menyelesaikan masa studinya dan berkontribusi terhadap instansi masing-masing, terutama di tengah pandemi Covid-19 saat ini.
"Penyelesaian studi peserta tugas belajar seharusnya tetap dapat berjalan lancar, terutama bagi peserta yang sudah di semester akhir. Pandemi Covid-19 jangan menjadi dalih peserta tugas belajar melalaikan kewajibannya untuk menyelesaikan studi," kata Kapusdik Idha WA. [Mia]
Jakarta [B2B] - Indonesia´s is in intensive care after testing positive for the novel coronavirus, as civil servants in head office and across the country were ordered to close over the health threat. The World Health Organization has said it is particularly concerned about high-risk nations with weaker health systems, which who may lack the facilities to identify cases.