Padi Largo Super Siap Panen, Upsus Pajale Kebumen Optimistis LTT Capai Target
Indonesian Agriculture Ministry Developing Rice Planting under Coconut Trees
Editor : M. Achsan Atjo
Translator : Dhelia Gani

PUBLISHED: Sabtu, 03 Februari 2018 , 22:25:00 WIB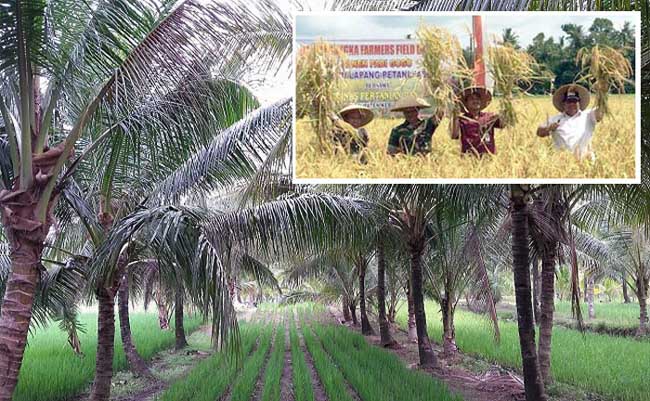 LARGO SUPER: PJ Upsus Pajale Kebumen, Ali Rachman (kanan) panen padi gogo di Kebumen (inset) dan budidaya padi Largo Super di bawah tegakan pohon kelapa (Foto: istimewa)
Kebumen, Jateng (B2B) - Kementerian Pertanian RI mengembangkan teknologi budidaya padi lahan kering (padi gogo) di bawah tegakan pohon kelapa di Kabupaten Kebumen, Provinsi Jawa Tengah. Teknologi budidaya yang dikembangkan oleh Badan Penelitian dan Pengembangan Pertanian (Balitbangtan) diharapkan dapat mendukung pencapaian target luas tambah tanam (LTT).

Hal itu dikemukakan oleh Penanggung Jawab Program Upsus Pajale Kebumen, Ali Rachman; Kepala Dinas Pertanian dan Pangan Kabupaten Kebumen, Pudji Rahaju; dan Kepala Bidang Kerjasama dan Pendayagunaan Hasil Penellitian Balai Besar Padi - BB Padi Sukamandi, Suprihanto usai panen padi gogo di Desa Banjarejo, Kecamatan Puring, Kebumen pada Rabu (31/1).

"Kecamatan Puring menjadi lokasi pengembangan padi lahan kering dengan sistem larik dan gogo atau Largo Super, yang dikembangkan oleh Badan Litbang Kementan, terobosan ini diharapkan dapat mendukung pencapaian target luas tambah tanam di Kebumen," kata Ali Rachman, yang juga menjabat Ketua Sekolah Tinggi Penyuluh Pertanian - STPP Magelang.

Berdasarkan informasi dari BB Padi Sukamandi, menurutnya, Largo Super didukung paket teknologi yang mumpuni ketimbang varietas pendahulunya, khususnya sistem tanam larikan gogo terkait jarak tanam yang memungkinkan proses fotosintesis lebih optimal karena pencahayaan matahari yang memadai.

Keunggulan lain adalah penggunaan alat tanam tebar benih langsung dan biodekomposer yakni mikroba yang mempercepat dekomposisi bahan organik sisa-sisa tanaman menjadi kompos, sehingga dapat menyediakan hara nitrogen, fosfor dan kalium (NPK), memperbaiki struktur tanah, meningkatkan kemampuan memegang air, meningkatkan aktivitas biologi tanah, dan menekan perkembangan penyakit tular tanah.

Keunggulan Largo Super yang diuraikan Ali Rachman dibenarkan oleh Suprihanto dari BB Padi Sukamandi, plus penggunaan pupuk hayati pupuk berbasis mikroba non-patogenik untuk meningkatkan kesuburan dan kesehatan tanah melalui beberapa aktivitas yang dihasilkan oleh mikroba tersebut.

"Aktivitas vital tersebut antara lain menambat nitrogen, melarutkan fosfat sukar larut dan menghasilkanfito hormon atau zat pemacu tumbuh tanaman, dan penggunaan bioprotektor untuk mengendalikan hama penyakit tanaman padi," kata Suprihanto.

Pudji Rahaju pun menyambut baik Largo Super dan pemilihan lokasi uji coba di Desa Banjarejo dan Desa Puliharjo diharapkan mampu mencapai target produksi 10 ton per hektar.

"Kebumen dipilih sebagai lokasi uji coba karena wilayah lahan kering yang luas menghampar sepanjang pantai selatan baik terbuka maupun ditanami tanaman tahunan terutama kelapa," kata Pudji.
Kebumen of Central Java (B2B) - Indonesian Agriculture Ministry develops dryland rice cultivation technology under coconut trees in Kebumen district of Central Java province. The cultivation technology developed by the ministry´s Agricultural Research and Development agency is expected to support the achievement of the extensification targets.

It was stated by Person in Charge of the Rice Production Improvement Program for Kebumen, Ali Rachman; Head of Agriculture Office of Kebumen district, Pudji Rahaju and Head of Cooperation Division of Sukamandi´s Rice Research Institute or BB Padi Sukamandi, Suprihanto after the harvest of upland rice in Banjarejo village of Puring subdistrict, on Wednesday (January 31).

"Puring subdistrict became research location of dryland rice development with array and gogo system or Largo Super to support the extensification of rice crops in Kebumen," said Mr Rachman who is also Rector of Magelang´s College of Agricultural Extension.

Based on information from the BB Padi Sukamandi, according to Mr Rachman, the Largo Super is supported by qualified technology compared to previous varieties, especially gypsum cropping system related to plant spacing that allows more optimal photosynthesis process.

Another advantage is the use of planting tools directly seed stocking and biodecomposers, microbes that accelerate the decomposition of residual organic matter into compost for the supply of nitrogen, phosphorus and potassium, improve soil structure, increase water holding capacity, increase soil biological activity, and suppress soil contagion.

The Super Largo excellence described by Ali Rachman is justified by Suprihanto from BB Padi Sukamandi, plus the use of non-pathogenic microbial fertilizer based fertilizers to improve soil fertility and health through some of activities produced by these microbes.

"This vital activity inhibits nitrogen, dissolves phosphate soluble and produces phthalocytes or growth-promoting substances, and bioprotectors to control pests of rice plants," said Suprihanto.

Pudji Rahaju appreciated the Super Largo and selected Banjarejo and Puliharjo village as test site which is expected to reach the target of 10 tons per hectare.

"Kebumen was chosen as a test site because of dry land area on the south coast of Java both open area and under coconut tree," she said.