Regenerasi Petani, Program YESS Identifikasi Pertanian Efektif dan Transparan
Indonesian Govt Encourages Farmers to Develop Modern Agribusiness
Editor : M. Achsan Atjo
Translator : Dhelia Gani

PUBLISHED: Minggu, 07 Juni 2020 , 22:28:00 WIB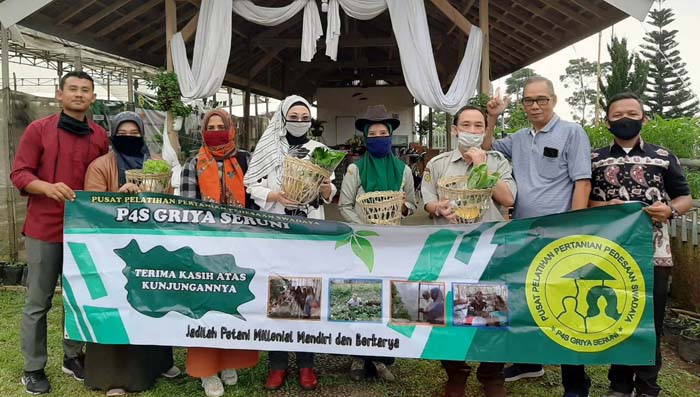 PROGRAM MAGANG: Kapusdik Idha Widi Arsanti [ke-4 kiri] bersama Ketua P4S Griya Seruni, Teddy RM [ke-2 kanan] dan Kasubbid Peserta Didik - Pusdiktan, R Hermawan [ke-3 kanan] Foto: Humas Pusdiktan
Bogor, Jabar [B2B] - Pemenuhan kebutuhan pangan ke depan membutuhkan dukungan pertanian sektor pertanian yang efektif, efisien dan transparan melalui pengembangan petani milenial yang maju, mandiri dan modern untuk menjawab tantangan global.
"Pertanian harus didukung kalangan milenial sebagai pencetak lapangan kerja di sektor pangan. Pemerintah berupaya melakukan regenerasi petani sekaligus melahirkan pengusaha muda pertanian yang berdampak sosial dan ekonomi bagi masyarakat," kata Kepala BPPSDMP Kementan, Prof Dedi Nursyamsi mengutip arahan Menteri Pertanian RI Syahrul Yasin Limpo.
Hal itu diimplementasikan oleh Pusat Pendidikan Pertanian [Pusdiktan] selaku pelaksana Youth Entrepreneurship and Employement Support Services Programme [YESS] melalui pendampingan pada Pusat Pelatihan Pertanian dan Pedesaan Swadaya [P4S] salah satunya P4S Griya Seruni di Desa Bojong Murni, Kampung Jambuwuluk, Kabupaten Bogor, Provinsi Jawa Barat.
"P4S adalah lembaga pelatihan pertanian dan pedesaan yang didirikan, dimiliki dan dikelola petani secara swadaya baik perorangan maupun berkelompok. Diharapkan langsung berperan aktif dalam pembangunan pertanian melalui pengembangan SDM pertanian melalui pelatihan atau kegiatan magang bagi petani dan masyarakat di wilayahnya," kata Kepala Pusdiktan, Idha Widi Arsanti selaku Direktur Program YESS.
Dia mengharapkan Program YESS meningkatkan kontribusi generasi milenial untuk transformasi pembangunan perdesaan secara berkelanjutan dan menyeluruh.
Masih dalam suasana Idul Fitri, Project Manager YESS, Inneke Kusumawaty mengunjungi P4S Griya Seruni yang diharapkan perannya sebagai fasilitator pelatihan dasar hidroponik dan magang hidroponik skala usaha.
"Kegiatan pelatihan atau magang di P4S Griya Seruni akan menyadarkan masyarakat pada kebutuhan sayur segar dan sehat karena non pestisida, akhirnya masyarakat sekitar banyak melakukan budidaya hidroponik di pekarangan rumah masing-masing," katanya didampingi Kepala P4S Griya Seruni, Teddy Rachmat Muliady.
Menurutnya, hasil budidaya hidroponik tersebut bisa dimanfaatkan untuk kebutuhan pangan mereka sehari-hari ataupun dapat dijual dilingkungan sekitar maupun dipasaran dengan cara pemesanan serta melalui online.
Teddy RM menyambut baik kerjasama dengan Kementan melalui Program YESS, diharapkan dapat melahirkan lebih banyak wirausaha muda pedesaan di sektor pertanian serta menghasilkan tenaga kerja berkompeten. [Vtr]
Bogor of West Java [B2B] - Indonesian Agriculture Ministry encourages agricultural training activities support the strategic program of the ministry by developing a self-help agricultural training center in the countryside, and on-the-job training in food production centers, locally known as the P4S, according to senior official.
The training pattern is an approach to the field conditions faced by farmers, solutions to overcome agricultural problems, especially to invite young people to the agricultural sector, and in the future will be developed into an integrated agricultural training center.