BPPSDMP Akui Peran SMK-PP Didik 18 Ribu, Luluskan 7 Ribu Siswa Tiap Tahun
Agricultural Vocational High School Support Indonesia`s Development
Reporter : Gusmiati Waris
Editor : Cahyani Harzi
Translator : Dhelia Gani

PUBLISHED: Kamis, 07 Maret 2019 , 22:33:00 WIB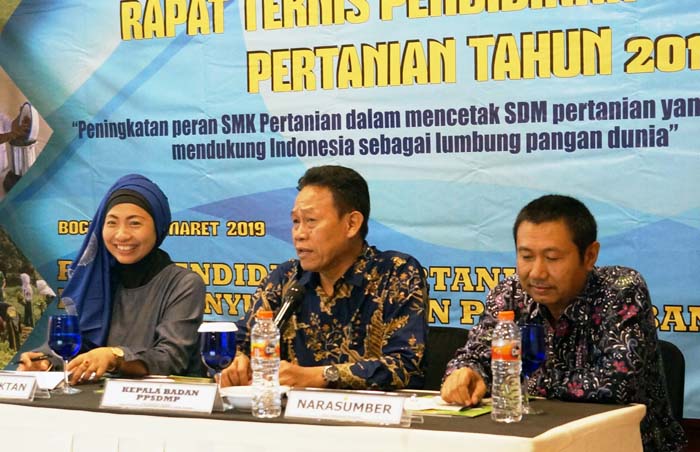 HADIR PIMPINAN 76 SMK-PP: Kepala BPPSDMP Kementan, Momon Rusmono (tengah) pada ´rapat teknis pendidikan menengah pertanian´ didampingi Kapusdiktan Idha WA (kiri) Foto: Humas BPPSDMP Kementan
Bogor, Jabar (B2B) - Pencapaian ketahanan pangan nasional harus didukung kader-kader pertanian masa depan untuk meningkatkan produktivitas dan nilai tambah hasil produksi pertanian. Saat ini 76 sekolah menengah kejuruan pertanian (SMK-PP) mendukung penyiapan generasi muda pertanian yang kompeten dan profesional, dengan mendidik 18.000 siswa dan menghasilkan tujuh ribu lulusan setiap tahun.
Kepala Badan Penyuluhan dan Pengembangan SDM Pertanian - Kementerian Pertanian RI (BPPSDMP) Momon Rusmono mengatakan animo masyarakat terhadap SMK-PP terus meningkat, untuk mendidik generasi muda mempelajari pertanian dan aplikasinya membangun pangan nasional.
"Ketahanan pangan Indonesia bukan hanya fokus pada kualitas benih dan penyediaan Alsintan, tapi juga menyiapkan SDM berkualitas dan SMK-PP diharapkan menjadi solusi agar muncul petani-petani muda dari seluruh Indonesia," kata Momon Rusmono dalam arahannya pada ´rapat teknis menengah pertanian 2019´ di Bogor, Rabu (6/3).
Rapat dihadiri oleh pimpinan dan pengelola 76 SMK-PP dari seluruh Indonesia yang dibina oleh Kementan, sebagian besar di antaranya milik pemerintah daerah dan yayasan. Dari jumlah tersebut, hanya tiga SMK-PP yang dimiliki dan dikelola langsung oleh BPPSDMP Kementan: SMK-PP Sembawa di Provinsi Sumatera Selatan, SMK-PP Banjarbaru (Kalimantan Selatan), SMK-PP Kupang (Nusa Tenggara Timur). Turut hadir Kepala Pusat Pendidikan Pertanian (Pusdiktan) Idha Widi Arsanti.
"Hingga saat ini peran SMK-PP mencerdaskan generasi muda pertanian cukup signifikan, rata-rata 18 ribu siswa menempuh pendidikan di SMK-PP dan setiap tahunnya meluluskan rata-rata tujuh ribu siswa yang siap bekerja di dunia usaha/industri atau menjadi wirausahawan muda pertanian.
Menurutnya, Kementan memiliki tanggung jawab dalam menyiapkan generasi muda pertanian yang kompeten dan profesional tersebut, salah-satunya melalui pembinaan dan pengembangan pendidikan menengah pertanian.
Kerjasama dan kemitraan dari masing-masing SMK-PP dengan mitra swasta, maka sebagian besar lulusannya dapat diserap oleh pasar kerja pada tahun pertama setelah kelulusan.
"Tingginya serapan lulusan SMK-PP tidak terlepas dari kurikulum pendidikan yang menekankan pada praktik ketimbang teori, sehingga lulusan memiliki kompetensi yang memadai," kata Momon Rusmono.
Tantangan pembangunan pertanian, menuntut semua komponen di lingkup pertanian untuk berkontribusi dalam mewujudkan pencapaian sasaran strategis kementerian mendukung pembangunan pertanian. (Ema)
Bogor of West Java (B2B) - Indonesian food security must be supported by farmer regeneration to increase production and value added of agricultural production. Currently 76 agricultural vocational high schools across the country or the SMK-PP support agricultural education for 18,000 students and seven thousand graduates every year.
Director General of Extension and Agricultural HR Development or the BPPSDMP, Momon Rusmono said said the public´s enthusiasm for SMK-PP continues to increase, to educate the young generation to study agriculture and its application to developing national food.
"Indonesia´s food security not only focuses on seed quality and the supply of agricultural machinery, but also prepares quality human resources and the SMK-PP is expected to be solution for Indonesian farmers´ regeneration," Rusmono said.
The coordination meeting was attended by leaders and managers of 76 SMK-PP across the country, most of the local government-owned and foundations.
"Until now, the role of SMK-PP is quite significant, an average of 18,000 students are educated in SMK-PP and graduated seven thousand students every year," Rusmono said.
According to him, the agriculture ministry is responsible for educate competent and professional young generations of agriculture.
Collaboration and partnership of SMK-PP with private companies encourages most of their graduates to be needed by the job market after students graduate.
"The high need for graduates of SMK-PP because the education curriculum focuses on practice and theory as supporting knowledge so that graduates have sufficient competence," Rusmono said.
The challenge of agricultural development requires all stakeholders to support the achievement of the ministry´s strategic goals.