Sarwo Edhy Pimpin Ditjen PSP, Kasdi Subagyono Gantikan Bambang WD
DG of Indonesia`s Plantations and Agricultural Infrastructure Replaced by Minister
Reporter : Gusmiati Waris
Editor : Cahyani Harzi
Translator : Dhelia Gani

PUBLISHED: Senin, 04 Februari 2019 , 21:36:00 WIB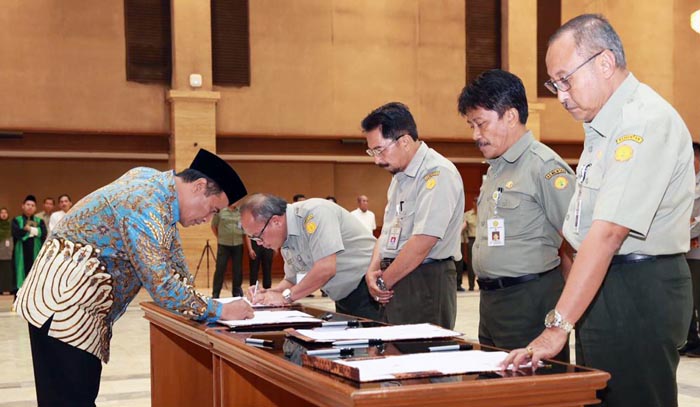 DIRJEN PERKEBUNAN: Kasdi S meneken SK (ke-4 kanan) mengganti Bambang WD (ke-2 kanan), Mentan teken SK pengangkatan Sarwo Edhy (ke-3 kanan) gantikan Pending DP (kanan) Foto: Humas Kementan/Fajar
Jakarta (B2B) - Menteri Pertanian RI Andi Amran Sulaiman melantik Sarwo Edhy Direktur Jenderal Prasarana dan Sarana Pertanian menggantikan Pending Dadih Permana, yang menjabat sejak 31 Januari 2017 sebagai Dirjen PSP, sementara Kasdi Subagyono dilantik sebagai Dirjen Perkebunan menggantikan Bambang Wahyu Dwiantoro, yang menjabat sejak 20 September 2016. Pending DP menempati posisi baru sebagai Staf Ahli Menteri (SAM) bidang Lingkungan Pertanian, dan Bambang WD dilantik menjadi SAM bidang Pengembangan Bio Industri.
Mentan Amran Sulaiman mengatakan bahwa semua prestasi dan capaian yang diraih sektor pertanian selama empat tahun Pemerintahan Joko Widodo - Jusuf Kalla merupakan kinerja terbaik yang dihasilkan dari kerja keras seluruh pegawai Kementerian Pertanian RI.

"Apresiasi dan terimakasih atas kinerja bapak dan ibu selama lebih dari empat tahun masa jabatan sebagai menteri pertanian di era Jokowi, dapat saya katakan bahwa saat ini kita sudah menunjukan kinerja terbaik," kata Mentan dalam sambutannya usai melantik 22 pejabat eselon satu dan dua Kementan, Senin (4/2).

Dr Sarwo Edhy SP MM
Sebelum dilantik sebagai Dirjen PSP, pria kelahiran Brebes, 22 Maret 1962 menjabat Direktur Buah dan Florikultura di Ditjen Hortikultura, dan Direktur Perbenihan Hortikultura sejak 29 November 2010.

Dia juga pernah menjabat sebagai Kepala Sub Direktorat Benih Tanaman Sayuran (2008 - 2010); Kepala Sub Direktorat Penilaian Varietas dan Pengawasan Mutu Benih (2005 - 2008); Kepala Bagian Evaluasi dan Pelaporan (2002 - 2005); Kasubbag Kerjasama Program (2001 - 2002); Kasubbag Analisis dan Evaluasi (2000 - 2001).

Bergelar Dr Sarwo Edhy SP MP, dia mengawali pendidikan tinggi di STIA Yappan Jakarta pada program studi administrasi negara, Sarwo Edhy lulus 1988. Lanjut ke pasca sarjana (S2) di STIE Jagakarsa Jakarta pada program studi manajemen SDM yang diselesaikan pada 2001, dan meraih gelar doktor pada 2015 di Universitas Negeri Jakarta (UNJ).

Dr Ir Kasdi Subagyono MSc
Pria kelahiran Nganjuk, 21 Mei 1964 ini meraih gelar sarjana S1 pada 1988 dari Universitas Brawijaya, Malang. Kemudian melanjutkan studi jenjang S2 di Ghent Universiteit, Belgia dan selesai 1996. Gelar doktor (S3) diperoleh pada 2003 dari Tsukuba University, Jepang.

Kasdi S pernah menjabat sebagai Kepala Biro Perencanaan di Sekretariat Jenderal Kementerian Pertanian RI sejak 30 Januari 2014; Sekretaris Badan Penelitian dan Pengembangan Pertanian (Balitbangtan) sejak Februari 2013, dan pernah menjabat Kepala Balai Besar Pengkajian dan Pengembangan Teknologi Pertanian (BBPPTP), jabatan lain yang pernah diemban Kepala BPTP Jawa Tengah, Kepala BPTP Jawa Barat (2007 - 2009), dan Kepala Balai Penelitian Agroklimat dan Hidrologi (Balitklimat) pada 2005 - 2007.

Jenjang fungsional Kasdi Subagyono saat ini adalah peneliti utama bidang hidrologi dan konservasi tanah.
Jakarta (B2B) - Indonesian Agriculture Minister Andi Amran Sulaiman inaugurated four of the ministry´s first echelon officials among others, Sarwo Edhy as the Director General of Agricultural Infrastructure and Facilities replaced Pending Dadih Permana, and Kasdi Subagyono as the Director General of Plantation replaced Bambang Wahyu Dwiantoro. Senior ministry officials inaugurated here on Monday (February 2) with 22 other senior officials.

Indonesian Agriculture Minister Andi Amran Sulaiman said that the achievements of agricultural sector of Joko Widodo´s administration is the best performance of all ranks in the ministry.

"I appreciate the ministry´s performance for more than four years of Joko Widodo era," said Minister Sulaiman in his remarks after inaugurated the first and second echelon officials here on Monday (February 4).

Dr Sarwo Edhy SP MM
Before being inaugurated as the Director General of Agricultural Infrastructure and Facilities, Sarwo Edhy served as Director of Fruits and Floriculture, and Director of Horticulture Seedling since November 29, 2010.

He also served as Head of Subdirectorate of Vegetable Seeds (2008 - 2010); Head of Subdirectorate of Variety Assessment and Supervision of Seed Quality (2005 - 2008); Head of Evaluation and Reporting Section (2002 - 2005); Head of Cooperation Program Subdivision (2001 - 2002); Head of Subdivision of Analysis and Evaluation (2000 - 2001).

He studied at STIA Yappan Jakarta in the state administration study program, graduated in 1988. Continue to postgraduate at the Jakarta´s STIE Jagakarsa in the HR management study program in 2001, and doctoral program in 2015 at Jakarta State University or the UNJ.

Dr Ir Kasdi Subagyono MSc
He was born May 21, 1964. He was graduated of the first srata college of Malang´s Brawijaya University. Then continued his postgraduate studies at Ghent Universiteit, Belgium, graduated in 1996. Doctoral degree of Japan´s Tsukuba University in 2003.

Subagyono has served as bureau chief of agriculture ministry since January 30, 2014; Secretary of Directorate General of Agricultural Research and Development since February 2013; served as Director of the Center for the Assessment and Development of Agricultural Technology; Director of Central Java´s Assessment Institute for Agricultural Technology or the BPTP Jateng, Director of BPTP West Java (2007 - 2009); and Director of the Agro-climate and Hydrology Research Center or the Balitklimat (2005 - 2007).

The functional position of Subagyono is the senior researcher of hydrology and soil conservation.