Dosen Tamu dan Jejak Alumni jadi Sorotan Utama Evaluasi Polbangtan dan PEPI
Indonesian Govt Evaluates Agricultural Vocational Education
Editor : M. Achsan Atjo
Translator : Dhelia Gani

PUBLISHED: Minggu, 03 November 2019 , 22:37:00 WIB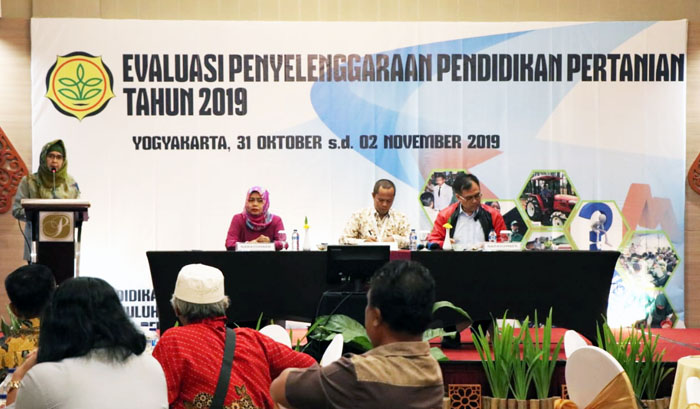 KINERJA PUSDIKTAN: Evaluator Sam Herodian; Direktur Polbangtan YoMa, Dr Rajiman; Kabid Penyelenggaraan Pendidikan, Ismaya NR Parawansa [duduk, kanan ke kiri]; dan Kasubbid Evaluasi - Pusdiktan, Vitri Aryanti [berdiri] Foto: Humas Pusdiktan
Yogyakarta, DIY [B2B] - Penyelenggaraan pendidikan, penelitian dan pengabdian masyarakat, komoditas andalan, pelacakan jejak alumni [tracer study], dosen tamu, dan inovasi teknologi menjadi sorotan utama dari 'evaluasi penyelenggaraan pendidikan vokasi pertanian' pada Politeknik Pembangunan Pertanian [Polbangtan] dan Politeknik Enjiniring Pertanian Indonesia (PEPI).
Kegiatan 'Evaluasi Polbangtan dan PEPI' berlangsung di Yogyakarta selama tiga hari, 31 Oktober - 2 November 2019 dihadiri seluruh evaluator di antaranya Hasil Sembiring; Mat Syukur; Sam Herodian; dan Made Oka Adnyana. Hadir pula para direktur Polbangtan dari seluruh Indonesia yang menyampaikan paparan di antaranya Direktur Polbangtan YoMa, Dr Rajiman dan Deputi Direktur Dr Ananti Yekti.
Direktur Polbangtan dan PEPI memaparkan tentang pelaksanaan dan rencana penyelenggaraan pendidikan, peserta didik, kelembagaan dan ketenagaan, serta penelitian dan pengabdian kepada masyarakat.
"Fokus komoditas di Polbangtan seperti Medan sudah baik namun perlu dipertajam lagi. Caranya dengan melakukan studi banding ke perusahaan kopi di luar negeri, contohnya Italia. Kita perlu belajar bagaimana cara terbaik mengolah kopi atau cara menjadi barista terbaik, larena selama ini kita hanya dapat menghasilkan biji kopi terbaik di dunia, namun tidak untuk produk kopi olahannya," kata Sam Herodian.
Pendapat senada dikemukakan oleh Mat Syukur, Hasil Sembiring, dan Made Oka. "Begitu pula dengan Polbangtan Bogor fokus urban farming. Malang dengan peternakan dan pembibitan. YoMa fokus pada peternakan dan biofarmaka. Gowa fokus pada kakao. Perkebunan dan hortikultura di Manokwari, serta PEPI fokus pada mekanisasi pertanian."
Tampak hadir Kepala Bidang Penyelenggaraan Pendidikan, Ismaya NR Parawansa mewakili Kepala Pusat Pendidikan Pertanian [Pusdiktan BPPSDMP Kementan] Idha Widi Arsanti; serta Kepala Subbidang Program dan Evaluasi Pendidikan, Vitri Aryanti.
"Semua harus dipertajam. Selain itu, dosen tamu dari kalangan praktisi juga perlu dihadirkan untuk memotivasi mahasiswa," kata Mat Syukur.
Ismaya NR Parawansa menambahkan evaluasi penyelenggaraan pendidikan diharapkan dapat memberikan arah kepada masing-masing Polbangtan dan PEPI untuk menyelaraskan kurikulum sesuai dengan kebutuhan dunia usaha dan dunia industri [DuDi] menghadapi era industrialisasi 4.0. [Elly & Vitri]
Yogyakarta [B2B] - Educational activities, research and community service, main commodities, tracer studies, guest lecturers, and technological innovation are the main highlights from 'evaluation of agricultural vocational education activities' at the Agricultural Development Polytechnic [Polbangtan] and Indonesian Agricultural Engineering Polytechnic [PEPI].