Arahan Mentan, BBPP Binuang Kawal Pupuk Subsidi di Kalimantan
Indonesia Binuang`s Agricultural Training Center Support Borneo Farmers
Editor : M. Achsan Atjo
Translator : Dhelia Gani

PUBLISHED: Kamis, 19 Januari 2023 , 22:46:00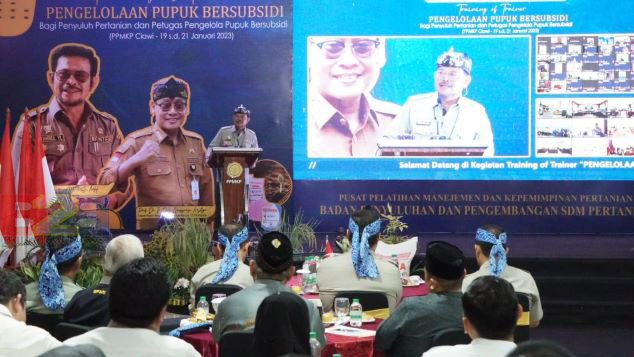 BBPP BINUANG: Menteri Pertanian Syahrul Yasin Limpo saat membuka kegiatan Training of Trainers [ToT] Pengelolaan Pupuk Bersubsidi di PPMKP, Ciawi.
Ciawi, Jabar [B2B] - Menteri Pertanian RI [Mentan] Syahrul Yasin Limpo memerintahkan jajarannya mengawal pengelolaan pupuk bersubsidi. Menurutnya, semua pihak harus bekerja sama untuk memastikan pupuk bersubsidi sampai kepada petani, tanpa ada kekurangan.
"Jangan sampai ada penyelewengan dan penyimpangan, boros di sana dan di sini. Tolong jaga dengan baik," ungkap Mentan Syahrul saat membuka kegiatan Training of Trainers [ToT] Pengelolaan Pupuk Bersubsidi di PPMKP, Ciawi, pada Kamis [19/1] sore.
Mentan menyebutkan, pertanian global saat ini menghadapi kondisi pelik dengan harga pupuk yang melonjak sebagai imbas dari konflik Rusia-Ukraina. Sebelum masa pandemi, harga urea tertinggi terjadi pada 24 Juni 2019 sebesar Rp. 4.123,-/kg. Sesaat setelah invasi Rusia ke Ukraina terjadi kenaikan sebesar 242% pada 25 Maret 2022, dan sampai saat ini kenaikan masih berlanjut.
"Dengan kondisi ketersediaan pupuk saat ini, maka kita harus menerapkan prinsip bahwa pupuk harus bisa cepat dibagi, cermat dalam membagi, dan akurat," tegas Mentan.
Untuk meningkatkan akurasi, Mentan meminta distribusi pupuk dapat memanfaatkan sistem digital. "Era cepat berubah, dibutuhkan kecepatan kita mengantisipasi. Karena itu, sistem digital dibutuhkan," jelasnya.
Mentan pun meminta pelatihan bisa dilaksanakan secara maksimal. Baginya, pelatihan bagi para penyuluh dan pengelola pupuk bersubsidi ini penting karena dalam pengelolaan pupuk bersubsidi, dibutuhkan orang-orang yang memiliki pola pikir membela negara.
"Para peserta yang ikut ToT hari ini harus memiliki tekad semangat berjuang bagi rakyat. Di tangan kita, ada kesejahteraan petani. Ada kemampuan untuk menyediakan makanan buat rakyat," ujar Syahrul.
Selain pengawasan tata kelola pupuk bersubsidi, Syahrul juga meminta semua pihak semakin kreatif dalam memanfaatkan sumber daya lokal untuk menyiasati ketersediaan pupuk bersubsidi. Sebagaj salah satu solusi terbaik, perlu dilakukan pengembangan pupuk organik sebagai alternatif pengganti pupuk kimia.
Kepala Badan Penyuluhan dan Pengembangan Sumber Daya Manusia Pertanian [BPPSDMP] Kementan Dedi Nursyamsi menyebutkan peserta kegiatan ToT kali ini melampaui target yang telah ditetapkan sebelumnya.
"Dari target 40.00 peserta, saat ini telah terdaftar 40.676 peserta yang terdiri dari penyuluh dan pengelola pupuk bersubsidi yang hadir secara online maupun offline," ungkap Dedi.
Sesuai arahan Mentan, materi-materi pelatihan akan difokuskan dalam upaya untuk meningkatkan efektifitas pengelolaan pupuk bersubsidi.
"Outcome dari kegiatan ini adalah peningkatan kompetensi penyuluh dan pengelola pupuk bersubsidi. Para peserta akan diajar mulai dari pengisian e-lokasi sampai implementasinya di lapangan," tutur Dedi.
ToT akan dilaksanakan selama tiga hari, tanggal 19 - 21 Januari 2023 yang dilaksanakan secara tatap muka berlokasi di Pusat Pelatihan Manajemen dan Kepemimpinan Pertanian [PPMKP] Ciawi dan secara online serentak di UPT Pelatihan Pertanian, Kantor Dinas Pertanian Provinsi dan Kabupaten/kota, dan Balai Penyuluhan Pertanian [BPP] di seluruh Indonesia. [jeka/agus/timhumasbbppbinuang]
Ciawi of West Java [B2B] - The role of agricultural training in Indonesia such as the Agricultural Training Center of Indonesia Agriculture Ministry across the country so the ministry seeks to maximize its efforts to produce millennial entrepreneur.
Indonesian Agriculture Minister Syahrul Indonesia Yasin Limpo stated that the government´s commitment to developing agriculture, especially in the development of advanced, independent and modern agricultural human resources.
"The goal is to increase the income of farming families and ensure national food security. Farmer regeneration is a commitment that we must immediately realize," Minister Limpo said.
He reminded about the important role of agricultural training, to produce millennial farmers who have an entrepreneurial spirit.
"Through agricultural training, we connect farmers with technology and innovation so that BBPP meet their needs and are ready for new things," Limpo said.