Prihasto Setyanto Gantikan Andriko NS, Arifin Tasrif Jabat Sekretaris BKP
Indonesian Agricultural Minister Inaugurated the 2nd Echelon Officials
Reporter : Gusmiati Waris
Editor : Cahyani Harzi
Translator : Dhelia Gani

PUBLISHED: Senin, 04 Februari 2019 , 22:54:00 WIB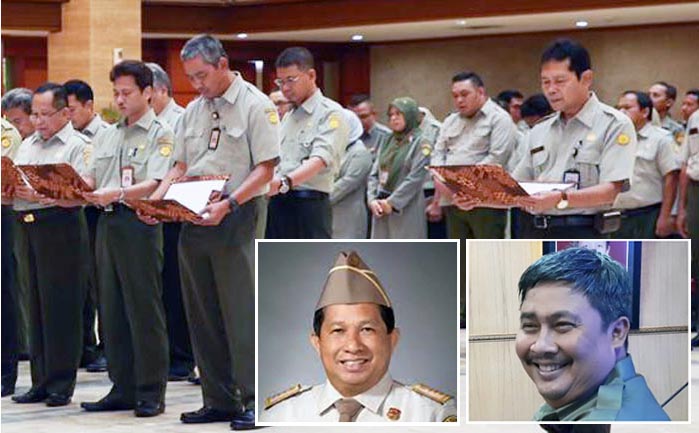 SUMPAH PEJABAT: 14 pejabat baru eselon dua Kementan membaca pakta integritas (foto utama), Sekretaris BKP Arifin Tasrif (inset kiri) dan Sekretaris BPPSDMP Prihasto Setyanto (Foto2: Humas Kementan)
Jakarta (B2B) - Sebanyak 14 pejabat eselon dua Kementerian Pertanian RI dilantik oleh Menteri Pertanian RI Andi Amran Sulaiman, di antaranya Prihasto Setyanto menjadi Sekretaris Badan Penyuluhan dan Pengembangan SDM Pertanian (BPPSDMP) menggantikan Andriko Noto Susanto, dan Sudjarwanto digantikan Arifin Tasrif sebagai Sekretaris Badan Karantina Pertanian.
Andriko NS mendapat posisi baru menjadi Kepala Pusat Ketersediaan dan Kerawanan Pangan - Badan Ketahanan Pangan (BKP), dan Sujarwanto menjabat Kepala Pusat Kepatuhan, Kerjasama, dan Informasi Perkarantinaan di Badan Karantina Pertanian (Barantan).
Mentan Amran Sulaiman mengingatkan kepada seluruh pejabat yang dillantik untuk fokus pada kesejahteraan petani dan siap mendedikasikan waktu melayani rakyat.
"Seluruh pejabat baru harus berdedikasi penuh untuk memberikan kinerja terbaik, membangun teamwork, dan segera melakukan akselerasi serta berdiskusi dengan pejabat sebelumnya," kata Mentan dalam arahannya usai pelantikan, Senin (4/2).
Pejabat eselon dua yang turut dilantik Mentan antara lain:
1. Maman Suherman, Karo Umum dan Pengadaan - Sekjen Kementan
2. Antarjo Dikin, Sekretaris Ditjen Perkebunan
3. Bambang Pamuji, Sekretaris Ditjen Tanaman Pangan
4. Abdul Basit, Kabiro Perencanaan Sekjen Kementan
5. Ade Candradijaya, Karo Kerjasama Luar Negeri -Sekjen Kementan
6. Mohammad Ismail Wahab, Direktur Sayuran dan Tanaman Obat - Ditjen Hortikultura
7. M Saleh Mokhtar, Direktur Perbenihan Perkebunan - Ditjen Perkebunan
8. Sigit Wahyudi, Kepala Balai Besar Perbenihan dan Proteksi Tanaman Perkebunan Medan - Ditjen Perkebunan
9. Kemal Mahfud, Kepala Balai Besar Pelatihan Pertanian Lembang (BBPP Lembang) - BPPSDMP
10. Dwi Praptomo, Kepala BBPP Batangkaluku - BPPSDMP
Jakarta (B2B) - At least 14 second echelon officials of Indonesian Agriculture Ministry were inaugurated by Minister Andi Amran Sulaiman among them Prihasto Setyanto as Secretary of the Directorate General of Extension and Agricultural HR Development or the BPPSDMP replaced Andriko Noto Susanto, and Sudjarwanto was replaced by Arifin Tasrif as the Secretary of the Directorate General of Food Security or the BKP.
Susanto got a new assignment as the Director of Food Availability and Vulnerability of BKP, and Sujarwanto served as the Director of Compliance, Cooperation and Quarantine Information at the Directorate General of Agricultural Quarantine or the Barantan.
Minister Sulaiman reminded the ministry´s second echelon officials that he was inaugurated, to focus on the welfare of farmers and serve the people.
"The ministry´s new officials must be fully dedicated to providing the best performance, developing teamwork, immediate acceleration and discussion with replaced ministry´s officials," Minister Sulaiman said in his direction after the inauguration here on Monday (February 4).