PWMP Polbangtan Medan, Kepala Pusdiktan Pimpin Rapat Evaluasi dan Koordinasi
Indonesian Govt Encourages of Farmers Regeneration through the PWMP
Editor : M. Achsan Atjo
Translator : Dhelia Gani

PUBLISHED: Jum'at, 06 Desember 2019 , 02:26:00 WIB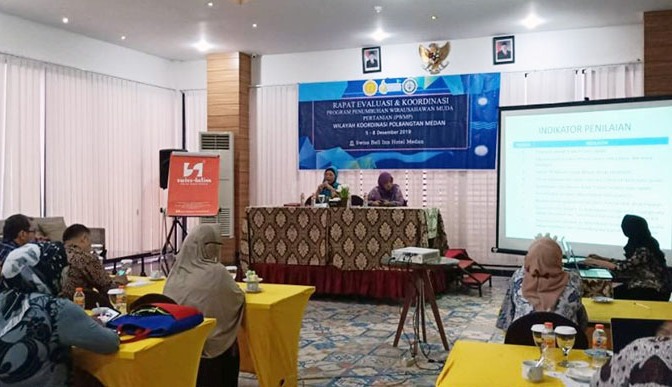 REGENERASI PETANI: Kepala Pusdiktan BPPSDMP Kementan, Idha Widi Arsanti [kiri] membuka kegiatan rapat evaluasi dan koordinasi Program PWMP di wilayah koordinasi Polbangtan Medan [Foto: Humas Pusdiktan]
Medan, Sumut [B2B] - Kementerian Pertanian RI berupaya mengembangkan kapasitas dan kompetensi lulusan sarjana pertanian menjadi menjadi pengusaha dan membuka lapangan pekerjaan bagi banyak orang [job creator], hal itu mendorong Pusat Pendidikan Pertanian [Pusdiktan BPPSDMP] mengembangkan program Penumbuhan Wirausahawan Muda Pertanian [PWMP] meningkatkan minat pemuda dan sarjana mendukung pembangunan sektor pertanian.
"Strategi awal adalah mengubah stigma tentang pertanian bukan hanya budidaya tanaman padi di sawah, melainkan pengembangan sektor agribisnis hulu ke hilir yang membuka peluang kerja dan usaha," kata Kepala Pusdiktan BPPSDMP Kementan, Idha Widi Arsanti di Medan, Kamis [5/12] saat membuka 'rapat evaluasi dan koordinasi Program PWMP di wilayah koordinasi Polbangtan Medan'.
Strategi berikutnya, kata Idha WA, menumbuhkembangkan jiwa kewirausahaan di bidang pertanian agar para lulusan perguruan tinggi dari fakultas pertanian lebih tertarik menjadi job creator daripada job seeker.
Sebagaimana diketahui, hingga saat ini Polbangtan Medan telah menggandeng sejumlah perguruan tinggi negeri [PTN] dan sekolah politeknik pertanian di Sumatera bagian utara mitra PWMP yakni Universitas Syiah Kuala (Aceh), Universitas Sumatera Utara (Medan), Universitas Andalas (Padang), Universitas Jambi, Universitas Bengkulu [Kota Bengkulu], Politeknik Pertanian Negeri Payakumbuh (Sumbar), SMK-PP Saree (Aceh) , SMK-PP Kutacane (Aceh), SMK-PP Bireun (Aceh), SMK-PP Padang, SMK-PP Padang Mangatas (Padang), dan Alumni Polbangtan Medan.
Pengembangan PWMP ditempuh melalui tahapan kegiatan pelatihan, magang, pembinaan dan bimbingan agar mahasiswa atau alumni perguruan tinggi mengetahui kemudahan merintis usaha, sehingga terdorong menjadi wirausahawan muda pertanian (agrosociopreneur) yang mampu menggerakkan dan menciptakan lapangan kerja di sektor pertanian.
Program PWMP dirancang untuk menjadikan lembaga pendidikan sebagai center of agripreneur development berbasis inovasi agribisnis dengan bantuan modal usaha kepada mahasiswa Politeknik Pembangunan Pertanian [Polbangtan] dan sarjana pertanian dari perguruan tinggi mitra BPPSDMP dan siswa sekolah kejuruan pertanian (SMK-PP).
Kegiatan PWMP dilaksanakan dalam tiga tahap selama tiga tahun yang dibagi menjadi tahap penyadaran di tahun pertama, tahun kedua untuk pengembangan dan tahun ketiga untuk tahap kemandirian.
Medan of North Sumatera [B2B] - Indonesian government through the Agriculture Ministry implement a several strategies to increase the interest of youth and scholars support agricultural sector development, initial strategy to change stigma about agriculture is not only cultivation in paddy fields, but development of agribusiness sector from subsistence upstream to downstream which opens opportunities for employment and business opportunities.