Aceh Agro Expo 2019, Kepala BPPSDMP Ajak Petani Dukung Ekspor Pertanian
Indonesia`s Aceh Held Agricultural Exhibition, the 2019 Agro Expo
Reporter : Gusmiati Waris
Editor : Cahyani Harzi
Translator : Dhelia Gani

PUBLISHED: Minggu, 17 November 2019 , 02:27:00 WIB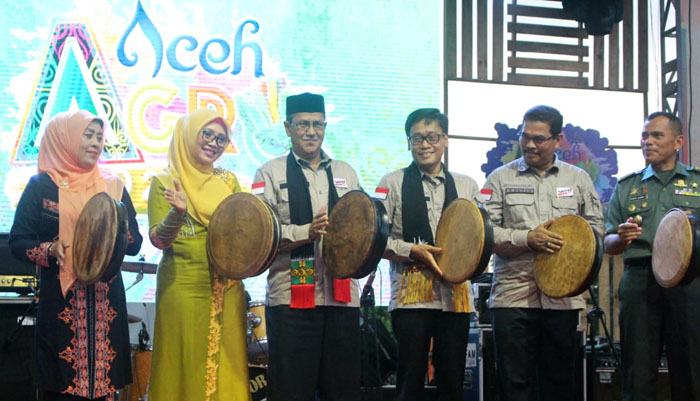 PERTANIAN ACEH: Kepala BPPSDMP Kementan, Prof Dedi Nursyamsi [ke-3 kanan] bersama Asisten Administrasi Umum Pemprov Aceh, Bukhari dan Kadistanbun Pemprov Aceh, A Hanan [ke-2 kanan] Foto: Istimewa
Banda Aceh, NAD [B2B] - Provinsi Nangroe Aceh Darussalam [NAD] merupakan salah satu lumbung pangan nasional, khususnya dari komoditas tanaman pangan maupun perkebunan seperti padi, kopi, kelapa sawit dan kakao, sehingga Aceh berpeluang meningkatkan ekspor pertanian Indonesia ke mancanegara dari komoditas perkebunan.
"Kalau mau meningkatkan ekspor dan kesejahteraan petani maka tingkatkan produksi komoditas pertanian, khususnya dari sektor perkebunan yang menjadi unggulan Aceh dan dikenal ke mancanegara," kata Kepala BPPSDMP Kementan, Prof Dedi Nursyamsi dalam sambutannya pada pembukaan Aceh Agro Expo 2019 di Lapangan Blang Padang, Banda Aceh pada Jumat, [15/11] dan akan berlangsung hingga hari ini [17/11].
"Aceh merupakan salah satu lumbung pangan nasional. Bahkan hasil perkebunan seperti kopi, kelapa sawit, dan kakau tidak hanya jadi konsumsi nasional tetapi mencapai skala internasional," kata Dedi Nursyamsi yang hadir di Banda Aceh mewakili Menteri Pertanian RI Syahrul Yasin Limpo [SYL].
Dia mengingatkan melalui kegiatan Aceh Agro Expo 2019 maka seluruh insan pertanian di Aceh meningkatkan produksi komoditas pangan agar tidak kalah bersaing dengan negara lain dalam hal ekspor komoditas pertanian.
"Saat ini yang diperlukan adalah inovasi petani agar bisa mengulang kembali kesuksesan di masa lalu dan unggul di masa yang akan datang," katanya.
Aceh Agro Expo 2019 diselenggarakan oleh Dinas Pertanian dan Perkebunan (Distanbun) Pemprov Aceh dibuka Gubernur yang diwakili Asisten Administrasi Umum, Bukhari, Jumat sore [15/11] di Lapangan blangpadang, Banda Aceh. Sejumlah produksi hasil pertanian yang ada di Aceh ikut dipamerkan, mulai sayur-sayuran hingga buah-buahan dari seluruh Aceh.
Bukhari mengatakan pertanian merupakan sektor yang paling banyak menyerap tenaga kerja di Aceh. Kontribusi pendapatan domestik regional bruto [PDRB] juga sangat tinggi, mencapai 30%, sehingga sangatlah wajar apabila Pemprov Aceh memberi perhatian besar pada sektor pertanian.
"Tahun 2019, Aceh menargetkan produksi gabah hingga 2,5 juta ton gabah kering panen atau GKP sementara pada 2018 mencapai 2,5 juta ton, padahal kebutuhan lokal hanya 1,1 juta ton sehingga tahun lalu Aceh mampu surplus gabah 1,3 juta ton GKP," katanya.
Banda Aceh of NAD [B2B] - The Nangroe Aceh Darussalam province is one of Indonesia's food barns, especially from food crops and plantation commodities such as rice, coffee, palm oil and cocoa, so that Aceh has the opportunity to increase Indonesia's agricultural exports to foreign countries from plantation commodities, according to senior official of the ministry.