#Serasi Sumsel, Ismaya Parawansa Koordinasi Tim Datasering Pusdiktan
Indonesian Govt Focus Developing Agriculture HR in South Sumatera
Editor : M. Achsan Atjo
Translator : Dhelia Gani

PUBLISHED: Senin, 17 Juni 2019 , 22:07:00 WIB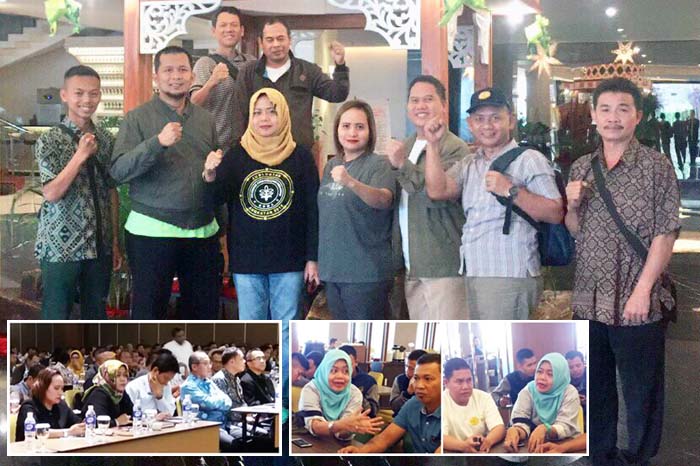 KOORDINASI: Kabid Penyelenggaraan Pendidikan, Ismaya NR Parawansa [hijab coklat] bersama tim #Serasi Pusdiktan BPPSDMP di Sumsel, rapat koordinasi dengan tim SMK-PP Sembawa dan Polbangtan Bogor [Foto2: Fika]
Palembang, Sumsel [B2B] - Kementerian Pertanian RI khususnya Badan Penyuluhan dan Pengembangan SDM Pertanian [BPPSDMP] menyiapkan SDM andal dan siap pakai mendukung pengembangan lahan rawa pada program ´Selamatkan Rawa Sejahterakan Petani´ dsingkat #Serasi di Provinsi Sumatera Selatan [Sumsel] melalui identifikasi calon peserta pendidikan alat dan mesin pertanian (Alsintan), budidaya tanaman pangan, tata kelola air hingga pengolahan dan pemasaran hasil produksi pangan strategis.
Kepala Pusat Pendidikan Pertanian [Pusdiktan] Idha Widi Arsanti diwakili Kepala Bidang Penyelenggaraan Pendidikan, Ismaya NR Parawansa melakukan ´koordinasi dan pembekalan´ terhadap Tim Datasering Pusdiktan terdiri atas lima orang dari BPPSDMP Kementan, enam orang dari SMK-PP Sembawa didukung 10 mahasiswa Polbangtan Bogor.
"Tugas utama Pusdiktan mendukung penyiapan SDM, diawali dengan identifikasi calon peserta latih sampai pembekalan dan pelatihan maupun pendidikan sesuai kebutuhan lapangan untuk mendukung program #Serasi di Sumsel. Tujuannya, membantu petani meningkatkan produksi pertanian di lahan rawa, dan kepada tim diminta selalu menjaga kesehatan, karena banyak lokasi yang berada di kawasan remote area," kata Ismaya saat pembekalan di Palembang, Minggu [16/6] sebelum melepas Tim Datasering Pusdiktan.
Dia mengingatkan bahwa dukungan Pusdiktan BPPSDMP untuk mengoptimalkan potensi dari petani, penyuluh pertanian, pemuda tani, operator Alsintan untuk mendukung capaian target #Serasi mengoptimalkan fungsi lahan rawa, yang selama ini terbengkalai bagai ´raksasa tidur´ padahal potensinya luar biasa untuk memproduksi pangan sepanjang tahun tanpa terpengaruh kekeringan musim kemarau.
Ismaya NR Parawansa mengatakan Tim Datasering Pusdiktan akan disebar di tiga kabupaten di Sumsel yakni Banyuasin lima orang, satu orang di Musi Banyuasin [Muba], dan Ogan Komering Ilir [OKI] empat orang.
"Laporan yang diterima Tim Datasering Pusdiktan sampai saat ini baru calon petani calon lahan atau CPCL dan SID atau survei, investigasi dan disain mencakup total lahan 11 ribu hektar. Sementara #Serasi 2019 di Muba meliputi 80 desa di sembilan kecamatan dengan target luas 35.000 hektar," kata Ismaya.
Dia menambahkan #Serasi merupakan program ´mega sinergi´ yang melibatkan pemerintah pusat dan daerah dan para pemangku kepentingan dengan membentuk team work yang kuat mendukung sukses lahan rawa menjadi sentra produksi pangan berbasis korporasi yang dikembangkan para petani selaku pelaku utama.
"Mega sinergi yang dimaksud adalah dari petani melalui kelompok tani, gabungan kelompok tani, kepala desa, camat terus ke bupati, kepala dinas terkait sampai gubernur hingga ke pusat di kementerian untuk bahu-membahu membentuk team work yang kuat menyelesaikan pekerjaan ini," kata Ismaya [Fka]
Palembang of South Sumatera [B2B] - Indonesian Agriculture Ministry especially the Directorate of General of Agricultural HR Development [BPPSDMP Kementan] o prepare human resources ready to work forpilot projects of the swampland use program for agriculture´ or the #Serasi in South Sumatera through identification of agricultural machinery trainees, food crop cultivation, water management, processing and marketing of strategic food products.
Director of Agricultural Education Center BPPSDMP Kementan, Idha Widi Arsanti represented by The Pusdiktan´s Head of Section for Organizing Education, Ismaya NR Parawansa said conducted ´coordination and debriefing´ of Datasering Team of consisting of five of BPPSDMP Kementan, six of SMK-PP Sembawa and supported by 10 Bogor Polbangtan students.
"The main task of Pusdiktan is to prepare human resources, starting with identification of prospective trainees until debriefing and training as needed to support the #Serasi program," Parawansa said.
She reminded about support of the Pusdiktan to find out the potential of farmers, agricultural extensionist, youth farmers, agricultural machinery operators for training will held of the Pusdiktan support the #Serasi target achievement.
Parawansa said the Datasering Pusdiktan Team will be deployed in three districts of South Sumatra province, namely five in Banyuasin, one in Musi Banyuasin [Muba], and four in Ogan Komering Ilir [OKI].
"Reports received by the Datasering Team of Pusdiktan to date regarding farmers and land include of surveys, investigations and designs or SID covering 11 thousand hectares of land," she said.
She said the #Serasi program as the ´mega synergy´ project supported by central and regional governments and stakeholders by forming team work support development of swamp land into food production centers and improve the welfare of farmers.
"Mega synergy I mean, farmers through farmer groups and joint farmer groups will be supported by village heads, sub-district heads, regents, head of the agricultural service office, governor to the central government in Jakarta to form team work reaches the #Serasi target," Parawansa said.