Pusdiktan BPPSDMP Gelar `Protokol Kewaspadaan` COVID-19 di Polbangtan
Indonesian Agricultural Polytechnic Anticipate COVID-19 by Weaker Health Systems
Editor : M. Achsan Atjo
Translator : Dhelia Gani

PUBLISHED: Rabu, 18 Maret 2020 , 02:30:00 WIB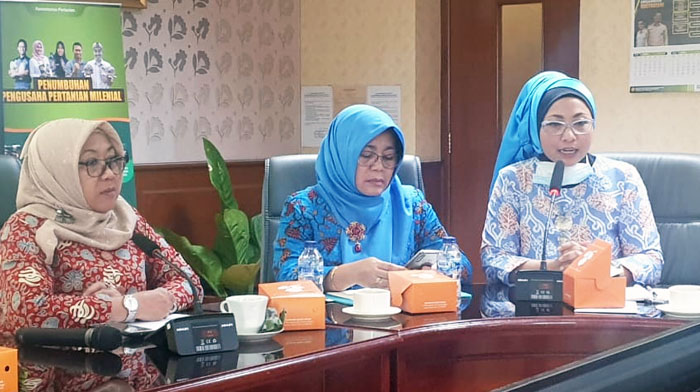 TIGA SERANGKAI BPPSDMP: Kepala Pusdiktan, Idha Widi Arsanti [kanan]; Kepala Pusluhtan, Leli Nuryati [tengah] dan Sekretaris BPPSDMP, Siti Munifah [Foto: EH Ismail]
Jakarta [B2B] - Kementerian Pertanian RI khususnya Pusat Pendidikan Pertanian [Pusdiktan BPPSDMP] menggelar ´Protokol Kewaspadaan´ untuk meminimalisir penyebaran virus Corona di Politeknik Pembangunan Pertanian [Polbangtan], Politeknik Enjinering Pertanian Indonesia [PEPI] dan SMK Pembangunan Pertanian [SMK PP] setelah sejumlah pemerintah pusat dan daerah menerapkan kebijakan mengurangi aktifitas di sekolah dengan belajar di rumah selama 14 hari.
Hal itu dikemukakan oleh Kepala Pusdiktan BPPSDMP, Idha Widi Arsanti kepada pers di Jakarta, Selasa [17/3] untuk melaksanakan Keputusan Presiden No 7/2020 dan Surat Edaran Menpan - RB No 19/2020 tanggal 16 Maret 2020 tentang ´Penyesuaian Sistem Kerja ASN dalam Upaya Pencegahan Penyebaran COVID-19 di Instansi Pemerintah´, termasuk langkah strategis Kementan mencegah dan melindungi seluruh jajarannya dari penyebaran wabah Corona.
"Pusdiktan menjalin komunikasi dan koordinasi intensif dengan Polbangtan, PEPI dan SMK PP terkait penerapan protokol kewaspadaan untuk meminimalisir penyebaran virus Corona, dengan melihat kondisi di masing-masing daerah," kata Idha WA saat mendampingi Kepala BPPSDMP Prof Dedi Nursyamsi menyatakan komitmen sektor pertanian ´tetap olah lahan dan olah tanam´ di tengah ancaman COVID-19, karena 267 juta penduduk setiap hari harus makan.
Menurut Idha WA, Pusdiktan BPPSDMP berupaya kegiatan belajar tidak terhenti meskipun harus menerapkan kebijakan Learning From Home atau LFH pada Polbangtan Malang dan PEPI Tangerang, dengan tetap melaksanakan kegiatan belajar dan mengajar serta pengawasan kegiatan pelajar/mahasiswa di luar sekolah/kampus terhadap unit pelaksana teknis [UPT] pendidikan dari BPPSDMP Kementan.
"Aplikasi online atau e-Learning menjadi solusi Pusdiktan untuk belajar di rumah atau LFH yang dilaksanakan oleh dosen dan tenaga kependidikan. Sementara kepada pihak rektorat di bidang administrasi dan tenaga pendidik, kinerjanya dipantau melalui e-Kinerja di Kementan," kata Kapusdik Idha WA.
Dia menambahkan, menyikapi regulasi dan kebijakan pemerintah daerah maka saat ini Polbangtan Malang dan PEPI Tangerang yang sudah menerapkan aturan ´belajar di rumah´ atau LFH melalui e-Learning. Sementara kampus Polbangtan di Medan [Sumut], Bogor [Jabar], YoMa [Yogyakarta dan Magelang], Gowa [Sulsel] dan Manokwari [Papua Barat] maupun SMK PPN di Banjar Baru [Kalsel], Sembawa [Sumsel] dan Kupang [NTT] tetap mewajibkan pelajar dan mahasiswanya tetap sekolah/kuliah dan berada di asrama pelajar/mahasiswa.
"Kami meminta pihak rektorat dan dosen Polbangtan untuk mengawasi ketat asrama mahasiswa sebagai bentuk kewaspadaan terhadap COVID-19," katanya.
Jakarta [B2B] - Indonesia´s Agriculture Ministry is in intensive care after testing positive for the novel coronavirus, as civil servants in head office and across the country were ordered to close over the health threat. The World Health Organization has said it is particularly concerned about high-risk nations with weaker health systems, which who may lack the facilities to identify cases, according to senior official of the ministry.