BPS: Tumbuh 8,81%, Ekspor Pertanian Januari - Februari 2021
Indonesian Govt Encourage Agricultural Exporters to Increase Volume Export
Reporter : Kemal Agus Praghotsa
Editor : Cahyani Harzi
Translator : Dhelia Gani

PUBLISHED: Senin, 15 Maret 2021 , 23:19:00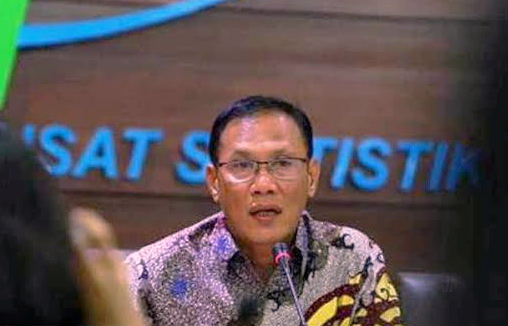 PERTUMBUHAN POSITIF: Kepala BPS Kecuk Suhariyanto menilai pertumbuhan tersebut cukup mengembirakan, karena kontribusi pertanian terhadap perkembangan ekonomi nasional cukup besar [Foto: Kementan]
Jakarta [B2B] - Badan Pusat Statistik [BPS] meyatakan ekspor sektor pertanian pada periode Januari hingga Februari 2021 mengalami pertumbuhan positif, sebesar US$0,65 milliar atau 8,81% persen [year on year/yoy]. Khususnya, Februari 2021 tumbuh ke 3,16% [yoy].
Kepala BPS Kecuk Suhariyanto menilai pertumbuhan tersebut cukup mengembirakan, karena kontribusi pertanian terhadap perkembangan ekonomi nasional cukup besar.
"Kenaikan ekspor pertanian dipengaruhi meningkatnya permintaan produk tanaman obat, aromatik, rempah-rempah, lada putih dan hasil hutan bukan kayu," kata Suhariyanto di Jakarta, Senin [15/3].
Dengan kenaikan tersebut, menurutnya, pertanian sukses menyumbangkan angka ekspor terhadap nonmigas sebesar 94,36%.
"Mengawali awal 2021, ekspor pertanian cukup bagus, apalagi ada kenaikan harga komoditas, ekspor pertanian pada Januari hingga Februari 2021 mencapai 8,81 persen," katanya.
Tak hanya itu, sektor pertanian juga mencatatkan angka surplus yang dihitung berdasarkan Neraca Perdagangan Februari 2021, dimana angkanya mencapai 3,16% [yoy].
Secara kumulatif, nilai ekspor Indonesia pada Januari–Februari 2021 mencapai US$30,56 milliar atau naik 10,35% dibanding periode yang 2020, demikian pula ekspor nonmigas yang mencapai US$28,81 milliar atau naik 10,52%.
Di samping itu, BPS menyebut terjadi juga peningkatan upah nominal buruh tani yang mencapai 0,35% atau mengalami kenaikan secara upah rill sebesar 0,18%.
Kuntoro Boga Andri, Kepala Biro Humas dan Informasi Publik Kementan menyebut tren ekspor komoditas pertanian yang terus terjaga positif, akan membantu proses pemulihan ekonomi nasional.
"Performance ekspor kita dorong terus meningkat. Apa yang terjadi di Gresik melalui ekspor bersama tiga menteri menjadi upaya kita menjaga momentum positif ekspor komoditas pertanian," kata Kuntoro.
Pemerintah menilai upaya keras masyarakat untuk menyiapkan komoditas layak ekspor, diikuti juga dengan upaya membuka akses pasar dan fasilitasi ekspor di hulu hingga hilir.
"Tentu pemerintah tidak berdiam diri. Komoditas kita yang terbaik, dan kita dorong agar dapat diterima baik oleh pasar dunia," kata Kuntoro.
Jakarta [B2B] - The movement of Indonesian agricultural commodity exports must begin with the presence of exporters among the people, at the same time opening up employment opportunities widely, by increasing the movement three times exports [GratiEks] so GratiEks became part of the people´s movement to show that Indonesia is a strong country in the agricultural sector, according to according to senior official of Indonesian Statistics Agency.