Rp10 Miliar, Kementan dengan MUI dan Anshor Galang Dana untuk Lombok
Indonesian Agriculture Ministry Raise Humanitarian Hunds for Lombok Quake Victims
Reporter : Gusmiati Waris
Editor : Cahyani Harzi
Translator : Dhelia Gani

PUBLISHED: Senin, 06 Agustus 2018 , 23:20:00 WIB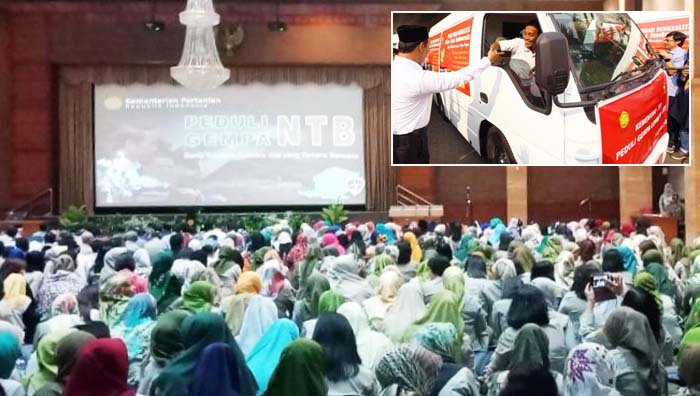 Mentan Amran Sulaiman menyalami supir pengangkut bantuan kemanusiaan Kementan untuk Lombok (inset) dan jajaran Kementan spontan menggalang dana bantuan (Foto2: B2B/Mya & Liene)
Jakarta (B2B) - Kementerian Pertanian RI bersama Majelis Ulama Indonesia (MUI) dan Banser Anshor menggalang dana kemanusiaan untuk korban ´Gempa Lombok´ hingga Rp10 miliar, termasuk sumbangan dari gaji Menteri Pertanian Andi Amran Sulaiman selama setahun.
Dana kemanusiaan Rp10 miliar untuk Lombok digalang spontan oleh jajaran karyawan Kementan, Perum Badan Urusan Logistik (Bulog), perusahaan makanan dan minuman, asosiasi-asosiasi petani dan peternak, asosiasi eksportir dan importir, asosiasi pengusaha bahan pangan, pabrik gula, perusahaan perkebunan, perusahaan kendaraan bermotor, hingga perusahaan asuransi, sementara kementerian menyumbang lebih Rp2 miliar.
"Saya sumbangkan gaji satu tahun untuk korban gempa. Ini ikhlas saya berikan karena terinspirasi dari kejadian kebakaran rumah kami dulu yang rata dengan tanah, sehingga bantuan secil apapun sangat berarti bagi korban," kata Mentan kepada pers di Jakarta, Senin (6/8).
Bantuan Kementan langsung dikirim berikut 42 truk berisi sembako dan pakaian. Plus 10.000 ekor ayam, kambing, dan sapi serta Alsintan.
"Ini adalah ujian bagi saudara kita di Lombok. Ujian bagi kita sebagai penduduk Indonesia. Ujian bagi rasa persatuan kita utk berbagi dengan sesama. Ini adalah ladang amal, kita harus memberi contoh," kata Mentan.
Jakarta (B2B) - Indonesian Agriculture Ministry with the Indonesian Ulema Council and Islamic mass organizations or the Banser Anshor raise humanitarian funds for disaster victims of ´Lombok Quake´ up to IDR 10 billion, including the salary of Agriculture Minister Andi Amran Sulaiman for a year.
Humanitarian fund of IDR 10 billion to Lombok raised spontaneously by civil servants in the ministry, Indonesian Logistics Agency or the Bulog, food and beverage companies, farmers associations, food exporters and importers associations, association of food producers, sugar mills, plantation companies, and insurance companies, while the ministry contributed more than IDR 2 billion.
"I donated a one-year salary to quake victims. I give sincerity because it was inspired by the fire of my house," Minister Sulaiman told the press here on Monday (August 6).
Donations from the ministry were immediately transported to Lombok with 42 trucks carrying basic materials and clothing. Plus 10,000 chickens, goats, cattle and agricultural machines.
"We must sympathize and help the victims of the Lombok disaster," Minister Sulaiman said.