Kongres IMPI, Kapusdik BPPSDMP Ajak Milenial Tekuni Pertanian
Millennial Farmers are the Target of Developing Indonesian Agricultural HR
Editor : M. Achsan Atjo
Translator : Dhelia Gani

PUBLISHED: Selasa, 28 Juli 2020 , 23:23:00 WIB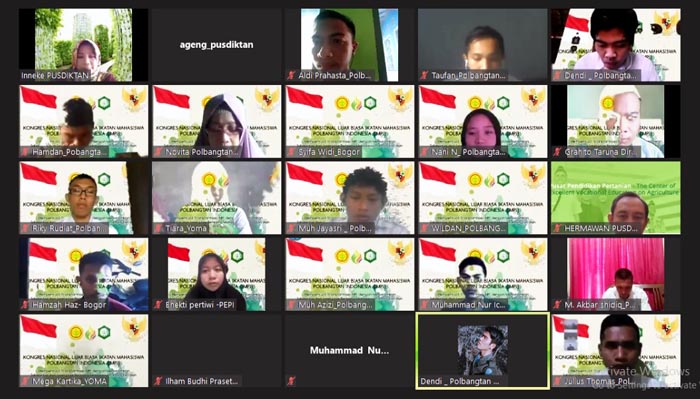 KONGRES VIRTUAL: Kapusdik Idha WA menekankan visi dan misi Badan Penyuluhan dan Pengembangan SDM Pertanian [BPPSDMP] khususnya Pusdiktan dalam mengembangkan pendidikan SDM pertanian [Foto: Humas Pusdiktan]
Jakarta [B2B] - Kementerian Pertanian RI mengajak mahasiswa Politeknik Pembangunan Pertanian [Polbangtan] menekuni sektor pertanian, dengan terlibat dan mendukung Program Penumbuhan Wirausahawan Muda Pertanian [PWMP] dan Youth Entrepreneuship and Employment Support Services Programme [YESS] di empat provinsi yakni Jawa Barat, Jawa Timur, Sulawesi Selatan, dan Kalimantan Selatan.
"Mari kita mulai dulu untuk berusaha. Adik-adik ini aset yang sangat berharga bagi kami di Kementan melalui Program PWMP dan YESS sebagai upaya percepatan generasi," kata Kepala Pusat Pendidikan Pertanian [Pusdiktan] Idha Widi Arsanti dalam sambutan tertulisnya saat membuka Kongres Nasional Luar Biasa Ikatan Mahasiswa Polbangtan Indonesia [IMPI] melalui video conference di Jakarta, Sabtu [25/7].
Kegiatan pembukaan Kongres IMPI yang berlangsung virtual, Kapusdik Idha WA menekankan visi dan misi Badan Penyuluhan dan Pengembangan SDM Pertanian [BPPSDMP] khususnya Pusdiktan dalam mengembangkan pendidikan SDM pertanian.
Kapusdik Idha WA menguraikan tentang Program YESS yang mendapatkan pendanaan dari IFAD bertujuan meningkatkan kapasitas pemuda di sektor pertanian pada empat provinsi. Dia pun mengajak mahasiswa dari empat provinsi kegiatan YESS menghubungi dinas pertanian setempat untuk mendapat informasi atau menghubungi unit pelaksana teknis [UPT] Pusdiktan wilayah tersebut.
"Kita pilih anak-anak muda kisaran usia 17 hingga 39 tahun, karena adik-adik ini inovatif untuk mengembangkan bisnis pertanian," katanya dalam sambutan tertulis yang dibacakan oleh Kabid Penyelenggaraan Pendidikan - Pusdiktan.
Kapusdik Idha WA mengingatkan tentang tekad dan motivasi mahasiswa Polbangtan dan PEPI sebagai generasi muda pertanian untuk berpartisipasi aktif mendukung pembangunan pertanian.
Hal itu sejalan dengan instruksi dan arahan Menteri Pertanian RI Syahrul Yasin Limpo tentang masa depan pertanian Indonesia di tangan generasi muda.
"Saya makin percaya anak muda yang mau terjun di bidang pertanian akan memiliki peluang kehidupan dan ekonomi yang lebih baik, apalagi dengan memanfaatkan teknologi, maka dunia dalam genggaman mereka," kata Mentan Syahrul.
Kepala Badan PPSDMP Dedi Nursyamsi juga terus mendorong lahirnya petani milenial sebagai bagian dari program regenerasi petani.
Di akhir sambutan tertulisnya, Kapusdik Idha WA mengingatkan tentang perlu niat kuat pemuda dan mahasiswa terjun ke sektor pertanian, "bukan sekedar ikut-ikutan. Mari kita mulai dulu untuk berusaha," katanya seraya mengucapkan selamat atas terselenggaranya Kongres IMPI. [Ahs]
Jakarta [B2B] - Indonesian Agriculture Ministry encourages agricultural training activities support the strategic program of the ministry by developing a self-help agricultural training center in the countryside, and on-the-job training in food production centers, according to senior official.