KIP Nilai 460 Lembaga, Kementan Raih Penghargan Pengelola Informasi Publik
Indonesian Govt Encourages Government Institutions to Open Public Information
Reporter : Gusmiati Waris
Editor : Cahyani Harzi
Translator : Dhelia Gani

PUBLISHED: Senin, 05 November 2018 , 23:25:00 WIB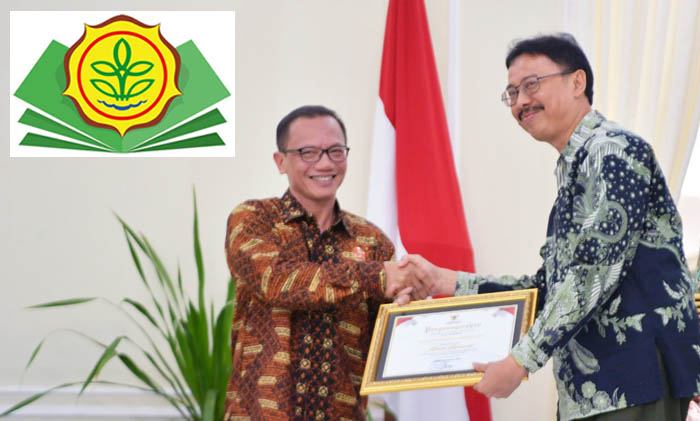 PPID KEMENTAN: Ketua Komisi Informasi Pusat, Gede Narayana menyerahkan plakat penghargaan kategori ´Pengelola Informasi Publik Terbuka´ kepada Sekjen Kementan Syukur Iwantoro (Foto: Humas Kementan)
Jakarta (B2B) - Komisi Informasi Pusat (KIP) menyerahkan anugerah Keterbukaan Informasi Publik 2018 kepada sejumlah badan publik di antaranya Kementerian Pertanian RI meraih penghargaan kategori ´Pengelola Informasi Publik Terbuka´ yang diserahkan Ketua KI Pusat, Gede Narayana kepada Sekjen Kementan, Syukur Iwantoro disaksikan Wakil Presiden RI Jusuf Kalla di Jakarta, Senin (5/11).
"Keterbukaan informasi merupakan energi untuk mencerdaskan bangsa. Perlu keterbukaan informasi publik untuk dilaksanakan dan terus didorong serta diawasi agar dapat berjalan baik," kata Wapres JK.
Gede Narayana mengatakan penganugerahan 2018 berbeda dari tahun-tahun sebelumnya yang menggunakan sistem peringkat. Penilaian KI dibagi atas lima kategori yakni Informatif nilainya 90 - 100, Menuju Informatif (80 - 89,9), Cukup Informatif (60 - 79,9), Kurang Informatif (40 - 59,9) dan Tidak Informatif (kurang dari 39,9).
"Dapat kami laporkan kepada Bapak Wapres, bahwa tingkat partisipasi badan publik tahun ini meningkat, dari 460 badan publik, yang mengembalikan kuesioner 289 badan," kata Gede Narayana.
Sekjen Syukur Iwantoro menegaskan komitmen Kementan untuk melayani informasi secara baik dan mudah diakses publik, yang dilaksanakan melalui bimbingan teknis bagi seluruh unit kerja di pusat dan daerah didukung alokasi anggaran khusus bagi pengelola informasi publik.
Kepala Biro Humas dan Informasi Publik Kuntoro Boga Andri mengatakan pihaknya telah melakukan presentasi di hadapan tim penilai KIP, untuk menyampaikan langkah, strategi, dan capaian untuk menjamin dan mempromosikan keterbukaan informasi publik.
"Presentasi tersebut adalah bagian dari penilaian keterbukaan informasi publik untuk kategori kementerian," kata Kuntoro selaku Pejabat Pengelola Informasi dan Dokumentasi (PPID).
Jakarta (B2B) - Indonesian Information Commission submits the 2018 Public Information Award to the public institutions including agriculture ministry was submitted by the Chairman of the commission, Gede Narayana to Secretary General of the ministry Syukur Iwantoro witnessed by Indonesian Vice President Jusuf Kalla here on Monday (November 5).
"Information openness is an energy to educate the nation. to be encouraged and monitored to run well," said Vice President Kalla.
Mr Narayana said the 2018 award was different from previous years uses a ranking system. Assessment is divided into five categories namely informative scores of 90-100, towards informative (80 - 89.9), quite informative (60 - 79.9), less informative (40 - 59.9) and not informative (less than 39.9).
"We can report it to the vice president, that the participation of public institutions this year increased, from 460, the questionnaire returned 289," said Mr Narayana.
Mr Iwantoro said that the ministry of agriculture is committed to serving information and is easily accessible to the public, implemented by all work units at the central and regional levels supported by special budget allocations for public information managers.
Agriculture Ministry spokepersons Kuntoro Boga Andri said his side had delivered a presentation to the assessment team about steps, strategies, and achievements to guarantee and promote public information disclosure.
"Exposure is part of the assessment of public information disclosure for ministry categories," said Mr Andri.