Kunjungan Mahasiswa Sydney, Buka Peluang STPP Magelang Gandeng Universitas Australia
Australian Veterinarian Candidates Visit Indonesia`s STPP Magelang
Editor : M. Achsan Atjo
Translator : Dhelia Gani

PUBLISHED: Minggu, 25 Februari 2018 , 23:25:00 WIB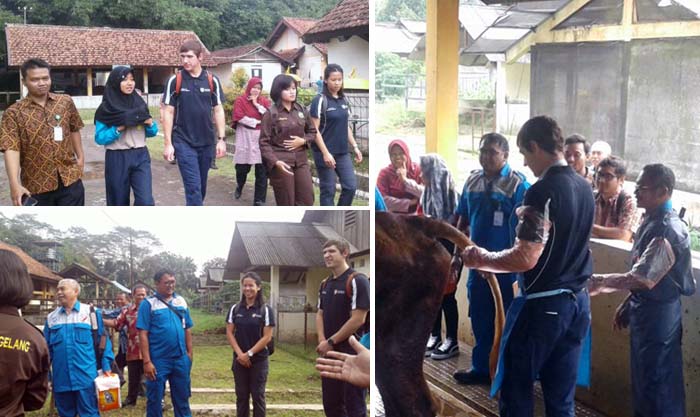 Mahasiswa Australia, Tate Cowper dan Evi Au ke STPP Magelang didampingi drh Agung Budiyanto, MP, PhD sebagai narsum peningkatan kompetensi mahasiswa STPP Magelang menangani inseminasi buatan (Foto2: Humas STPP Magelang)
Jakarta (B2B) - Dua calon dokter hewan dari University of Sydney, Australia bertandang ke Sekolah Tinggi Penyuluhan Pertanian (STPP) Magelang jurusan penyuluhan peternakan (Jurluhnak) di Magelang, Provinsi Jawa Tengah, belum lama ini, dan diharapkan membuka peluang kerjasama Badan Penyuluhan dan SDM Pertanian (BPPSDMP) Kementan dengan perguruan tinggi asing, khususnya Australia.

Tate Cowper dan Evi Au berkunjung ke STPP Magelang didampingi drh Agung Budiyanto, MP, PhD sebagai narasumber dalam kegiatan peningkatan kompetensi mahasiswa tingkat tiga menangani inseminasi buatan.

"Kedua mahasiswa Australia sedang menjalani pertukaran mahasiswa dengan Fakultas Kedokteran Hewan (FKH) di Universitas Gadjah Mada (UGM) Yogyakarta selama tiga pekan, hingga penghujung Februari 2018," kata Kabag Administrasi Umum STPP Magelang, Irwan Johan Sumarno melalui pernyataan tertulis.

Menurutnya, kerjasama STPP Magelang dengan FKH UGM merupakan realisasi kerjasama Kementerian Pertanian RI yang diinisiasi Menteri Pertanian Andi Amran Sulaiman di tingkat rektorat, yang ditindaklanjuti oleh Kepala BPPSDMP Kementan, Momon Rusmono dan Ketua STPP Magelang, Ali Rachman di tingkat fakultas dan jurusan.

Kunjungan ke Magelang bersamaan dengan kegiatan embrio transfer sapi Belgian Blue oleh tim STPP Magelang yang diketuai Dr drh Supriyanto MP dengan tim Balai Embrio Transfer - BET Cipelang, Bogor, untuk mendukung program Mentan mencapai swasembada protein hewani khususnya daging sapi.

"Kunjungan keduanya memberi kesempatan bagi mahasiswa STPP Magelang mengasah kemampuan bahasa Inggris dengan native speaker, dan ternyata mereka sangat tertarik dengan suasana kampus yang asri dan sejuk," kata Irwan JS.

Dia menambahkan, selama berada di STPP Magelang, kedua mahasiswa asing didampingi oleh ketua jurusan, dosen pendamping, kepala subbagian kerjasama dan beberapa mahasiswa Jurluhnak.

"Harapannya, dari kunjungan tersebut dapat menjadi langkah awal kesempatan mengenalkan STPP Magelang ke mancanegara, khususnya dengan civitas academica asing seperti University of Sydney di Australia.

Belgian Blue
Sapi berotot pertama di dunia, sapi Belgian Blue Indonesia disingkat BBI, hasil persilangan yang dikembangkan oleh peternak Belgia berhasil dikembangkan oleh BET Cipelang - Bogor akhirnya lahir sapi betina pada awal Desember lalu (9/12) dengan bobot 51 kg, sekaligus sebagai kelahiran pertama sapi Belgian Blue di negara beriklim tropis seperti Indonesia.

Kabar gembira tersebut disampaikan oleh Mentan Amran Sulaiman di Jakarta, pertengahan Desember 2017, setelah menjadi saksi penandatanganan kerjasama pemerintah daerah dan perbankan untuk pengembangan peternakan sapi hasil program upaya khusus ´sapi indukan wajib bunting´ disingkat Upsus Siwab.

Pengembangan sapi Belgian Blue diinisiasi oleh Mentan Amran Sulaiman dan akan dikembangkan sebagai ´sapi masa depan Indonesia´ melalui kawin silang dengan sapi lokal dan kelak akan meningkatkan otot sapi lokal.

Sebelumnya, lahir sapi BBI perdana hasil teknologi embrio (TE) pada awal 2017, tepatnya Senin, 30 Januari 2017, jenis kelamin jantan berbobot 62,5 kg dan dinamai Gatot Kaca, yang merupakan keturunan dari pejantan bernama Adajio De Bray dan induknya, Fripoulle De Cras Avernas.
Jakarta (B2B) - Two veterinarian candidates from University of Sydney, Australia visit to Magelang´s Magelang´s Agriculture College or STPP Magelang faculty of agricultural extension, recently, and is expected to open cooperation opportunities Directorate General for Agricultural Extension and Human Resources Development of Agricultur Ministry or BPPSDMP with foreign universities, especially Australia, according to rectorate official.

Tate Cowper and Evi Au visited the STPP Magelang accompanied by Agung Budiyanto as a guest speaker in improving the competence of Indonesian students to handle artificial insemination.

"The Australian students are participants of the veterinary faculty exchange of Yogyakarta´s Gadjah Mada University for three weeks, until the end of February 2018," said Head of General Affairs of STPP Magelang, Irwan Johan Sumarno through a written statement recently.

According to him, the activity is realization of cooperation the Indonesian agriculture ministry was initiated by Agriculture Minister Andi Amran Sulaiman at the rectorate level, then followed up by Director General of BPPSDMP Momon Rusmono and Rector of STPP Magelang, Ali Rachman at faculty and department level.

The visit was related to activities of cattle embryo transfer Belgian Blue cattle by STPP Magelang headed by Supriyanto MP with the Cipelang´s Embryo Transfer Center or BET Cipelang to support the agriculture minister achieve self-sufficiency in animal protein, especially beef.

"The visit of Australian students provides an opportunity for STPP Magelang students to improve their English skills with native speakers, while Tate Cowper and Evi Au claimed to be interested in a calm and cool campus atmosphere," Mr Sumarno said.

He added, the visit of foreign students is accompanied by the head of department, lecturers, head of the cooperation subdivision and some students.

"Hopefully, the visit can be the first step to introduce STPP Magelang to foreign countries, especially with foreign civitas academica such as University of Sydney in Australia," he said.

Belgian Blue
The first cattle muscle in the world, Belgian Blue Indonesia cow abbreviated BBI, the crosses developed by the Belgian breeders successfully developed by BET Cipelang - Bogor, and finally Belgian Blue first cow was born in early December 2017, weighs 51 kg, and became the first Belgian Blue cow that was born in tropical country like Indonesia.

The good news was conveyed by Minister Sulaiman in Jakarta, mid-December 2017 at the signing of the cooperation of local government and banking for the development of cattle ranches from the special effort of ´mandatory breeder cows´ abbreviated as Upsus Siwab.

The development of Belgian Blue cattle was initiated by Minister Sulaiman and will be developed as a ´future cow Indonesia´ through cross breeding with local cattle.

Previously, the birth of BBI cow is the first result of embryo technology in early 2017, precisely Monday, January 30, 2017, male sex weighs 62.5 kg and named Gatot Kaca.