220 Ton, Mentan SYL dan Gubernur Jatim Lepas Ekspor di Tanjung Perak
Indonesia Exports 220 Tons of Agricultural Commodities from Surabaya
Reporter : Gusmiati Waris
Editor : Cahyani Harzi
Translator : Dhelia Gani

PUBLISHED: Senin, 02 Desember 2019 , 23:03:00 WIB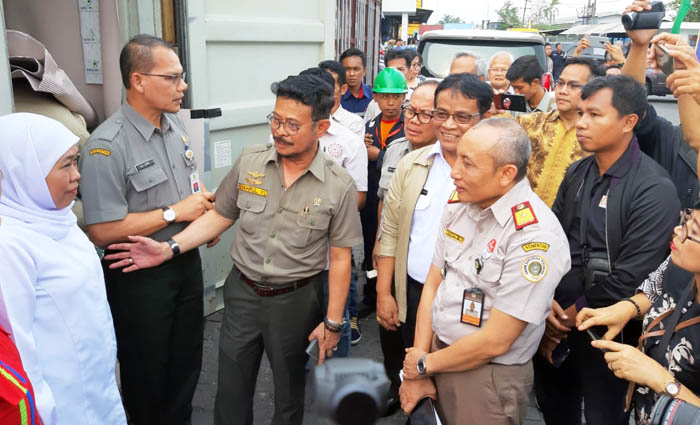 TUJUAN 3 NEGARA: Mentan SYL [ke-2 kiri] dan Gubernur Jatim Khofifah Indar Parawansa melepas ekspor dari Pelabuhan Tanjung Perak didampingi Dirjen PKH Kementan, I Ketut Diarmita [Foto: Biro Humas Kementan]
Surabaya, Jatim [B2B] - Tiga negara menjadi tujuan ekspor 220 ton komoditas pertanian dari Pelabuhan Tanjung Perak, Surabaya, Jawa Timur menuju Brasil, Italia dan Singapura yang dilepas oleh Menteri Pertanian RI Syahrul Yasin Limpo [SYL] bersama Gubernur Jawa Timur, Hj Khofifah Indar Parawansa pada Senin [2/12].
Komitmen Kementerian Pertanian RI mendorong ekspor tiga kali lipat nampaknya semakin terwujud dari ekspor 110 ton komoditas pertanian senilai Rp2 miliar terdiri atas 54 ton pupuk organik senilai Rp108,6 juta tujuan Singapura, 10 ton bunga cengkeh senilai Rp877,8 juta tujuan Brasil, dan 46 ton biji kopi Robusta senilai Rp1,02 miliar tujuan Italia.
"Hari ini dengan segala kebanggaan saya bersama Gubernur Jatim telah membuktikan ekspor kita memiliki ruang yang cukup bagus untuk menjadi bagian penting ekonomi kita dan memfasilitasi berbagai komoditas yang kita miliki," kata Mentan SYL kepada pers usai pelepasan ekspor didampingi Gubernur Khofifah dan Dirjen Peternakan dan Kesehatan Hewan [PKH] I Ketut Diarmita.
Menurutnya, ekspor komoditas pertanian merupakan instruksi Presiden RI Joko Widodo maka Mentan SYL dan Gubernur Khofifah berkomitmen mendorong seluruh eksportir berakselerasi lebih tinggi lagi. Kementan dan kementerian terkait, pemerintah daerah dan pemangku kepentingan mengembangkan Gerakan Tiga Kali Lipat Ekspor (Grati-Eks) secara bertahap, terukur, terencana dalam empat tahun mendatang.
"Grati-Eks, merupakan ajakan pada seluruh pemegang kepentingan pembangunan pertanian untuk bekerja dengan cara tidak biasa. Bekerja memanfaatkan teknologi, inovasi, jejaring dan kerjasama yang kuat," kata SYL.
Selain itu, SYL menegaskan dengan dilepasnya ekspor komoditas pertanian ini menjadi keyakinan bahwa ke depan, ekspor bisa ditingkatkan sampai 100%. Kegiatan pelepasan hari ini menjadi pemantik agar terus meningkat kualitas komoditas pertanian berkualitas sehingga target tiga kali lipat eksport bisa tercapai.
"Seperti selalu diingatkan Presiden Jokowi, saat ini kita tengah memasuki era kompetisi antarnegara yang semakin sengit. Kita tidak boleh berhenti berkreasi dan berinovasi. Saya mengajak para pelaku usaha Jawa Timur memberi masukan agar kita mampu menggenjot ekspor, mencapai target kita bersama," tegasnya.
Terkait penolakan Notification of Non Compliance (NNC) sangat kecil dari negara tujuan komoditas yang berasal dari Pelabuhan Tanjung Perak, merupakan tanda bahwa pemerintah pusat dan daerah telah bekerja maksimal dan sinergi.
Gubernur Khofifah mendorong agar perekonomian di Jatim tumbuh signifikan, karena merupakan penopang ekonomi cukup tinggi. "Makanya kita harus menjaga suasana stabilitas ekonomi, keamanan terjaga dan membuka lapangan kerja."
Surabaya of East Java [B2B] - Three countries became export destinations for 220 tons of Indonesian agricultural commodities from the Surabaya's Port of Tanjung Perak in East Java to Brazil, Italy and Singapore witnessed by Agriculture Minister Syahrul Yasin Limpo and East Java Governor, Hj Khofifah Indar Parawansa on Monday [December 2].