Teladan Pertanian Nasional Antusias Hadiri Sidang Tahunan MPR/DPR 2018
Indonesia`s Best Farmers Attend the Parliamentary Plenary Session
Editor : M. Achsan Atjo
Translator : Dhelia Gani

PUBLISHED: Kamis, 16 Agustus 2018 , 23:40:00 WIB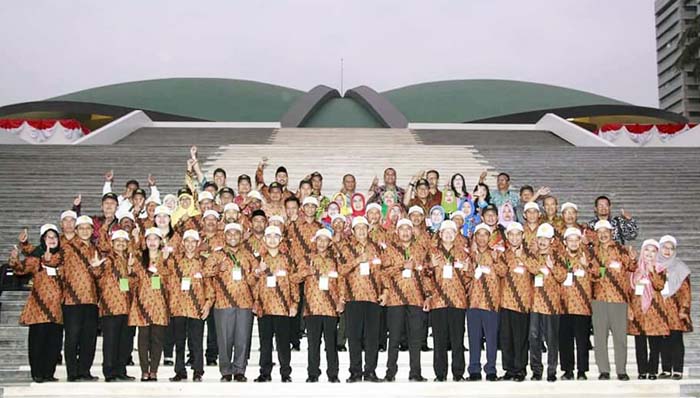 37 penerima penghargaan nasional sektor pertanian di depan gedung parlemen Senayan sebelum mengikuti pidato kenegaraan Presiden Joko Widodo pada Sidang Tahunan MPR/DPR RI 2018 (Foto2: Humas BPPSDMP Kementan)
Jakarta (B2B) - Sebanyak 37 penerima penghargaan teladan pertanian nasional menyatakan antusias dan bangga menghadiri Sidang Tahunan MPR/DPR RI 2018 di Gedung Nusantara - Senayan, Kamis pagi (16/8), dan enam di antara mereka mendapat kesempatan mengikuti langsung pidato kenegaraan Presiden RI Joko Widodo, sebagai bagian dari rangkaian kegiatan peringatan HUT RI ke-73.
Penyuluh pertanian teladan, Pieter Sopacua dari Kabupaten Maluku Tengah, Provinsi Maluku mengaku antusias dan bangga dapat mengikuti pidato kenegaraan Presiden Jokowi. Pendapat senada dikemukakan petani teladan I Wayan Padet dari Kabupaten Morowali, Provinsi Sulawesi Tengah.
Begitu pula Fahnida, penyuluh pertanian teladan dari Kabupaten Hulu Sungai Utara, Provinsi Kalimantan Selatan yang sangat mengapresiasi kesempatan langka seumur hidupnya, untuk mengikuti sidang penting di gedung parlemen.
Sebelum menuju Senayan, mereka mengikuti silaturahim dengan Kepala Badan Penyuluhan dan Pengembangan SDM Pertanian (BPPSDMP) Kementerian Pertanian, Momon Rusmono dan para pejabat eselon dua BPPSDMP Kementan, Rabu malam (15/8) sekaligus mendapat pembekalan tentang peranan mereka sebagai sosok teladan sektor pertanian, yang memang layak diteladani.
"Mereka adalah SDM pertanian terbaik yang layak menjadi suri tauladan bagi yang lain. Namun harap diingat, sebutan teladan memberikan tanggung jawab besar bagi penerima penghargaan teladan," kata Momon Rusmono kepada pers didampingi Kepala Pusat Penyuluhan Pertanian (Pusluhtan) Siti Munifah.
Pemberian penghargaan pertanian tingkat nasional 2018 merupakan bentuk apresiasi dan motivasi dari Pemerintah RI oleh Kementerian Pertanian. Para teladan terbagi tujuh kategori berprestasi kepada petani, penyuluh pertanian, gabungan kelompok tani (Gapoktan), kelembagaan ekonomi (KEP), balai penyuluhan pertanian (BPP), pusat pelatihan pertanian pedesaan swadaya (P4S), dan widyaiswara.
Menurut Momon, keikutsertaan para teladan tersebut merupakan wujud apresiasi kementerian terhadap prestasi yang telah mereka torehkan dalam mendukung pembangunan pertanian.
"Prestasi tersebut semoga dapat memotivasi pelaku pembangunan pertanian yang lain untuk berkarya, dan memberikan yang terbaik demi kemajuan bangsa dan negara," katanya.
Jakarta (B2B) - Around 37 of the best people in the Indonesian agricultural sector claimed to be enthusiastic and proud to attend the 2018 parliamentary annual session in Jakarta, Thursday morning (August 16) as part of series of activities to commemorate the 73rd Indonesian Independence.
The best agricultural extensionist, Pieter Sopacua from Central Maluku district of Maluku province claimed to be enthusiastic and proud to witness President Joko Widodo´s state address directly at the parliament building. Similar opinion was said by I Wayan Padet, the best farmer from Morowali district of Central Sulawesi province.
Similarly Fahnida, the best agricultural extensionist from Hulu Sungai Utara district of South Kalimantan province who greatly appreciated the rare opportunity of his life, to attend an important session in the parliament building.
Before going to the parliament building in Senayan, they followed a friendly relationship with Director General of Agency for Agricultural Extension and Human Resources Development (BPPSDMP) Momon Rusmono and second echelon officials, Wednesday night (August 15).
"They are the best agricultural human resources that deserve to be role models for others. But keep in mind, the best title is a big responsibility for the recipient of the award," Mr Rusmono told reporters here.
Agricultural award for national level as an appreciation by government through the agriculture ministry. They are divided into seven achievement categories such as the best farmers, agricultural extension workers, a combination of farmer groups, economic institutions, agricultural extension centers, rural agricultural training centers, and agricultural lecturers.
According to Mr Rusmono, their participation is an appreciation of the ministry towards their achievements support Indonesian agricultural development.
"Their achievements can motivate the stakeholders of agricultural development, and give the best for the country," he said.