Instalasi Hidroponik Alumni Polbangtan `Laris Manis` Terdampak Covid-19
Millennial Farmers are the Target of Developing Indonesian Agricultural HR
Editor : M. Achsan Atjo
Translator : Dhelia Gani

PUBLISHED: Selasa, 19 Mei 2020 , 23:40:00 WIB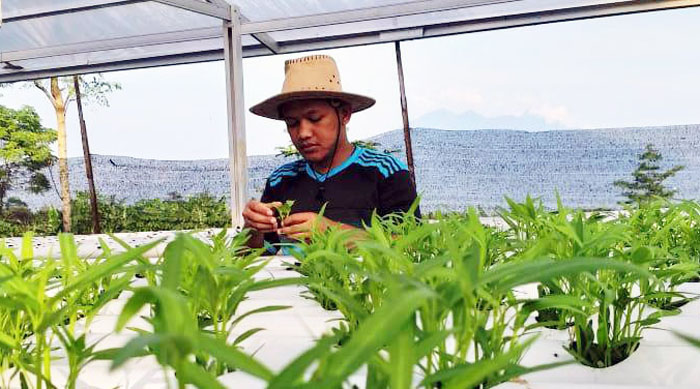 ORDER PEMASANGAN: S3 Farm menawarkan sayuran hidroponik segar, instalasi hidroponik, staterkit hidroponik, bibit sayuran hidroponik, dan produk turunan sayuran hidroponik [Foto: Humas Pusdiktan]
Jakarta [B2B] - Pandemi Covid-19 dan Pembatasan Sosial Berskala Besar [PSBB] ternyata ´berbuah berkah´ bagi Andriano dan Aziz. Alumni Politeknik Pembangunan Pertanian [Polbangtan] ini patut gembira lantaran instalasi hidroponik yang mereka kembangkan melalui Saung Sayur Sehat Farm [S3 Farm] ternyata ´laris manis´ yang mereka kembangkan setelah lulus dari Polbangtan Bogor pada 2019.
"Permintaan pemasangan instalasi hidroponik meningkat setelah konsumen dibatasi keluar rumah dan mencari kesibukan di rumah dengan berkebun," kata Aziz melalui pernyataan tertulis via Pusat Pendidikan Pertanian [Pusdiktan] pada Selasa [19/5].
Menurutnya, S3 Farm menekuni bidang usaha hidroponik yang dia dirikan bersama Andriano dan kedua rekan lainnya setelah menjadi alumni Polbangtan, yang memilih menjadi petani milenial.
S3 Farm menawarkan sayuran hidroponik segar, instalasi hidroponik, staterkit hidroponik, bibit sayuran hidroponik, dan produk turunan sayuran hidroponik.
"Selama pandemi Covid-19, bisnis hidroponik justru mengalami peningkatan permintaan. Kalau sebelumnya, pesanan hanya empat instalasi hidroponik, saat ini meningkat menjadi delapan pemasangan. Artinya, permintaan pasar naik hingga 100 persen," kata Aziz.
Aziz bersama ketiga rekannya menjalankan bisnisnya di Jl Ciaul, Kp Jambuluwuk RT/RW 04/01, Desa Bojongmurni, Kecamatan Ciawi, Kabupaten Bogor.
Mereka memanfaatkan media sosial dan marketplace untuk penjualan produk S3 Farm. Sementara untuk sayuran segar, mensuplai permintaan di sekitar wilayah Bogor, Depok, hingga Jakarta.
Pengembangan bisnis S3 Farm merupakan ´buah sukses´ dari program yang dicanangkan Kementerian Pertanian RI khususnya Badan Penyuluhan dan Pengembangan SDM Pertanian [BPPSDMP] melalui program Penumbuhan Wirausaha Muda Pertanian [PWMP].
Menteri Pertanian RI Syahrul Yasin Limpo [SYL] meyakini anak muda yang mau terjun di bidang pertanian bisa mempunyai peluang kehidupan dan ekonomi yang lebih baik.
"Apalagi dengan memanfaatkan teknologi yang tersedia," kata Mentan Syahrul dalam berbagai kesempatan, baik kunjungan kerja maupun melalui videoconference via Agriculture War Room - Komando Strategis Pembangunan Pertanian [AWR KostraTani].
Kepala BPPSDMP Prof Dedi Nursyamsi mengingatkan bahwa penumbuhan petani pengusaha milenial melalui pendidikan vokasi menjadi salah satu upaya untuk menumbuhkembangkan minat generasi milenial terhadap sektor pertanian.
"Pertanian merupakan garda terdepan. Sudah saatnya generasi milienial melanjutkan tongkat estafet pembangunan pertanian," kata Dedi Nursyamsi.
Sementara Kepala Pusat Pendidikan Pertanian [Pusdiktan BPPSDMP] Idha Widi Arsanti mengapresiasi langkah alumni Polbangtan tersebut memanfaatkan media sosial dan marketplace untuk membuka peluang pasar dan menjaring konsumen. [Ahs/Vtr]
Jakarta [B2B] - Indonesian government in the next five years prioritizes the development of human resources that are ready to face globalization in the era of industrialization 4.0, the Agriculture Ministry in particular the Directorate General of Extension and Agricultural HR Development [BPPSDMP] carry out its role to develop millennial farmers who understand information and communication technology, according to the senior official of the agriculture ministry.