Kementan Gelar Padat Karya dan JPS Dukung Petani Tangkal Covid-19
Indonesian Agriculture Anticipate Covid-19 by Weaker Health Systems
Editor : M. Achsan Atjo
Translator : Dhelia Gani

PUBLISHED: Sabtu, 30 Mei 2020 , 23:46:00 WIB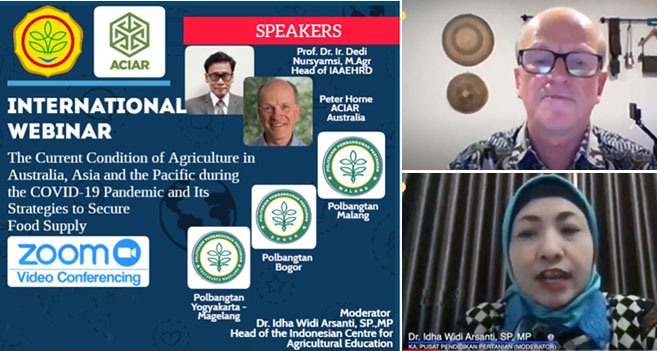 INTERNATIONAL WEBINAR: Kepala BPPSDMP Prof Dedi Nursyamsi dan Peter Horne hadir selaku keynote speaker [kanan atas] dan Kapusdik Idha Widi Arsanti sebagai moderator [kanan bawah] Foto2: Humas Pusdiktan
Jakarta [B2B] - Kebijakan Pemerintah RI terhadap petani di tengah pandemi Covid-19, ditempuh Kementerian Pertanian RI melalui program jangka pendek dan menengah berupa padat karya dan jaring pengaman sosial [JPS]. Tujuannya, mendukung petani tetap berproduksi dan memiliki penghasilan tanpa mengabaikan Protokol Kesehatan untuk menangkal penyebaran virus Corona.
Hal itu mengemuka dari International Webinar bertajuk ´Kondisi Terkini Pertanian di Asia dan Pasifik di tengah Pandemi Covid-19 dan Strategi Pengamanan Suplai Pangan´ di Jakarta, Jumat [29/5]. Kepala BPPSDMP Prof Dedi Nursyamsi dan General Manager - Country Program ACIAR Australia, Peter Horne Peter Home selaku keynote speaker dan Kepala Pusat Pendidikan Pertanian [Pusdiktan] Idha Widi Arsanti selaku moderator Webinar yang melibatkan 2.700 partisipan melalui virtual meeting dan live streaming.
"Kebijakan Kementan di tengah pandemi Covid-19 berbeda dengan kebijakan yang direncanakan sebelumnya. Beberapa program jangka pendek dan menengah telah disusun dan siap diluncurkan khususnya padat karya dan JPS," kata Prof Dedi Nursyamsi.
Menurutnya, pandemi Covid-19 yang sedang melanda dunia saat ini, menimbulkan dampak berganda di semua sektor ekonomi, khususnya sektor pertanian sebagai penyedia komoditas pangan.
"Kondisi sosial dan ekonomi akan semakin memburuk jika ketahanan pangan tidak dapat dipertahankan," katanya pada Webinar yang didukung oleh Politeknik Pembangunan Pertanian [Polbangtan] di Bogor, Yogyakarta dan Magelang serta Malang.
Menyitir instruksi Menteri Pertanian RI Syahrul Yasin Limpo tentang peran sektor pertanian sebagai penyedia pangan dan stabilitas nasional, Prof Dedi Nursyamsi menegaskan bahwa "pertanian tetap harus berjalan meskipun kita sedang mengalami pandemi Covid-19."
Menurutnya, justru ada hikmah dan pembelajaran baru yang bisa kita ambil terkait dengan sektor pertanian yang didukung Komando Strategis Pembangunan Pertanian [KostraTani] sebagai ´nama digital´ dari balai penyuluhan pertanian [BPP] di era industri 4.0 selaku ujung tombak pertanian di tingkat kecamatan.
Sementara Dr Peter Horne menyoroti tentang respons beragam sejumlah negara mengatasi dampak Covid-19 terhadap sektor pertanian. "Can we stop a global health crisis becoming a global food crisis?"
"Jawabannya adalah Bisa. Selama rantai pasok komoditas pangan tetap berjalan, menghindari panik dan hambatan ekspor, serta melakukan perubahan terhadap sistem pangan berbasis sumberdaya lokal, penyederhanaan rantai pasok dan biosesurity," katanya.
Sebagaimana diketahui, ACIAR singkatan dari Australian Centre for International Agricultural Research adalah badan yang beroperasi sebagai bagian dari program bantuan pembangunan Pemerintah Australia. Badan ini mendanai proyek-proyek penelitian dan pengembangan melalui kemitraan antara para peneliti Australia dan Indonesia serta pihak-pihak terkait lainnya.
"Masih banyak pekerjaan rumah yang harus diselesaikan, oleh semua pihak sesuai tugas pokok dan fungsi masing-masing, terutama untuk menjamin keamanan pangan yang sangat mungkin dapat dipertahankan pada masa pandemi Covid-19," kata Kapusdik Idha Widi Arsanti selaku moderator Webinar. [Iwa]
Jakarta [B2B] - Indonesia´s Agriculture Ministry is in intensive care after testing positive for the novel coronavirus, as civil servants in head office and across the country were ordered to close over the health threat. The World Health Organization has said it is particularly concerned about high-risk nations with weaker health systems, which who may lack the facilities to identify cases, according to Agriculture Minister Syahrul Yasin Limpo.