Kadin Dukung Polbangtan, 13.111 Lulusan SLTA Ikuti Ujian Masuk
Indonesia`s Chambers of Commerce Support Agricultural Polytechnic Education
Editor : M. Achsan Atjo
Translator : Dhelia Gani

PUBLISHED: Sabtu, 24 November 2018 , 23:47:00 WIB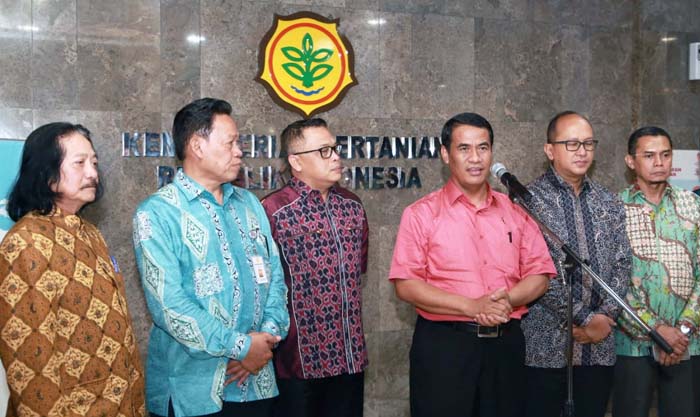 SDM PERTANIAN: Mentan Amran Sulaiman (kemeja merah) menjawab pers didampingi Ketua Umum Kadin, Rosan P Roslani (ke-2 kanan) dan Kepala BPPSDMP Kementan, Momon Rusmono (ke-2 kiri) Foto: Humas BPPSDMP/Pito
Jakarta (B2B) - Transformasi Sekolah Tinggi Penyuluhan Pertanian (STPP) menjadi Politeknik Pembangunan Pertanian (Polbangtan) menarik minat 13.111 lulusan sekolah lanjutan tingkat atas (SLTA) dari seluruh Indonesia, ketimbang peminat STPP pada 2017 hanya 980 orang, atau meningkat 1200%. Kamar Dagang dan Industri Indonesia (Kadin) menyatakan siap mendukung, dengan kurikulum tambahan berbasis kebutuhan dunia industri.
Hal itu dikemukakan Menteri Pertanian RI Andi Amran Sulaiman kepada Ketua Umum Kamar Dagang Indonesia (Kadin) Rosan P Roeslani terkait komitmen Kementerian Pertanian RI mendukung pengembangan SDM pertanian Indonesia melalui transformasi STPP menjadi Polbangtan, untuk mendidik dan melatih job creator dan wirausahawan muda agribisnis, sesuai instruksi Presiden RI Joko Widodo.
"Kami sudah laporkan pada Presiden tentang hasil transformasi STPP ke Polbangtan. Harus diakui, STPP kurang diminati lulusan SLTA, tes masuk tahun lalu hanya diikuti 980 orang. Alhamdulillah, pendaftar tes masuk Polbangtan sampai 13.111 orang. Naik 1200 persen dari peminat STPP 2017," kata Mentan Amran Sulaiman kepada pers di Jakarta, Jumat petang (23/11).
Menurutnya, pengembangan pendidikan vokasi memang menjadi fokus Presiden Jokowi untuk meningkatkan daya saing bangsa, khususnya SDM pertanian yang inovatif mengacu pada kebutuhan industri global.
Rosan PR menyatakan dukungan Kadin pada Polbangtan sebagai unit pelaksana teknis (UPT) dari Badan Penyuluhan dan Pengembangan SDM Pertanian (BPPSDMP) Kementan, dengan menambahkan kurikulum berbasis kebutuhan dunia industri.
"Dukungan Kadin diharapkan dapat menciptakan para wirausahawan agribisnis, sehingga lulusan Polbangtan dapat membuka lapangan kerja, bukan mencari kerja lagi," kata Ketua Umum Kadin.
Momon Rusmono menambahkan Polbangtan menerapkan konsep pembelajaran yang lebih menekankan praktik kerja melalui teaching factory dan teaching farm berbanding 70% dan 30%.
Menurutnya, BPPSDMP Kementan menjalin kerjasama dengan 29 perguruan tinggi untuk program Penumbuhan Wirausahawan Muda Pertanian (PWMP) dan beberapa perusahaan swasta yang bergerak di sektor pertanian di bawah koordinasi Kadin.
Kelembagaan Polbangtan tertuang pada Permentan No 25/2018 tentang Organisasi Tata Kerja Polbangtan yang berlaku untuk tujuh Polbangtan: Medan, Bogor, Yogyakarta - Magelang, Malang, Gowa Makassar, dan Manokwari dan satu lagi akan diluncurkan Kementan dalam waktu dekat.
"Ketujuh Polbangtan didukung pengajar profesional berkompetensi berbekal sertifikat pelatihan peningkatan keterampilan dasar teknik instruksional dan applied approach," kata Momon Rusmono. (Cha)
Jakarta (B2B) - Transformation of the Indonesia´s Agricultural Extension College or STPP into Agricultural Development Polytechnic or Polbangtan attracted the interest of 13.111 high school graduates across the country compared to enthusiasts of STPP in 2017 only 980, or an increase of 1200%. Indonesian Chamber of Commerce and Industry or Kadin said it was ready to support, with an industry-based curriculum.
It was stated by Agriculture Minister Andi Amran Sulaiman to the Chairman of Indonesian Chamber of Commerce and Industry or Kadin, Rosan P Roslani related to commitment of agriculture ministry to support development of agricultural human resources through the transformation of STPP into Polbangtan, according to President Joko Widodo´s instructions.
"We have reported to the president about transformation of STPP into Polbangtan. Admittedly, STPP was less attractive, last year´s entrance examination was only attended by 980 people," Minister Sulaiman told the press here on Friday (November 23).
According to him, development of vocational education is indeed the focus of President Widodo to increase competitiveness of younger generation, especially innovative agricultural HR refers to the needs of global industry.
Mr Roslani declared Kadin´s support to Polbangtan as technical implementation unit of Directorate General of of Agricultural HR Development or the BPPSDMP with industry-based curriculum.
"The Kadin support is expected to create agribusiness entrepreneurs, so that Polbangtan graduates can open employment opportunities, not to look for work," Mr Roslani said.
Mr Rusmono said, Polbangtan applied the concept of learning with work practices through the teaching factory and teaching farm, he ratio is 70% and 30%.
According to him, the BPPSDMP collaborated with 29 universities for the Agriculture Young Entrepreneur Development program or PWMP and several private companies in the agricultural sector under the coordination of Kadin.
The Polbangtan institution is stipulated in the regulation of agriculture minister which applies to seven Polbangtan: Medan, Bogor, Yogyakarta - Magelang, Malang, Gowa Makassar, and Manokwari, and one Polbangtan will be launched by the ministry in the near future.
"The seven Polbangtan supported by competent professional lecturers equipped with basic skills enhancement training certificate instructional techniques and applied approach," Mr Rusmono said.