Asprindo Diminta Mentan Dukung Ekspor Komoditas Pertanian RI ke Mancanegara
Indonesian Govt Supports Exporters of Agricultural Commodities
Reporter : Gusmiati Waris
Editor : Cahyani Harzi
Translator : Dhelia Gani

PUBLISHED: Kamis, 31 Mei 2018 , 23:49:00 WIB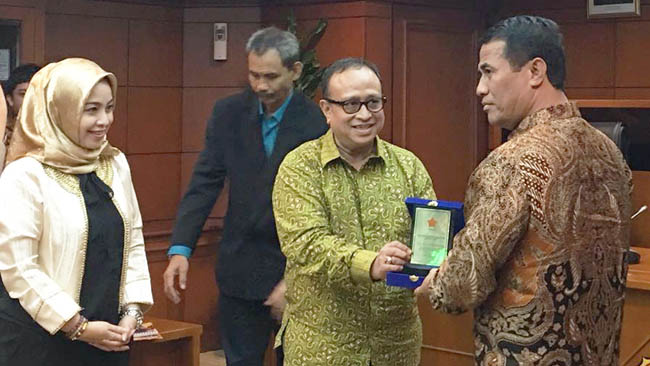 Mentan Andi Amran Sulaiman (kanan) menerima cenderamata dari Ketua Umum Asprindo, Jose Rizal (Foto: Humas Kementan)
Jakarta (B2B) - Asosiasi Pengusaha Bumiputera Nusantara Indonesia (Asprindo) diminta Menteri Pertanian RI Andi Amran Sulaiman mendukung peningkatan ekspor komoditas pertanian Indonesia ke mancanegara.
"Asprindo saya minta mengutamakan ekspor komoditas pertanian khususnya ayam, telur, jagung, kopi dan lada. Itu harus jadi prioritas dan pemerintah akan mendukung dan mendorong pencapaian ekspor tersebut," kata Mentan Amran Sulaiman usai bertemu Ketua Umum Asprindo, Jose Rizal di Jakarta, Kamis (31/5).
Menurut Mentan, pemerintah akan mendukung para pengusaha dan eksportir yang menopang perekonomian nasional dengan mengutamakan ekspor ketimbang impor pangan dari mancanegara.
"Ini harus menjadi prioritas dan akan terus didorong pemerintah," kata Mentan.
Jakarta (B2B) - Indonesian Business Association or Asprindo are asked to support the increase of Indonesian agricultural commodity exports, according to the Agriculture Minister Andi Amran Sulaiman.
"I ask Asprindo to prioritize the export of agricultural commodities, especially chicken, eggs, corn, coffee and pepper. The government will support and encourage it," said Minister Sulaiman after met with Chairman of the Asprindo, Jose Rizal here on Thursday (May 31).
According to him, the government will support entrepreneurs and exporters who support the national economy by prioritizing exports rather than food imports from abroad.
"This should be a priority and the government will continue to push," Minister Sulaiman said.