BPS: Ekspor Pertanian Tumbuh 14.03% meski Terhadang Pandemi
Indonesian Govt Encourage Agricultural Exporters to Increase Volume Export
Reporter : Kemal Agus Praghotsa
Editor : Cahyani Harzi
Translator : Dhelia Gani

PUBLISHED: Rabu, 17 Februari 2021 , 23:50:00 WIB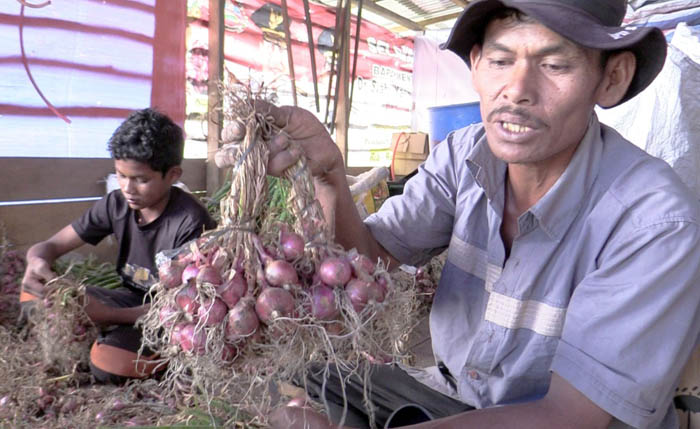 PRODUKSI BAWANG: Berdasarkan subsektornya, tanaman pangan tumbuh 3,54 %, tanaman hortikultura 4,37%, tanaman perkebunan 1,33% sementara subsektor peternakan yang minus 0,33% [Foto: Kementan]
Jakarta [B2B] - Badan Pusat Statistik [BPS] mencatat capaian sektor pertanian selama pandemi Covid 19, 2019 hingga awal 2021, ekspor pertanian tumbuh 14,03%, dengan subsektor tanaman pangan sebagai penyumbang tertinggi dalam distribusi dan pertumbuhan ekonomi subsektor pertanian 2020.
"Saya kira performa sektor pertanian sangat luar biasa, karena itu harus diberi perhatian lebih karena menjadi sektor penyelamat dan mampu mengangkat kesejahteraan pelakunya," ujar kata Kepala BPS Kecuk Suhariyanto di Jakarta, Rabu [17/2] pada diskusi Indef bertajuk ´Daya Tahan Sektor Pertanian: Realita atau Fatamorgana´.
Berdasarkan subsektornya, tanaman pangan tumbuh 3,54 %, tanaman hortikultura 4,37%, tanaman perkebunan 1,33% sementara subsektor peternakan yang minus 0,33%.
Kendati begitu, menurut Suhariyanto, selama pandemi ini hampir semua sektor terdampak pandemi, akibatnya produksi dan harga jual jatuh hingga titik yang memprihatinkan, sedangkan sektor pertanian tetap bertahan bahkan mengalami pertumbuhan positif.
"Selama pandemi ini ekonomi indonesia terpuruk, tapi tidak dengan sektor pertanian. Performa pertanian sangat mengembirakan, karena itu kita perlu menjaga harga beli panen dan membuat kebijakan pengendali inflasi untuk menggenjot kesejahteraan petani," katanya.
Suhariyanto menambahkan, perkembangan SDM, khususnya generasi muda harus menjadi perhatian lebih karena sumber daya manusia erat kaitanya dengan perkembangan sektor pertanian ke depan.
"Saya kira SDM di pertanian perlu mendapat perhatian bersama, karena banyak usia muda tanpa pendidikan, padahal SDM adalah kunci dari tumbuh kembangnya sektor pertanian," katanya.
Jakarta [B2B] - The movement of Indonesian agricultural commodity exports must begin with the presence of exporters among the people, at the same time opening up employment opportunities widely, by increasing the movement three times exports [GratiEks] so GratiEks became part of the people´s movement to show that Indonesia is a strong country in the agricultural sector, according to Agriculture Minister Syahrul Yasin Limpo.