Aplikasi Lapangan, CPNS Kementan Diingatkan Kapuslatan Jangan Hanya Faham Teori
Indonesian Agriculture Graduates must Understand the Field Conditions
Editor : M. Achsan Atjo
Translator : Dhelia Gani

PUBLISHED: Minggu, 04 Februari 2018 , 23:53:00 WIB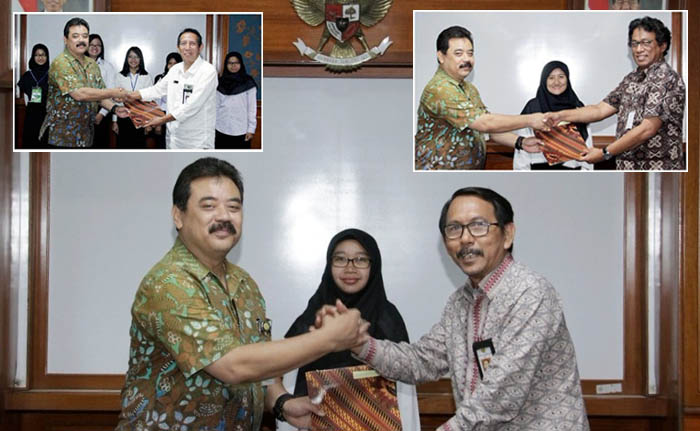 SK CPNS: Kepala Puslatan Widi Hardjono serahkan SK 1 CPNS untuk STPP Magelang diterima Kabag Adminum, Irwan JS; BPPP Batu Malang diterima Apri Handono (inset kanan atas) dan 5 CPNS BBPP Kupang diterima Adang Warya(Foto2: Humas/Pito)
Jakarta (B2B) - Calon pegawai negeri sipil (CPNS) yang ditempatkan di Kementerian Pertanian RI diharapkan tidak hanya menguasai teori tapi juga memahami dan langsung terjun ke lapangan agar mengenal pertanian secara utuh, dan untuk mewujudkan hal itu hal terpenting adalah memperbaiki mental dan moral sebagai abdi negara harapan bangsa.

"Bergeraklah bersama-sama agar bisa mengubah wajah pertanian Indonesia menjadi lebih baik, lebih maju sehingga kita diakui dunia," kata Kepala Pusat Pelatihan Pertanian (Puslatan) Widi Hardjono pada penyerahan surat keputusan (SK) Menteri Pertanian RI dan orientasi CPNS formasi khusus untuk BPPSDMP Kementan di Jakarta, Kamis (1/2).

Widi mengharapkan 39 CPNS di Badan SDM Kementan dapat mendukung pengembangan SDM dan kelembagaan petani, dengan target strategis untuk mewujudkan SDM pertanian yang kreatif, inovatif, dan berwawasan global.

Dia menambahkan, kegiatan penyerahan SK Mentan merupakan bagian dari rangkaian kegiatan penyerahan dan orientasi CPNS di Kementan, yang sudah berlangsung sejak 29 Januari 2018 sampai saat ini.

"Kegiatan orientasi CPNS di BPPSDMP Kementan diisi dengan pembekalan tentang organisasi, tata kerja, dan program strategis dari unit kerja sektariat badan, pusat penyuluhan pertanian (Puslutan), pusat pendidikan pertanian (Pusdiktan), dan pusat pelatihan pertanian (Puslatan).

Tampak hadir Kepala Badan Penyuluhan dan Pengembangan SDM Pertanian (BPPSDMP) Kementan, Momon Rusmono; Sekretaris BPPSDMP Kementan, Surachman Suwardi; Kepala Pusat Pelatihan Pertanian (Puslatan) Widi Hardjono; Kepala Pusat Penyuluhan Pertanian (Kapuslutan) Siti Munifah dan beberapa kepala UPT SDM Kementan di antaranya Kepala Pusat Pelatihan Manajemen dan Kepemimpinan Pertanian - PPMKP Ciawi, Herry Suliyanto; Kepala Balai Pelatihan Pertanian - BBPP Ketindan, Kresno Suharto; Kepala BBPP Batangkaluku, Kemal Mahfud; Kepala Balai Pelatihan Peternakan - BBPP Batu Malang, Apri Handono; Kepala BBPP Kupang, Adang Warya; Kepala Sekolah Tinggi Penyuluhan Pertanian - STPP Magelang, Ali Rachman yang diwakili Kabag Administrasi Umum, Irwan JS.
Jakarta (B2B) - The candidates of civil servants in Indonesian agriculture ministry are expected to not only understand the theory and to make it happen, the most important thing is to improve the mental and moral as the civil servants, according to the ministry´s top officials.

"Move together in order to change the face of Indonesia´s agriculture to be better, more advanced so that we are recognized the world," said Director of Agricultural Training Center, Widi Hardjono on the submission of decree of agriculture minister, and orientation of CPNS special formation for the ministry´s HRD agency here on Thursday (February 1).

Mr Hardjono expects of 39 CPNS can support development of human resources and institutional farmers, with strategic targets to realize the agricultural HR creative, innovative, and global perspective.

He said the event is part of a series of acceptance activities and CPNS orientation in the ministry that took place since January 29, 2018 until today.

"The CPNS orientation activities are briefing on the organization, work procedures and strategic programs of the agency´s work units, agricultural extension centers, agricultural education centers, and agricultural training centers.

It was attended by the Director General of Agricultural Extension Human Resources Development or the BPPSDMP, Momon Rusmono; Secretary of BPPSDMP, Surachman Suwardi; Director of of Agricultural Extension Center Siti Munifah; and several heads of BPPSDMP technical implementation units including the Director of Ciawi´s Agricultural Management and Leadership Training Center - PPMKP Ciawi, Herry Suliyanto; Director of Ketindan´s Agricultural Training Center - BBPP Ketindan, Kresno Suharto; Director of of BBPP Batangkaluku, Kemal Mahfud; Director of Batu Malang´s Livestock Training Center - BBPP Batu Malang, Apri Handono; Director of the BBPP Kupang, Adang Warya; Director of Magelang´s Agricultural Extension - STPP Magelang, Ali Rachman represented by Head of General Administration, Irwan JS.