Kepala Badan SDM Kementan Dorong UGM Yogyakarta Lahirkan Pengusaha Pertanian
Indonesian Students are Expected to Develop Potential as an Agricultural Entrepreneur
Editor : M. Achsan Atjo
Translator : Dhelia Gani

PUBLISHED: Sabtu, 02 Juni 2018 , 02:36:00 WIB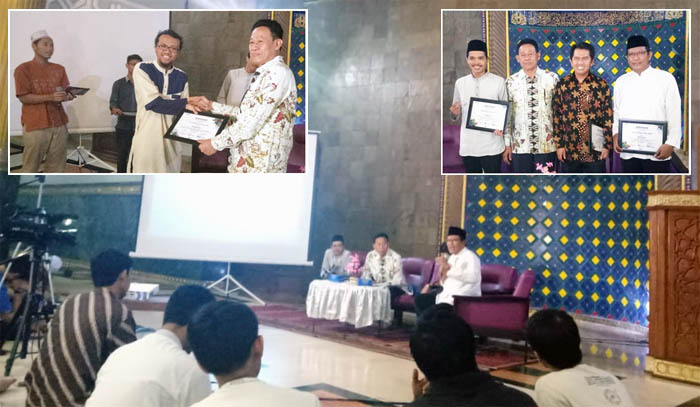 Kepala BPPSDMP Kementan, Momon Rusmono dan Dekan Fakultas Peternakan UGM, jadi pembicara utama Ramadan di Kampus UGM Profesor Ali Agus di Yogyakarta (Foto2: Humas STPP Magelang)
Yogyakarta (B2B) - Kepala Badan Penyuluhan dan Pengembangan SDM Pertanian (BPPSDMP) Momon Rusmono mengharapkan mahasiswa Universitas Gadjah Mada (UGM) Yogyakarta khususnya dari fakultas pertanian dan fakultas peternakan dapat mengembangkan potensi menjadi pengusaha di sektor pertanian berbasis teknologi.
"Saat ini teknologi di sektor pertanian memiliki peran strategis dalam peningkatan produksi pertanian, melalui teknologi maka nilai tambah produk pertanian akan meningkat," kata Momon Rusmono saat menjadi keynote speech mewakili Menteri Pertanian RI Andi Amran Sulaiman pada kegiatan Ramadan di Kampus yang digelar oleh unit kegiatan mahasiswa bidang kerohanian Islam (Rohis) Universitas Gadjah Mada (Jamaah Shalahuddin) pada Jumat malam (2/6).
Menurutnya, percepatan inovasi teknologi ditentukan oleh kapasitas sumber daya manusia (SDM) sebagai pelaku pengembang teknologi, dalam hal ini dukungan mahasiswa UGM sangat dibutuhkan untuk mengembangkan potensinya sebagai pengusaha di sektor pertanian dalam pengembangan inovasi teknologi pertanian.
Kegiatan Dialog Tokoh Ramadan di Kampus Universitas Gajah Mada (UGM) mengusung tema 'Kepemimpinan Pangan: Strategi Menjawab Kebutuhan Pangan Nasional melalui konsep Jihad Kedaulatan Pangan' dihadiri oleh Dekan Fakultas Peternakan UGM, Profesor Ali Agus.
"Idealnya, pengusaha muda pertanian dari UGM kelak tetap bersandar pada perintah Allah SWT sehingga dapat mendukung pengembangan konsep jihad kedaulatan pangan," kata Momon Rusmono yang didampingi Kabag Administrasi Umum STPP Magelang, Irwan Johan Sumarno yang hadir mewakili Ketua STPP Magelang, Ali Rachman.
Dia juga mengingatkan bahwa Indonesia sebagai negara berpenduduk mayoritas Muslim, tidak bisa tergantung pada olahan pangan luar negeri. Kehalalan produk menjadi syarat utama, sehingga Indonesia butuh inovasi teknologi dan perhatian serius agar dapat mandiri dalam pemenuhan pangan.
"Masalah pangan adalah masalah kesejahteraan rakyat, sebagaimana pernyataan Bung Karno bahwa urusan pangan adalah urusan hidup dan mati suatu bangsa," katanya.
Yogyakarta (B2B) - Indonesian government encourages students of Yogyakarta's Gadjah Mada University or the UGM especially agriculture and livestock faculty develop potential become entrepreneurs in the agricultural sector with a technology base, according to the Director General of Agricultural Extension and Agricultural Human Resources at the Indonesian Agriculture Ministry or the BPPSDMP, Momon Rusmono.
"Currently technology in the agricultural sector has a strategic role in increasing agricultural production, through technology then the value added of agricultural products will increase," said Mr. Rusmono as a keynote speech representing the Agriculture Minister Andi Amran Sulaiman here on Friday night (June 1).
According to him, the acceleration of technological innovation is determined by the capacity of human resources as a technology developer, UGM student support is urgently needed to develop potential as entrepreneurs in the agricultural sector in the development of agricultural technology innovation.
Activity Dialogue Ramadan on the campus of UGM has the theme of 'food leadership: strategy to answer national food needs through the concept of food sovereign jihad' attended by the Dean of the Faculty of Animal Husbandry, Professor Ali Agus.
"Ideally, young agricultural entrepreneurs from UGM will continue to rely on the command of God so as to support development of jihad concept of food sovereignty," said Mr Rusmono who was accompanied by Head of General Affairs of STPP Magelang, Irwan Johan Sumarno who was representing the Rector of STPP Magelang, Ali Rachman.
He also reminded that Indonesia as a Muslim-majority country, can not depend on processed food from abroad. Halal product becomes the main requirement, so Indonesia needs technological innovation to achieve food self-sufficiency.
"The problem of food is a matter of people's welfare, as Bung Karno's statement that food affairs is a matter of life and death of a nation," he said.