Di Pekanbaru, Kepala Badan dan Ketua KTNA Serukan Lumbung Pangan Dunia
Senior Indonesian Officials Encourage Local Govt Support Food Self-sufficiency
Reporter : Gusmiati Waris
Editor : Cahyani Harzi
Translator : Dhelia Gani

PUBLISHED: Minggu, 22 September 2019 , 23:06:00 WIB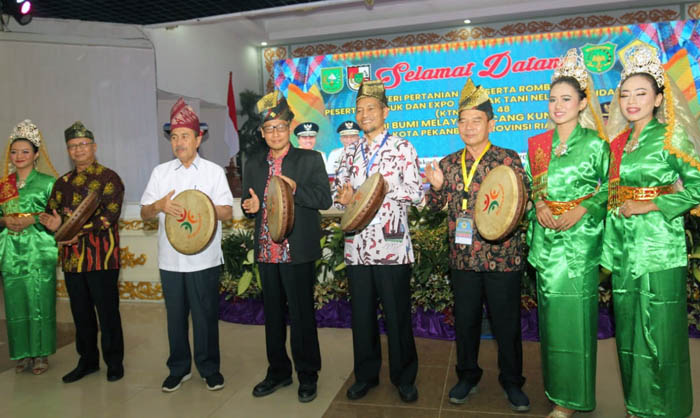 Foto: Humas BPPSDMP Kementan
Pekanbaru, Riau [B2B] - Kepala Badan Penyuluhan dan Pengembangan Sumber Daya Manusia Pertanian (BPPSDMP), Prof Dedi Nursyamsi menegaskan pentingnya dukungan kelompok Kontak Tani Nelayan Andalan (KTNA) dalam mewujudkan kedaulatan pangan menuju Indonesia lumbung pangan dunia.
"Kita lihat ekspor pertanian meningkat tajam. Dan ini baru terjadi di empat tahun terakhir. Ini juga salah satu parameter keberhasilan pembangunan pertanian karena nilai investasi naik secara signifikan. Tentu semua ini berkat dukungan semua pihak, termasuk KTNA," kata Dedi Nursyamsi dalam sambutanya pada Rembug Utama, Ekspo dan HUT KTNA ke 48 di Pekanbaru, Minggu (22/9).
Menurutnya, banyak capaian yang dicapai Kementan selama lima tahun terakhir adalah hasil kerjasama dengan berbagai pihak, termasuk dalam peningkatan pendapatan domestik bruto [PDB], pengendalian inflasi, serta peningkatan NTP-NTUP.
"Artinya apa, petani juga menikmati hasil dari peningkatan pendapatan sektor pertanian ini. Kemudian kita juga bisa berbica banyak pada penurunan penduduk miskin yang sebagian besar berada di pedesaan," katanya.
Terkait penduduk miskin, pemerintah telah berupaya menekan angka kemiskinan yang ada dengan mengeluarkan kebijakan dan program trobosan. Program tersebut antara lain Selamatkan Rawa Sejahterakan Petani [Serasi], Bedah Kemiskinan Rakyat Sejahtera [Bekerja], serta peningkatan produksi melalui Upsus Pajale dan Upsus Siwab.
"Untuk program Bekerja, Kementan memberikan 50 ekor ayam kepada rumah tangga miskin, kemudian juga pemberian bibit dan benih unggul yang sudah tersertifikasi. Lalu ada juga program pendampingan baik kepada petani maupun generasi muda," katanya.
Terkait hal ini, Ketua KTNA Winarno Tohir menyampaikan terimakasih atas kehadiran dan dukungan pemerintah, dalam hal ini Kementerian Pertanian sebagai pionir penjaga ketahanan pangan pada HUT KTNA yang ke 48 di Pekanbaru.
"Pertama tentu saja mengapresiasi dan menyampaikan terimakasih atas kehadiran pemeritah, dalam hal ini kementerian Pertanian. Kemudian yang paing penting adalah kita harus memaksimalkan kualitas dan kuantitas produk lokal menuju lumbung pangan dunia. Untuk itu, mari kita jaga bersama," katanya.
Sementara itu, Gubernur Riau, Syamsuar mengajak semua pihak untuk menjaga lingkungan pertanian dan kehutanan dari ancaman kebakaran hutan. Menurut dia, maslahah karhutla sangat berpengaruh pada kenaikan inflasi bahan pokok.
"Jadi, selama lima tahun ke depan, Pekanbaru harus hijau. Kita tahu dampak kebakaran ini membuat inflasi komoditas di Pekanbaru juga ikut sedikit naik. Makanya harus kita jaga bersama sektor pertanian ini," tukasnya.
Pekanbaru of Riau [B2B] - The Indonesian farmers and fishermen´s association plays an important role in supporting the achievement of food security and food self-sufficiency to meet the people´s basic food needs from national production, according to the senior official of the agriculture ministry.