Forwatan dan Minamas Plantation Serahkan Bantuan ke Panti Asuhan
Indonesian Govt Encourages Farmers to Use People`s Business Credit
Reporter : Gusmiati Waris
Editor : Cahyani Harzi
Translator : Dhelia Gani

PUBLISHED: Minggu, 31 Mei 2020 , 23:07:00 WIB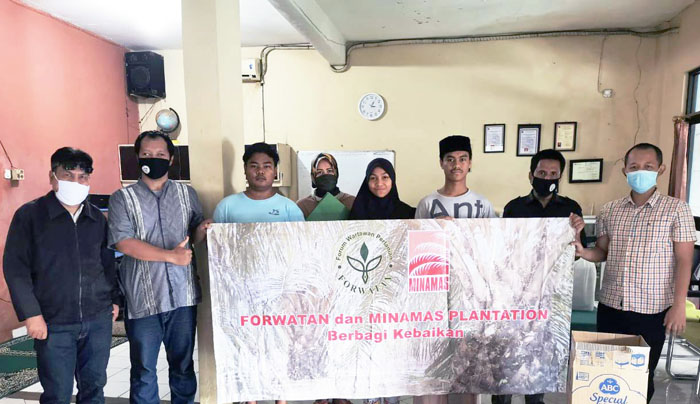 PANDEMI COVID-19: Bantuan sosial diserahkan simbolis oleh Ketua Umum Forwatan, Yuwono Nugroho dan CEO Minamas Plantation, Shamsuddin Muhammad kepada Ustad Ano, Kepala Asrama Yayasan Sahabat Yatim Indonesia
Jakarta [B2B] - Yayasan Nur Kebagusan dan Yayasan Sahabat Yatim Indonesia di Jakarta Selatan menerima bantuan sosial dari Forum Wartawan Pertanian [Forwatan] dan Minamas Plantation, sebagai wujud kepedulian sosial di tengah pandemi Covid-19.
Bantuan sosial diserahkan secara simbolis oleh Ketua Umum Forwatan, Yuwono Nugroho dan CEO Minamas Plantation, Shamsuddin Muhammad kepada Ustad Ano selaku Kepala Asrama Yayasan Sahabat Yatim Indonesia di Jati Padang, Jakarta Selatan, Jumat [29/5].
"Kami mengucapkan terima kasih kepada perusahaan karena berpartisipasi mendukung kegiatan Forwatan menyikapi pandemi Covid-19, khususnya membantu menjaga kesejahteraan masyarakat yang membutuhkan," kata Yuwono Nugroho saat menyerahkan bantuan.
Shamsuddin Muhammad mengharapkan kontribusi tersebut dapat meringankan beban warga terdampak Covid-19 untuk menciptakan keharmonisan di tengah situasi sulit saat ini.
"Bantuan ini sangatlah berarti bagi kami untuk mendukung kegiatan anak-anak di sini," kata Ustad Ano mewakili Yayasan Sahabat Yatim Indonesia telah berdiri semenjak 2005 dan tersebar di sejumlah kota di Indonesia.
Sebelumnya, Minamas Plantation melalui unit-unit bisnis menyerahkan bantuan sosial di tujuh provinsi berupa 5.000 paket sembako, masker, alat pelindung diri [APD], cairan disinfektan, hand sanitizer, 2.600 liter minyak goreng Alif dan 1.000 masker yang didistribusikan melalui tim Gugus Tugas Pandemi Covid-19 tingkat daerah.
Jakarta [B2B] - Indonesia´s Agriculture Ministry is in intensive care after testing positive for the novel coronavirus, as civil servants in head office and across the country were ordered to close over the health threat. The World Health Organization has said it is particularly concerned about high-risk nations with weaker health systems, which who may lack the facilities to identify cases, according to senior official of the minister.