Kementan Bangun Jiwa Agribisnis pada Workshop Business Motivation Pathways
Indonesia Binuang`s Agricultural Training Center Support Borneo Farmers
Editor : M. Achsan Atjo
Translator : Dhelia Gani

PUBLISHED: Minggu, 31 Juli 2022 , 02:46:00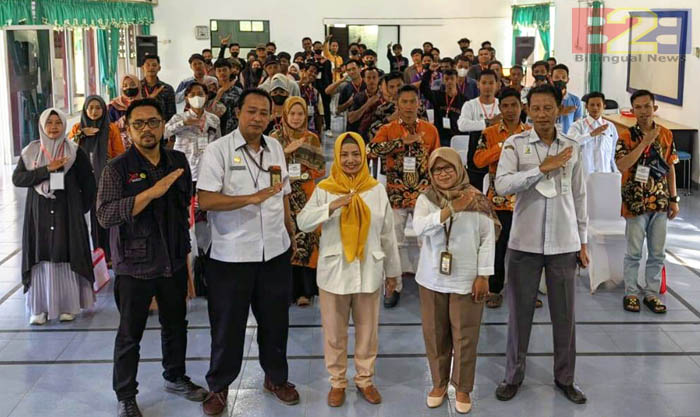 BBPP BINUANG: Kepala BBPP Binuang, Yulia Asni Kurniawati [tengah] bersama para peserta workshop didampingi petani milenial Maulana Akbar; Koordinator Evalap dan Program, Joko Haryanto dan SubKoord. Program dan Humas BBPP Binuang, Agus Sumantri
Banjar, Kalsel [B2B] - Pemerintah melalui Kementerian Pertanian RI terus berupaya mewujudkan regenerasi petani serta melahirkan wirausaha milenial di sektor pertanian, guna mengatasi krisis jumlah petani dengan meyiapkan penumbuhan jumlah petani milenial.
Hal tersebut sebagai upaya pengejawantahan instruksi Menteri Pertanian RI Syahrul Yasin Limpo yang berupaya terus memfasilitasi generasi muda pertanian agar bisa terjun menjadi petani serta wirausahawan pertanian.
"Kita fasilitasi mereka. Kita tingkatkan pengetahuan dan kemampuan mereka melalui pelatihan. Kita manfaatkan teknologi, Alsintan, jejaring hingga jejaring pemasaran. Kita ubah pola pikir generasi muda bahwa pertanian itu keren, hebat, dan satu-satunya sektor yang menjanjikan terlebih di tengah pandemik ini," kata Mentan Syahrul.
Kepala Badan Penyuluhan dan Pengembangan SDM Pertanian Kementan [BPPSDMP] Dedi Nursyamsi, dalam kesempatan terpisah mengutarakan hal serupa.
"Pertanian, sebagai sektor yang mampu terus tumbuh saat pandemi, harus menjadi yang terdepan untuk memulihkan ekonomi, termasuk dalam hal menjaga ketahanan pangan, untuk itu dibutuhkan peran semua pihak tak terkecuali para mahasiswa," katanya.
Balai Besar Pelatihan Pertanian [BBPP] merupakan unit pelaksana teknis [UPT] dari BPPSDMP yang menyiapkan kader petani milenial melalui pelatihan, pembinaan dan pendampingan kepada petani seperti halnya BBPP Binuang di Kalimantan.
Kepala BBPP Binuang, Yulia Asni Kurniawati mengatakan BBPP yang dipimpinnya ditargetkan untuk meningkatkan kapasitas agribisnis bagi generasi muda melalui kegiatan Workshop Bussines Motivation Pathway [BMP] untuk wilayah Kabupaten Banjar, Provinsi Kalimantan Selatan sebanyak 420 orang, didukung Program Youth Enterpreneur and Employment Support Service [YESS] SMK-PP Negeri Banjarbaru.
Menurut Yulia AK, Workshop BMP akan digelar bagi 420 orang yang terbagi dalam tujuh angkatan, yakni 60 peserta untuk setiap angkatan. Tujuannya, peserta pelatihan diharapkan mengetahui dan memahami ide bisnis dan bagaimana memulai bisnis.
"Saat ini, kami telah melaksanakan tiga angkatan selama tiga hari, 25 hingga 27 Juli lalu, diikuti 180 peserta yang mendapatkan materi membangun jiwa kewirausahaan, ide dan model bisnis, perencanaan bisnis, rencana aksi implementasi," katanya.
Dia menambahkan ke-180 peserta berasal Kecamatan Cinta Puri Darusalam, Pengaron, Simpang Empat, Astambul, Sambung Makmur, Sungai Pinang, Aranio, Telaga Bauntung dan Martapura Barat.
Kabalai Yulia AK mengatakan guna membangun jiwa kewirausaan, kegiatan Workshop BMP menghadirkan petani milenial, Maulana Akbar, sosok Duta Petani Milenial [DMP] yang juga finalis Young Ambassador 2022 Maulana Akbar dan Miseran, Ketua Forum Komunikasi Petani Milenial di Kabupaten Tapin, Kalsel.
Dalam kesempatan tersebut, Yulia AK membangkitkan motivasi peserta workshop tentang pengembangan jiwa kewirausahaan, ide dan model bisnis, perencanaan bisnis dan rencana aksi implementasi.
"Kegiatan workshop diharapkan menambah ilmu dan wawasan tentang bisnis di bidang pertanian," katanya. [Agus]
Banjar of South Borneo [B2B] - The role of agricultural training in Indonesia such as the Agricultural Training Center of Indonesia Agriculture Ministry across the country so the ministry seeks to maximize its efforts to produce millennial entrepreneur.
Indonesian Agriculture Minister Syahrul Indonesia Yasin Limpo stated that the government´s commitment to developing agriculture, especially in the development of advanced, independent and modern agricultural human resources.
"The goal is to increase the income of farming families and ensure national food security. Farmer regeneration is a commitment that we must immediately realize," Minister Limpo said.
He reminded about the important role of agricultural training, to produce millennial farmers who have an entrepreneurial spirit.
"Through agricultural training, we connect farmers with technology and innovation so that BBPP meet their needs and are ready for new things," Limpo said.