Beras Sehat, Terobosan Petani Lampung Tengah Produksi Pangan Bebas Pestisida
Indonesia`s Central Lampung Farmers Developing Healthy Rice
Reporter : Gusmiati Waris
Editor : Cahyani Harzi
Translator : Dhelia Gani

PUBLISHED: Sabtu, 07 Maret 2020 , 02:53:00 WIB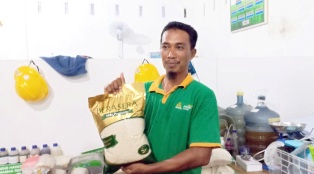 PERTANIAN BERKELANJUTAN: Ketua Perkumpulan Petani Poktan Gapsera Sejahtera Mandiri, Sukarlin mengatakan Brasera sudah meraih sertifikat dari PT Superintending Company of Indonesia [Sucofindo] Foto: B2B/Mya
Lampung Tengah, Lampung [B2B] - Pertanian berkelanjutan bukan sekadar jargon bagi petani di Kabupaten Lampung Tengah, Provinsi Lampung, yang mengembangkan 'beras sehat bebas pestisida' oleh Perkumpulan Petani Poktan Gapsera Sejahtera Mandiri di Kecamatan Seputih Raman, yang dilakukan sejak 2018 dengan merek dagang 'Berasera' memanfaatkan pestisida nabati untuk menghasilkan beras ramah lingkungan.
Ketua Perkumpulan Petani Poktan Gapsera Sejahtera Mandiri, Sukarlin mengatakan Brasera sudah meraih sertifikat dari PT Superintending Company of Indonesia [Sucofindo] atas keberhasilan memanfaatkan pestisida nabati untuk melawan hama dan stop penggunaan pupuk organik.
"Sucofindo menyatakan bahwa Berasera sudah not detected residu, dari syarat 16 item dinyatakan bebas racun dan bebas pestisida kimia," kata Sukarlin kepada para jurnalis anggota Forum Wartawan Pertanian [Forwatan], Kamis [5/3] yang mengikuti kegiatan 'Kunjungan Pers BPPSDMP' di Provinsi Lampung selama tiga hari [5 - 7 Maret].
Dalam satu musim tanam, katanya, Gapsera Sejahtera Mandiri mampu menghasilkan 150 ton gabah kering [60 ton beras], yang dijual Rp65.00 per lima kg dan telah dipasarkan ke seluruh Lampung dan sebagian ke Bogor di Provinsi Jawa Barat.
Kendati begitu, Sukarlin tidak menampik sejumlah kendala yang menghambat beras sehat Berasera, terutama untuk keperluan branding sebagai beras sehat, karena belum ada regulasi dari pemerintah. Saat ini baru ada kategori beras premium, beras organik dan beras Indigo geografi seperti beras merah.
"Belum ada kategori beras sehat, sehingga Berasera harus masuk kategori beras premium," katanya.
Menurut Sukarlin, upaya pengembangan beras sehat Brasera untuk mendukung 'program pertanian berkelanjutan' dengan memanfaatkan beragam bahan pengusir hama, pupuk dari bahan-bahan organik.
"Lahan pertanian yang ditanami tidak akan tercemar racun karena bebas dari bahan kimia dan pupuk pestisida. Kami berharap pemerintah khususnya Kementan dapat memfasilitasi agar beras sehat menjadi komoditas ekspor unggulan," katanya.
Central Lampung of Lampung [B2B] - Indonesian Agriculture Minister encourage rice farmers across the country developing healthy farming as an export opportunity for food, and the central government has supported the development of organic rice in districts.