Pesantren `Tidak Lagi Yatim Piatu`, Mentan Amran Didaulat sebagai Bapak Santri
Islamic Boarding Schools Support Development of Indonesian Agriculture
Reporter : Gusmiati Waris
Editor : Cahyani Harzi
Translator : Dhelia Gani

PUBLISHED: Sabtu, 26 Januari 2019 , 02:07:00 WIB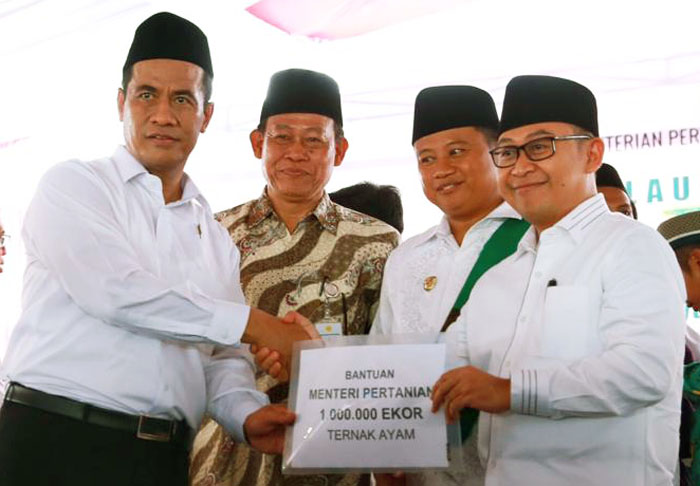 SEJUTA AYAM: Mentan Amran Sulaiman (kiri) usai peluncuran santri tani milenia didampingi Kepala BPPSDMP Kementan, Momon Rusmono (batik) menyalami Wagub Jabar Uu Razhanul Ulum (Foto: Humas Kementan)
Tasikmalaya, Jabar (B2B) - Selama ini pondok pesantren kesulitan mengakses anggaran pemerintah, karena tidak masuk dalam nomenklatur anggaran pengeluaran dan belanja negara, APBN dan APBD, namun Kementerian Pertanian RI mampu mengurai akses tersebut sehingga pesantren ´tidak lagi yatim piatu´ dan Menteri Pertanian RI Andi Amran Sulaiman didaulat sebagai ´Bapak Santri Nasional´ atas komitmennya memberikan bantuan sejuta ekor ayam untuk diternakkan oleh pondok pesantren di seluruh Indonesia.
Hal itu dikemukakan oleh Wakil Gubernur Jawa Barat, Uu Razhanul Ulum kepada Mentan Amran Sulaiman dalam sambutannya di hadapan 15 ribu santri yang hadir di Lapangan Pasar Munding, Desa Kamulyaan, Kecamatan Manonjaya, Kabupaten Tasikmalaya, Provinsi Jawa Barat, Jumat (26/1). Belasan ribu santri tersebut datang ke Tasikmalaya mewakili pondok-pondok pesantren dari seluruh Indonesia menghadiri peluncuran ´Gerakan Santri Tani Milenial´.
"Alhamdulillah, kita tidak lagi yatim piatu lagi. Kalau selama ini pesantren sulit mengakses bantuan pemerintah, kini tidak lagi. Kementan di bawah pimpinan Mentan Amran Sulaiman berani membuka akses tersebut. Pak menteri layak kita daulat sebagai bapak santri nasional," kata Wagub UU RU dalam sambutannya yang disambut tempik sorak dari para santri.
Dia mengapresiasi Mentan Amran Sulaiman yang berani membuat terobosan kebijakan berpihak pada santri, sehingga akses pesantren mendapat bantuan pendidikan dan pelatihan pertanian akan lebih mudah, salah satu langkah konkrit adalah alokasi sejuta ayam untuk diternakkan di pesantren.
"Pesantren dan pertanian saling melengkapi, baik nilai maupun kultur yang selama ini dibangun. Sesuai kata pak menteri, pesantren biasanya ada di pedesaan, dan ekonomi pedesaan ditopang oleh pertanian," kata Wagub Jabar UU RU yang dijuluki sebagai ´panglima santri Jabar´.
Dalam kesempatan tersebut, Mentan menyerahkan bantuan secara simbolis berupa 10 ribu ekor ayam, 102 ekor sapi, 500 ekor kambing/domba, 10 traktor tangan, benih unggul tanaman pangan dan hortikultura. Jumlah bantuan pemerintah akan bertambah sesuai kebutuhan pesantren di seluruh Indonesia sudah diputuskan alokasi sejuta ekor ayam.
"Kita dorong para santri sebagai pemimpin dan pengusaha sukses Indonesia di masa depan. Santri memiliki akhlak, moral dan integritas perlu didorong untuk mendukung pembangunan pertanian nasional. Titip salam hormat kami untuk pak kyai di masing-masing pesantren. Kalian bisa langsung bawa bantuan untuk pesantren," kata Mentan Amran Sulaiman saat menyerahkan bantuan kepada para santri mewakili sejumlah pesantren.
Tasikmalaya of West Java (B2B) - So far the Islamic Boarding School in Indonesia called the pesantren difficult to access the state budget, because it is not listed in the state budget nomenclature or the APBN and APBD, but the ministry of agriculture opens opportunities for pesantren to get government budgets and Agriculture Minister Andi Amran Sulaiman dubbed as ´the santri´s father´ for his commitment to provide a million chickens to developing by the pesantren into chicken farms.
It was stated by West Java Deputy Governor, Uu Razhanul Ulum to Minister Sulaiman in his remarks to 15 thousand students here on Friday (January 26). Dozens of thousands Islamic boarding school students or the santri to Tasikmalaya regent represent Islamic boarding schools across the country to attend the launched of the agricultural development program in pesantren.
"Thank God, the pesantren are now considered by the government to support agricultural development. Minister Sulaiman opens opportunities for pesantren to get government budgets, Minister Sulaiman deserves to be appointed as the Indonesian Santri Father," said Ulum.
He appreciated Minister Sulaiman, who dared to make a breakthrough policy of siding with the students, to open opportunities for santri to take part in agricultural education and training, one concrete step is allocation of a million chickens for pesantren.
"Islamic boarding schools and agriculture complement each other, both values and culture that have been built so far. According to the minister´s direction, pesantren are usually in the countryside, and the rural economy is supported by agriculture," Ulum said.
On the occasion, Minister Sulaiman symbolically handed over government assistance consist of 10,000 chickens, 102 cows, 500 goats/sheep, 10 hand tractors, and superior seeds for food crops and horticulture. The amount of government assistance will increase according to the needs of pesantren across the country, the target is a million chickens.
"We encourage santri to become successful leaders and entrepreneurs in the future. Santri has character and integrity must be encouraged to support national agricultural development," he said.