1 Desa 1 Penyuluh, Kementan Dorong Petani Milenial jadi Penyuluh Swadaya
Indonesia to Develop Agricultural Extensionist Centers in each Village
Reporter : Gusmiati Waris
Editor : Cahyani Harzi
Translator : Dhelia Gani

PUBLISHED: Sabtu, 07 Maret 2020 , 02:09:00 WIB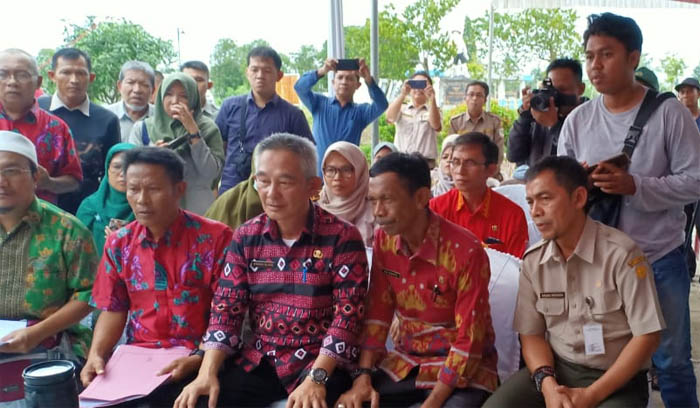 TELECONFERENCE: Petani dan penyuluh Lampung Tengah dialog via AWR KostraTani dipimpin Kepala PTPH Khrisna Rajasa didampingi Kepala BPP Lampung, Dadan Sunarsa [kanan] Foto: B2B/Mya
Lampung Tengah, Lampung [B2B] - Kementerian Pertanian RI mendorong petani muda dan milenial menjadi penyuluh swadaya, untuk mengatasi kekurangan tenaga penyuluh pertanian PNS dan honorer [THL-TBPP] yang berasal dari petani di desa asalnya. Hal itu sesuai amanat UU Perlindungan dan Pemberdayaan Petani No 19/2013 mengamanatkan ´satu desa potensi pertanian harus didukung seorang penyuluh pertanian´ atau 1 desa 1 penyuluh.
"Kementan mendorong pengembangan penyuluh swadaya dari petani muda dan milenial untuk mengatasi kekurangan jumlah penyuluh PNS dan honorer seperti diamanatkan UU No 19 tahun 2013," kata Kepala BPPSDMP Kementan, Prof Dedi Nursyamsi, Kamis [5/3], saat dialog melalui teleconference Agriculture War Room - KostraTani dengan penyuluh dan petani di Balai Penyuluh Pertanian [BPP] Seputih Raman di Kabupaten Lampung Tengah, Provinsi Lampung.
Dia tidak menampik fakta bahwa jumlah penyuluh PNS dan THL berkurang, karena lebih banyak penyuluh yang pensiun ketimbang diangkat, sehingga Kementan sangat mendorong proses pengangkatan penyuluh THL yang telah lolos seleksi menjadi Aparatur Sipil Negara - Pegawai Pemerintah dengan Perjanjian Kerja [ASN-P3K].
Dedi Nursyamsi mengingatkan bahwa penyuluhan pertanian dikembangkan sebagai proses pembelajaran bagi pelaku utama serta pelaku usaha agar mau dan mampu menolong dan mengorganisasikan dirinya mengakses informasi pasar, teknologi, permodalan, dan sumberdaya lainnya, sebagai upaya untuk meningkatkan produktivitas, efisiensi usaha, pendapatan, dan kesejahteraannnya.
"Peran vital penyuluhan pertanian direspons oleh Kementan dengan mengembangkan KostraTani, untuk revitalisasi peran penyuluh pertanian di era teknologi informasi 4.0," katanya.
Sementara Kepala Dinas Pertanian, Tanaman Pangan dan Hortikultura [PTPH] Kabupaten Lampung Tengah, Khrisna Rajasa mengatakan jumlah penyuluh pertanian di wilayahnya hanya 194 orang, sebagian dari mereka sudah menjelang pensiun, sementara jumlah desa sekitar 311 desa. Saat ini diperkirakan ada 71 penyuluh THL yang telah lulus seleksi administrasi, yang sedang menunggu keputusan pemerintah melalui Kementerian Pendayagunaan Aparatur Negara - Reformasi Birokrasi [Kemenpan RB].
"Saat ini Lampung Tengah didukung 29 penyuluh swadaya, rasionya satu penyuluh swadaya untuk satu kecamatan," kata Khrisna Rajasa saat dialog dengan Prof Dedi Nursyamsi via AWR KostraTani didampingi Kepala BPP Lampung, Dadan Sunarsa.
Central Lampung of Lampung [B2B] - Indonesia´s Ministry of Agriculture develops agricultural extension programs to support the farmers to increase agricultural production, develop farmer organizations, utilize technological innovations, access banking capital, and other resources to support food self-sufficiency and improve farmers´ welfare, according to senior ministry official.