Smartpot Kokedama, SMKPP Binaan Pusdiktan Adopsi Teknik Tanam Jepang
Millennial Farmers are the Target of Developing Indonesian Agricultural HR
Editor : M. Achsan Atjo
Translator : Dhelia Gani

PUBLISHED: Minggu, 24 Mei 2020 , 03:10:00 WIB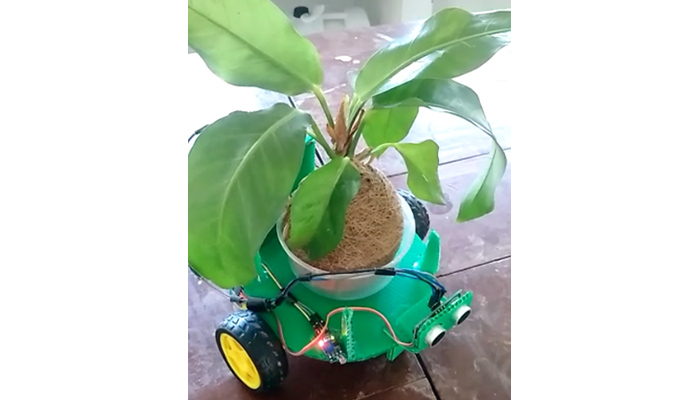 INOVASI KOLABORASI: "MIMOS didesain dengan memiliki tiga sensor. Gas sensor membuat robot Kokedama dapat mencari cahaya sendiri sesuai intensitas cahaya yang dibutuhkan [Foto: Humas Pusdiktan]
Bondowoso, Jatim [B2B] - Covid-19 tiada menghalangi kreatifitas SMK PP Negeri 1 Tegalampel di Kabupaten Bondowoso, Provinsi Jawa Timur mengadopsi teknik menanam Smartpot Kokedama MIMOS. Kokedama adalah teknik tanam tanpa pot a la Jepang, yang menempatkan tanaman dalam bola tanah kemudian dibungkus moss [lumut/sabut kelapa] lalu diikat tali dalam bentuk bulatan.
SMK PPN 1 Tegalampel di Bondowoso, sekolah vokasi pertanian binaan Kementerian Pertanian RI di bawah koordinasi Pusat Pendidikan Pertanian [Pusdiktan BPPSDMP] melaksanakan instruksi Menteri Pertanian RI Syahrul Yasin Limpo untuk mampu mengadaptasi dan tetap kreatif di tengah pandemi Covid-19.
"Covid-19 dan pendidikan vokasi adalah bagian dari cerita baru dunia. Pandemi Covid-19 mengubah ke arah yang lebih digital dan berbasis teknologi," kata Mentan Syahrul dalam berbagai kesempatan, baik kunjungan kerja maupun melalui videoconference via Agriculture War Room - Komando Strategis Pembangunan Pertanian [AWR KostraTani].
Kepala SMK PPN 1 Tegalampel, Anik Sudartini mengatakan MIMOS merupakan hasil kolaborasi antara teknisi laboratorium kultur jaringan dan guru.
"MIMOS didesain dengan memiliki tiga sensor. Gas sensor membuat robot Kokedama dapat mencari cahaya sendiri sesuai intensitas cahaya yang dibutuhkan," katanya.
Sensor ultrasonik membuat alat ini mempunyai fungsi avoider sehingga tidak menabrak ketika dioperasikan. Sensor terakhir digunakan mendeteksi adanya polusi di dalam ruangan yang ditandai dengan bunyi alarm.
Anik Sudartini mengakui MIMOS tersebut belum sempurna. Ke depan, akan dilengkapi dengan monitor suhu, kelembaban ruangan dan security system sehingga dapat melakukan monitoring ruangan di mana pun berada.
Kreatifitas siswa SMK PPN 1 Tegalampel selaras dengan arahan Mentan Syahrul bahwa riset dan teknologi sangat penting, dan akan memberikan kontribusi kuat untuk hadirnya petani menghasilkan pangan berkualitas.
Kepala Badan Penyuluhan dan Pengembangan SDM Pertanian [BPPSDMP] Prof Dedi Nursyamsi menambahkan, pendidikan vokasi pertanian bertujuan membangun milenial pertanian Indonesia yang berkualitas, yang mampu menghasilkan job creator dan job seeker.
Sementara Kepala Pusdiktan BPPSDMP Idha Widi Arsanti mengapresiasi langkah siswa SMK PPN 1 Tegalampel didukung tenaga pengajar dan pendidik melakukan inovasi di tengah pandemi Covid-19 sebagai terobosan penting. [Vnl]
Bondowoso of East Java [B2B] - Indonesian government in the next five years prioritizes the development of human resources that are ready to face globalization in the era of industrialization 4.0, the Agriculture Ministry in particular the Directorate General of Extension and Agricultural HR Development [BPPSDMP] carry out its role to develop millennial farmers who understand information and communication technology, according to the senior official of the agriculture ministry.