BBPP Kementan gelar Pelatihan Dasar Fungsional Penyuluh Kalimantan & Jatim
Indonesia Binuang`s Agricultural Training Center Support Borneo Farmers
Editor : M. Achsan Atjo
Translator : Dhelia Gani

PUBLISHED: Sabtu, 06 Agustus 2022 , 03:26:00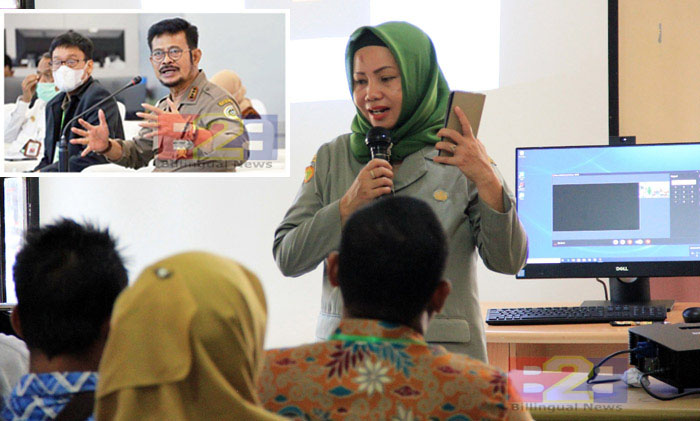 BBPP BINUANG: Kepala BBPP Binuang, Yulia Asni Kurniawati kerap turun langsung pada kegiatan pelatihan penyuluhan secara hibrid [online dan offline] guna mengimplementasikan instruksi Mentan Syahrul Yasin Limpo dan arahan Kepala BPPSDMP Kementan, Dedi Nursyamsi.
Tapin, Kalsel [B2B] - Perubahan kemajuan tekhnologi informasi, diantisipasi Kementerian Pertanian RI dengan menyiapkan penyuluh pertnian yang mampu beradaptasi terhadap perubahan sistem penyuluhan di Era Industri 4.0, dengan memanfaatkan inovasi teknologi ditunjang media sosial dan strategi pendampingan kepada petani.
Menteri Pertanian RI Syahrul Yasin Limpo mengingatkan pertanian saat ini dan ke depan menuntut hadirnya penyuluh selaku pendamping petani dan pelaku usaha tani, mampu meningkatkan produktivitas dan mengolah hasil pertanian dari hulu ke hilir.
"Perkembangan teknologi informasi dan inovasi teknologi menunjang sektor pertanian sekaligus menjadi tantangan bagi penyuluh, untuk mampu memanfaatkannya untuk meningkatkan produktivitas dan hasil pertanian, dengan mengubah pola penyuluhan demi terwujudnya pertanian maju, mandiri dan modern," kata Mentan Syahrul.
Menurutnya, penyuluh pertanian yang kuat selain didukung oleh kelembagaan yang kuat dan sarana prasarana yang memadai, juga memahami teknologi informasi dan strategi penyuluh terkini.
Hal senada dikemukakan Kepala Badan Penyuluhan dan Pengembangan SDM Pertanian Kementan [BPPSDMP] Dedi Nursyamsi menegaskan bahwa kondisi penyuluhan pertanian mendekati ideal setelah lahirnya UU Sistem Penyuluhan No 16/2006, namun setelah adanya UU Pemerintahan Daerah No 23/2014 maka sistem penyuluhan pertanian mengalami perubahan lantaran beberapa kelembagaan penyuluh pertanian tidak ada.
"Perubahan ini memerlukan kerja keras BPPSDMP Kementan dalam mengelola penyuluh yang berkualitas, sekaligus adaptif terhadap kemajuan teknologi informasi, yang menuntut penyuluh mampu memanfaatkan tekhnologi dalam kegiatan penyuluhan," kata Dedi Nursyamsi.
Balai Besar Pelatihan Pertanian [BBPP] khususnya BBPP Binuang berupaya meningkatkan kualitas penyuluh melalui kegiatan pelatihan seperti Pelatihan Dasar Fungsional bagi Penyuluh Pertanian Ahli, Terampil dan Alih Kelompok se-Kalimantan dan Jawa Timur melalui dana APBN dan Kerjasama PNBP yang berlangsung selama 21 hari, 20 Juli hingga 9 Agustus 2022.
"BBPP Binuang menggelar peningkatan kemapuan dan kapasitas penyuluh dengan melaksanakan Pelatihan Dasar Fungsional dilanjutkan uji kompetisi penyuluh melalui sertifikasi penyuluhan," katanya.
Menurutnya, sebanyak 39 penyuluh pertanian tingkat ahli dan 16 tingkat terampil pada Juli 2022 telah mengikuti pelatihan dan uji kompetisi sertifikasi. "Semua peserta dinyatakan lulus dan kompeten untuk melakukan penyuluhan." [Agus]
Tapin of South Borneo [B2B] - The role of agricultural training in Indonesia such as the Agricultural Training Center of Indonesia Agriculture Ministry across the country so the ministry seeks to maximize its efforts to produce millennial entrepreneur.
Indonesian Agriculture Minister Syahrul Indonesia Yasin Limpo stated that the government´s commitment to developing agriculture, especially in the development of advanced, independent and modern agricultural human resources.
"The goal is to increase the income of farming families and ensure national food security. Farmer regeneration is a commitment that we must immediately realize," Minister Limpo said.
He reminded about the important role of agricultural training, to produce millennial farmers who have an entrepreneurial spirit.
"Through agricultural training, we connect farmers with technology and innovation so that BBPP meet their needs and are ready for new things," Limpo said.