Polbangtan YoMa Racik `Hand Sanitizer` dari Daun Sirih, Solusi Langka dan Mahal
Indonesian Agriculture Ministry Concerned Coronavirus with Weaker Health Systems
Editor : M. Achsan Atjo
Translator : Dhelia Gani

PUBLISHED: Rabu, 18 Maret 2020 , 03:33:00 WIB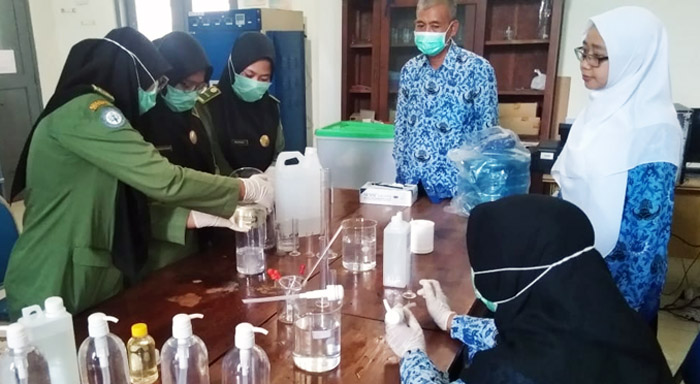 RACIKAN SENDIRI: Dosen dan mahasiswi Polbangtan YoMa kolaborasi membuat hand sanitizer dari alkohol, gliserol yang berfungsi sebagai anti bakteri dan pelembab agar tangan tidak kering plus aquadest [Foto: Humas Polbangtan YoMa]
Yogyakarta, DIY [B2B] - Politeknik Pembangunan Pertanian Yogyakarta - Magelang [Polbangtan YoMa] memberi solusi hand sanitizer yang kini langka dan mahal, dengan membuat sendiri ´cairan pembersih tangan´ dari daun sirih dan alkohol, untuk menangkal penyebaran virus Corona, COVID-19.

Direktur Polbangtan YoMa, Dr Rajiman menyatakan di tengah kekhawatiran masyarakat terpapar virus, maka dosen dan mahasiswa di kampus jurusan pertanian Yogyakarta, menawarkan solusi bagaimana membuat sendiri hand sanitizer.

"Racikan hand sanitizer berbahan alami dari di lingkungan kita, seharusnya masyarakat tidak perlu panik meskipun kini harganya mahal karena langka di pasaran," kata Dr Rajiman seperti dikutip Kabag Umum Polbangtan YoMa, Irwan Johan Sumarno di Yogyakarta, Selasa [17/3].

Menurutnya, dosen dan mahasiswi Polbangtan YoMa berkolaborasi membuat hand sanitizer dari sejumlah bahan seperti alkohol, gliserol yang berfungsi sebagai anti bakteri dan pelembab agar tangan tidak kering plus aquadest.

Mereka adalah Sari Megawati, Ismadi, Pitri Ratna Asih, Anisa Khoiriyah dan Asnuri.

Asnuri menguraikan cara meracik hand sanitizer dari bahan alkohol. Bahan-bahan: etanol 96% sebanyak 833 ml; gliserol 98% sekitar 14,5 ml; dan aquadest 1 liter.

Tahapan pembuatan:
1. Mengingat gliserol agak kental maka harus diencerka dahulu dengan aquadest. Setelah mulai encer, etanol dimasukkan sedikit demi sedikit sembari diaduk hingga semua bahan menyatu.

2. Hasil dari campuran tersebut, sudah dapat digunakan untuk hand sanitizer, dan agar mudah dibawa maka masukkan ke dalam wadah spray dan siap digunakan dengan disemprot.

Sementara hand sanitizer dari daun sirih dapat menjadi pilihan apabila alkohol/etanol langka di pasaran. "Kalau mau lebih mudah dan alami, daun sirih dapat menjadi alternatif dengan rebusan ekstrak daun sirih."

"Caranya, daun sirih terlebih dulu dipotong-potong kasar dan dimasukkan pada wadah. Kemudian, ambil panci yang diisi dengan air untuk didihkan," kata Asnuri.

Selanjutnya, letakkan wadah berisi daun sirih tersebut di atas air mendidih dan panaskan hingga 30 menit sampai keluar ekstrak daun sirihnya yang berfungsi sebagai pewangi.
Yogyakarta [B2B] - Indonesia´s Agriculture Ministry is in intensive care after testing positive for the novel coronavirus, as civil servants in head office and across the country were ordered to close over the health threat. The World Health Organization has said it is particularly concerned about high-risk nations with weaker health systems, which who may lack the facilities to identify cases, according to senior official of the ministry.