Wadah Pebisnis Muda, Polbangtan Medan Gelar Youth Agripreneur Festival 2019
Indonesia`s Medan Polbangtan Held the 2019 Youth Agripreneur Festival
Editor : M. Achsan Atjo
Translator : Dhelia Gani

PUBLISHED: Minggu, 08 Desember 2019 , 03:37:00 WIB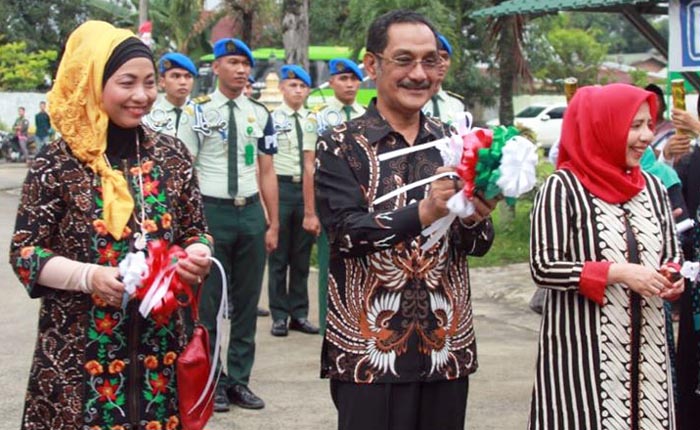 GUNTING PITA: Kepala Pusdiktan BPPSDMP Kementan, Idha Widi Arsanti [kiri] dan Direktur Polbangtan Medan, Yuliana Kansrini [kanan] mendampingi Staf Ahli Gubernur Sumut Naufal Mahyar menggunting pita untuk membuka YAF 2019 di Medan [Foto: Humas Pusdiktan]
Medan, Sumut [B2B] - Kegiatan festival pebisnis muda pertanian atau Youth Agripreneur Festival 2019 [YAF] yang digelar Polbangtan Medan, merupakan ajang untuk menarik perhatian generasi muda di Sumatera bagian utara untuk berkecimpung di sektor pertanian. Posisi geografis dekat dengan negara tetangga seperti Singapura dan Malaysia sebagai destinasi ekspor komoditas pertanian, akan mengungkit potensi perekonomian daerah maupun Indonesia dari devisa ekspor.
"Ajang YAF diharapkan dapat mendorong para entrepreneur muda di sektor pertanian untuk terus berkarya melalui inovasi sehingga mengundang generasi muda lainnya berkecimpung di sektor pertanian," kata Kepala Pusat Pendidikan Pertanian, Idha Widi Arsanti kepada pers usai pembukaan YAF 2019 di Medan, Sabtu [7/12], oleh Staf Ahli Gubernur Sumut Naufal Mahyar mewakili Gubernur Edy Rahmayadi.
Idha WA menambahkan peserta didik dan lulusan Polbangtan sudah terbukti menjadi agrosociopreneur. Diharapkan semakin banyak generasi muda yang siap bekerja di sektor pertanian, dan kemudian siap menjadi penggerak ekonomi daerah.
"Generasi muda milenial lebih dekat dengan teknologi, maka sektor pertanian akan dapat digerakkan lebih cepat. Beberapa karya inovatif produk-produk unggulan dari mahasiswa akan didorong agar dapat memenuhi pangsa pasar," katanya.
Direktur Polbangtan Medan, Yuliana Kansrini mengatakan bahwa YAF 2019 menjadi wadah mempertemukan para entrepreneur di bidang pertanian dengan pihak perbankan dan para pemangku kepentingan. Termasuk memperkenalkan produk unggulan entrepreneur tersebut, dengan melibatkan semua binaan dari mulai wirausaha di level sekolah menengah kejuruan [SMK], sejumlah perguruan tinggi negeri dan swasta serta mitra dari beberapa kota di Sumatera bagian utara.
YAF 2019 merupakan kegiatan perdana yang digelar Polbangtan Medan, yang diawali dengan kegiatan Gebyar Pramuka kemudian pelatihan pemanfaatan limbah eceng gondok, pelatihan kewirausahaan, seminar nasional, cipta karya seni kreatifitas mahasiswa dimana mereka berkompetisi menunjukkan bakat dan kebolehannya masing-masing di bidang seni dan olahraga.
"Selama ini Polbangtan Medan belum memiliki wadah yang mempertemukan para pengusaha muda pertanian. Kita berpikir bagaimana mereka bisa melakukan bisnis secara berkelanjutan, kalau kita tidak mewadahi dan mempertemukan mereka dengan para pemangku kepentingan, perbankan, maupun dengan pemerintah. Apalagi bisnis memang tidak bisa lepas dari yang namanya regulasi," katanya.
Medan of North Sumatera [B2B] - The agricultural vocational college campus in North Sumatra province, Polbangtan Medan held the 2019 Youth Agripreneur Festival [YAF] is an event to attract the attention of young people in northern Sumatra to be involved in the agricultural sector.