Anti Virus Corona, Mentan Luncurkan Inovasi berbasis Eucalyptus
Indonesian Agriculture Anticipate Covid-19 by Weaker Health Systems
Reporter : Gusmiati Waris
Editor : Cahyani Harzi
Translator : Dhelia Gani

PUBLISHED: Sabtu, 09 Mei 2020 , 03:39:00 WIB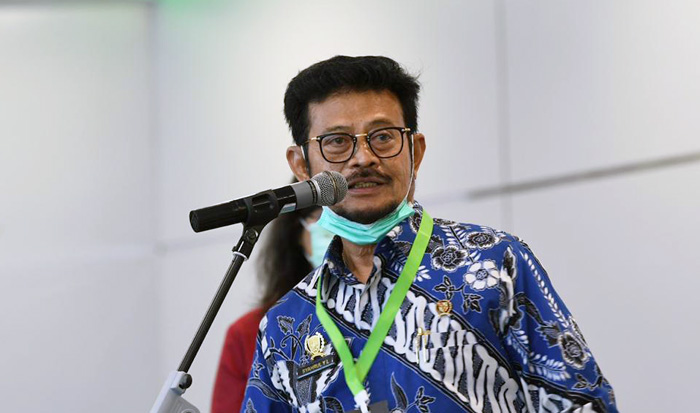 NANO TEKNOLOGI: Mentan Syahrul Yasin Limpo mengatakan Kementan akan terus mengembangkan anti virus Corona dengan target utama korban terpapar virus Corona [Foto: Biro Humas Kementan]
Jakarta [B2B] - Hasil inovasi anti virus Corona berbasis eucalyptus oleh Kementerian Pertanian RI melalui uji laboratorium para peneliti pertanian, untuk menangkal penyebaran virus pemicu Covid-19 diluncurkan oleh Menteri Pertanian RI Syahrul Yasin Limpo di Jakarta, Jumat [8/5].
"Terobosan ini memiliki hasil pengujian eucalyptus terhadap virus influenza, virus Beta dan gamma corona yang menunjukkan kemampuan membunuh virus sebesar 80 hingga 100 persen," kata Mentan Syahrul didampingi Sekjen Kementan Momon Rusmono di Jakarta.
Bahkan Balitbangtan, menurutnya, telah membuat beberapa prototipe eucalyptus dengan nano teknologi dalam bentuk inhaler, roll on, salep, balsem, dan defuser. Kementan akan terus mengembangkan anti virus Corona dengan target utama korban terpapar virus Corona.
Sebagai informasi, saat ini ada sekitar 700 jenis eucalyptus di dunia dengan kandungan bahan aktif yang beragam, namun bahan aktif utamanya terdapat pada cineol-1,8 yang memiliki manfaat sebagai antimikroba dan antivirus.
"Inshaa Allah ini akan berhasil. Oleh karena itu tidak ada alasan untuk takut terhadap virus ini, tetapi kita juga harus terus waspada. Saya berharap inovasi ini bisa cepat dibagikan kepada masyarakat luas," kata Mentan.
Jakarta [B2B] - Indonesia´s Agriculture Ministry is in intensive care after testing positive for the novel coronavirus, as civil servants in head office and across the country were ordered to close over the health threat. The World Health Organization has said it is particularly concerned about high-risk nations with weaker health systems, which who may lack the facilities to identify cases.