Terdampak Covid-19, Aksi Solidaritas Korpri Kementan di Kabupaten Kupang
Indonesian Agriculture Anticipate Covid-19 by Weaker Health Systems
Editor : M. Achsan Atjo
Translator : Dhelia Gani

PUBLISHED: Rabu, 27 Mei 2020 , 03:43:00 WIB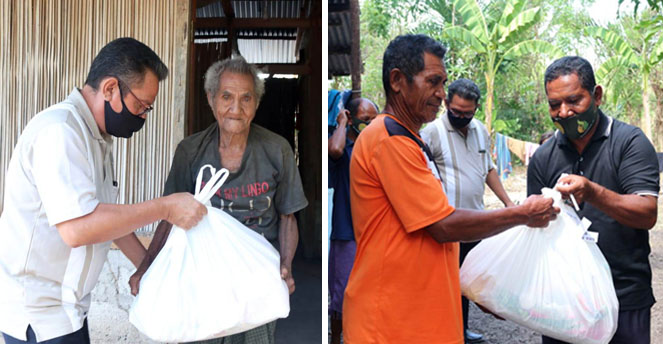 PROTOKOL KESEHATAN: Bantuan diberikan langsung melalui distribusi dari rumah ke rumah penerima bantuan sesuai Protokol Kesehatan pencegahan Covid-19 di Kabupaten Kupang, belum lama ini. [Foto2: Humas Pusdiktan BPPSDMP]
Kupang, NTT [B2B] - Sekitar 66 kepala keluarga [KK] di lingkungan SMK-PP Negeri Kupang menerima bantuan solidaritas periode kedua berupa sembako, sabun dan masker. Bantuan senilai Rp13,5 juta merupakan hasil donasi dari solidaritas aparatur sipil negara [ASN] Kementerian Pertanian RI. Tujuan donasi meringankan beban masyarakat terdampak pandemi Covid-19 di Kabupaten Kupang, Provinsi Nusa Tenggara Timur [NTT].
Kepala SMK-PP Negeri Kupang, Cornelis Kaho memimpin kegiatan penyerahan bantuan kepada pensiunan pegawai, pegawai grade tiga dan empat serta tenaga harian lepas [THL] dari unit pelaksana teknis [UPT] dari Badan Penyuluhan dan Pengembangan SDM Pertanian [BPPSDMP] di NTT.
Bantuan diberikan langsung melalui distribusi dari rumah ke rumah penerima bantuan sesuai Protokol Kesehatan pencegahan Covid-19 di Kabupaten Kupang, belum lama ini.
Cornelis Kaho berharap bantuan tersebut dapat meringankan beban masyarakat penerima dalam memenuhi kebutuhan sehari-hari di tengah pandemi.
"Seyogyanya janganlah dilihat nilai bantuan itu, tetapi perhatian kepada masyarakat terdampak Corona", katanya melalui keterangan tertulis yang diterima di Jakarta, Selasa [26/5].
Aksi solidaritas ini dilaksanakan berdasarkan imbauan Kepala BPPSDMP Prof Dedi Nusyamsi agar seluruh UPT melaksanakan gerakan solidaritas peduli Covid-19, tak terkecuali UPT di bawah kendali dan koordinasi Pusat Pendidikan Pertanian [Pusdiktan BPPSDMP].
"Kita harus meringankan beban sesama dan merangkul mereka yang kekurangan akibat Covid-19", katanya.
Bantuan solidaritas tersebut, kata Dedi Nursyamsi, sejalan dengan arahan Menteri Pertanian RI Syahrul Yasin Limpo bahwa semua pihak mesti merawat solidaritas di tengah pandemi Covid-19.
"Virus ini mengejutkan kita semua, karena memang tidak kita duga sebelumnya. Namun kita belajar dari pengalaman, dari beberapa krisis yang melanda bangsa ini, kita mampu bersama menghadapinya," kata Mentan Syahrul.
Kupang of East Nusa Tenggara [B2B] - Indonesia´s Agriculture Ministry is in intensive care after testing positive for the novel coronavirus, as civil servants in head office and across the country were ordered to close over the health threat. The World Health Organization has said it is particularly concerned about high-risk nations with weaker health systems, which who may lack the facilities to identify cases, according to Agriculture Minister Syahrul Yasin Limpo.